Today's Weather: Boston Likely To Break The Record High For Today
This article is more than 3 years old.
A few overnight showers left us with a wet ground this morning, but the theme for today isn't rain; it's warmth. Temperatures this afternoon will reach into the low 60s in many spots.
The record high today in Boston is 61, set back in 1945. This is the chilliest record high for the month of March, and I think that we're going to break it.
A cold front comes through the region tonight, and there will be a few showers as early as just before sunset. Look for a few more showers overnight, but they will be gone by tomorrow morning, so I don't expect it to impact the commute.
Any clouds will exit the region fairly early Wednesday, with temperatures getting into the 50s. Another fine day is on tap for Thursday, once again bringing readings more typical for mid-spring than early March.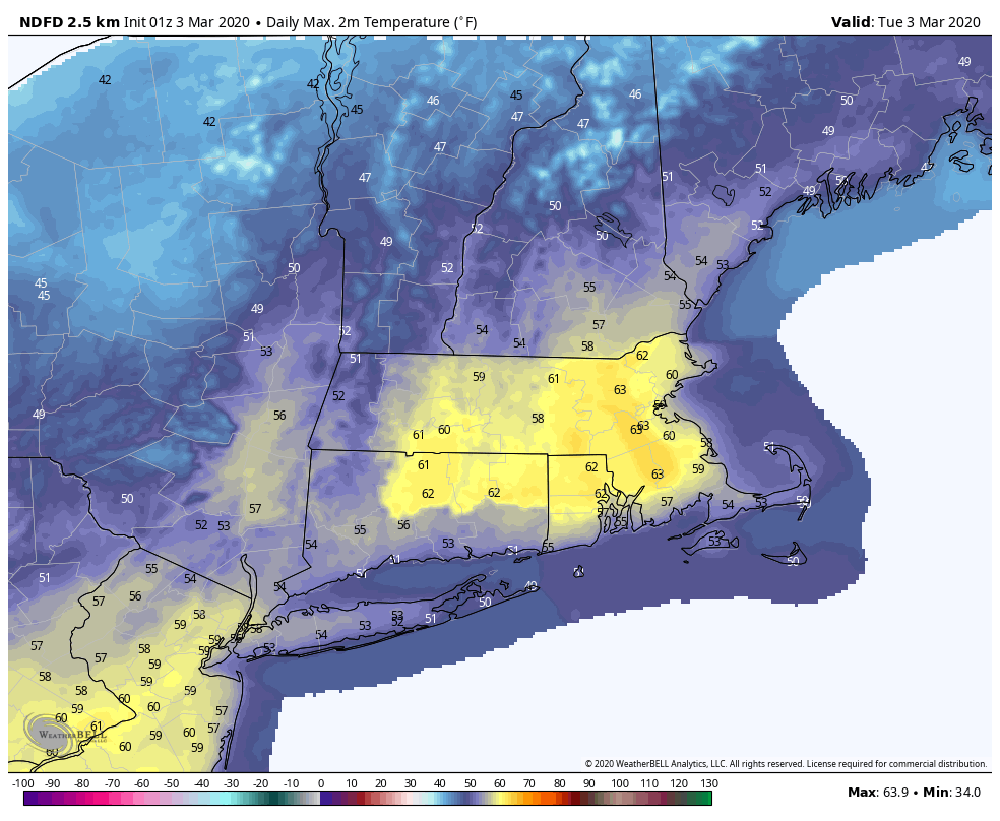 There will be an ocean storm developing Friday into Saturday, but as of now, it appears that it will be too far offshore for much of an impact. This doesn't mean we couldn't see a little bit of rain or snow Friday night into early Saturday, as the western fringes of the precipitation reach the area. We'll probably have to wait another day to determine if there is actually any precipitation and what form it will take.
It's going to turn milder by Sunday, and downright spring-like once again for early next week. There's no doubt about it: spring is arriving early this year
You can follow my updates here and on Twitter @growingwisdom.
---
Tuesday: Clouds, then lots of sun. An afternoon or evening shower possible. Highs 55-63. Record highs possible.
Tuesday night: Cloudy and mild. A few showers. Lows 38-42.
Wednesday: Mostly cloudy early with a shower, then clearing. Highs in the mid-50s.
Thursday: Sunny and pleasant for March. Highs around 50.
Friday: Chance of showers. Highs in the 40s.
Saturday: Rain or snow ending. Highs 35-40.
Sunday: Partial sunshine. Highs 45-50.