Peabody Essex Museum Addresses Visitors' Concerns About Diversity With A Podcast
Play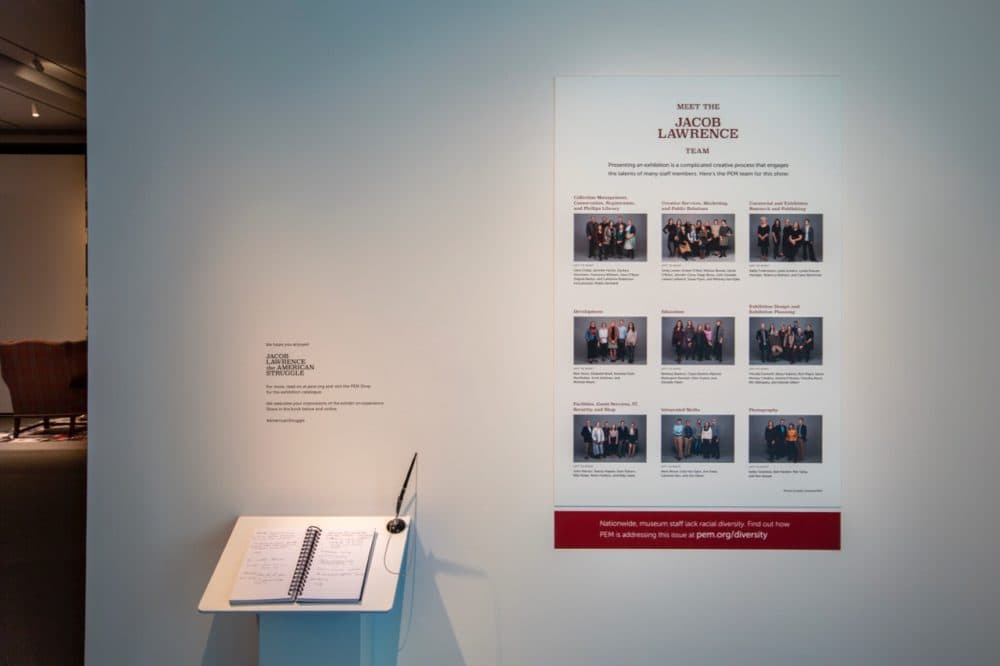 This article is more than 2 years old.
Visitors to the Peabody Essex Museum have been transfixed by an exhibition called "Jacob Lawrence: The American Struggle." The acclaimed African American painter's work also began a conversation about the lack of diversity at the Salem museum. The staff decided to address these concerns in a novel way: with a podcast.
It's the first time in more than 60 years that Lawrence's famous "Struggle" series is on display. Painted in the 1950s, the artist's depictions of dynamic movement and bold colors highlights the role of marginalized peoples in the formation of this nation.
However, what also caught the public's attention was a photo of PEM's staff at the end of the exhibition. Nearly every face was white.
PEM co-hosts and co-producers Dinah Cardin and Chip Van Dyke decided to dedicate an entire episode of the museum's podcast to address concerns around the lack of diversity.
The episode begins with Lev McClain, associate director of security at PEM, reading feedback given by patrons on a comment book.
"The exhibit is well done but not a single person of color — African American in parentheses — on such a large Jacob Lawrence team," McClain reads. "So this comment is two comments later: 'Thanks for the show and also for including contemporary artists. I echo the comment on the previous page, a lot of white folks on the exhibition team, aka PEM staff.'"

To McClain, it felt appropriate that this conversation about diversity coincided with the PEM debut one of the most acclaimed black artist of the 20th century. Lawrence's art emphasized inclusion, and he was intentional in his portrayals of women as well as black and indigenous peoples. McClain, who is black, also serves as acting project lead on the museum's Equity and Inclusion Task Force.

At first, he admits he was worried about how the podcast would be received.
"I was really afraid that we would do something really fake and that we would get roasted for it because we were going to respond in a way that wasn't going to be genuine and it wasn't going to be honest," McClain said. "And everybody was going to see right through it and call us out for it. So I'm speaking just for myself. I was actually a lot more encouraged that we decided to handle things that way and really talk honestly about where we're at."
In preparing for the Lawrence exhibition, PEM sought expertise outside its walls, just as institutions like the MFA and the Isabella Stewart Gardner Museum do. Exhibition Curator Lydia Gordon says PEM staff came together with advisors of all backgrounds to include them in curatorial conversations.
"I mean, even going back to 2014 we were preplanning and and organizing what we call scholarly convenings here," Gordon said. "So we invite people from the outside that have worked on Jacob Lawrence, who knew Jake when he was alive, who've done his retrospectives, all of these senior scholars and artists and writers came together."
Despite that effort to include a diversity of voices in the planning process, museumgoers see just the PEM's staff photo in the gallery.
A 2018 study by the Andrew W. Mellon Foundation and the American Alliance of Museums found that only 12 percent of museum leadership positions were held by people of color with very few men of color overall. PEM Museum director Brian Kennedy says he's committed to diversifying his staff.
"So, you know, you need to have good data, which we now have. But you need to have a will and a determination to move forward. But especially to be humble to mistakes," Kennedy said. "I mean, we're going to trip up and we're going to be told some harsh truths. The question is, what are we going to do about them? And I think that comes out in the podcast and that this is a work in progress and that it's a frankly, a constant journey."
Now, under that big staff photo is a caption that notes the fact that there is a lack of diversity in museums and this is something PEM is trying to address. Dinah Cardin acknowledges that this is just a starting point.
"This is not a definitive set in stone outcome or opinion," Cardin said. "It's just people doing the best that they can and saying that we don't always have the answers and that when you make a mistake, it's just important to learn collectively from it."
It's a step in the right direction, she says, to become a place that more closely reflects their community.