Film 'The Hunt' Is A Political Allegory Without Any Discernible Politics
There's a pig named Orwell featured prominently in "The Hunt." This is the kind of reference that might make you chortle in recognition for a second, but if you stop and think about it any longer you realize it doesn't actually mean anything. I'm not really sure what purpose the pig is supposed to serve here plot-wise, except someone on the creative team clearly thought a pig named Orwell was a clever idea that they had to throw in somewhere. After all, George Orwell's "Animal Farm" is a brilliant political allegory and "The Hunt" really wants to be one, too. Except it's a political allegory without any discernible politics.
This low-budget B-movie from the upstart genre hounds at Blumhouse Productions momentarily became a culture war hot potato last summer when the trailer was seized upon as grist for conservative media's perpetual grievance mill. The umpteenth adaptation of Richard Connell's 1924 short story "The Most Dangerous Game" — in which innocent people are hunted like wild game by aristocrats on safari — tries to put a zeitgeist-y spin on the scenario by having rich, liberal "elites" picking off poor, kidnapped "deplorables" for sport.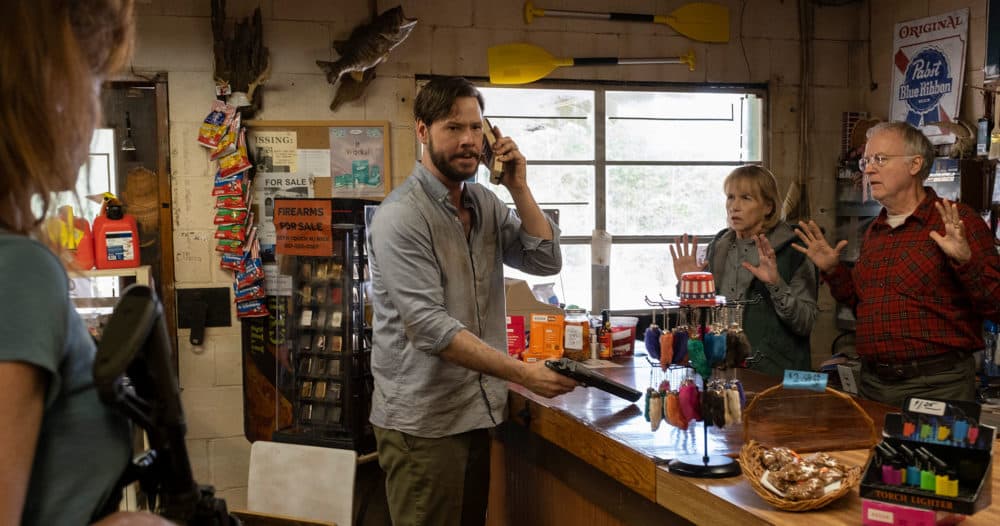 Without seeing the movie, right-wing pundits came to the brilliant conclusion that Hollywood must be heartily endorsing the killing of Fox News viewers — carrying on as if they didn't know full well that in Connell's original story and its countless adaptations the wealthy murderers were never supposed to be the heroes — launching a campaign of hysteria and bad faith arguments culminating in a rant from our tweeter-in-chief, who commented on the matter with his usual grace, wisdom and confusing capitalization: "Liberal Hollywood is Racist at the highest level, and with great Anger and Hate!"
Universal Pictures wound up canceling the film's September 2019 release, purportedly in deference to the mass shootings in Dayton and El Paso, but more likely because they figured a $15 million exploitation movie wasn't worth a pissing contest with the president. Besides, attention spans are so short these days in the outrage industry that "The Hunt" can now easily be released a mere seven months later with a gimmicky ad campaign harping on the controversy and nobody cares. (Hopefully, the president has more important things on his mind right now.)
Much like when Sony pulled Seth Rogen and James Franco's "The Interview" a few years back fearing an international incident, after finally seeing the film it's hard to imagine anyone ever getting worked up over such an adolescent little trifle. "The Hunt" is a sloppy splatter picture that makes passing mentions of current events without having anything to say about them. Hilary Swank stars as the leader of a champagne-slurping, NPR-quoting posse of filthy rich "progressives" who abduct their prey from Republican outposts such as Alabama, Mississippi and Staten Island, unleashing them on a faux-Arkansas hunting ground called The Manor, which has become the stuff of legend in Q'Anon-type conspiracy circles.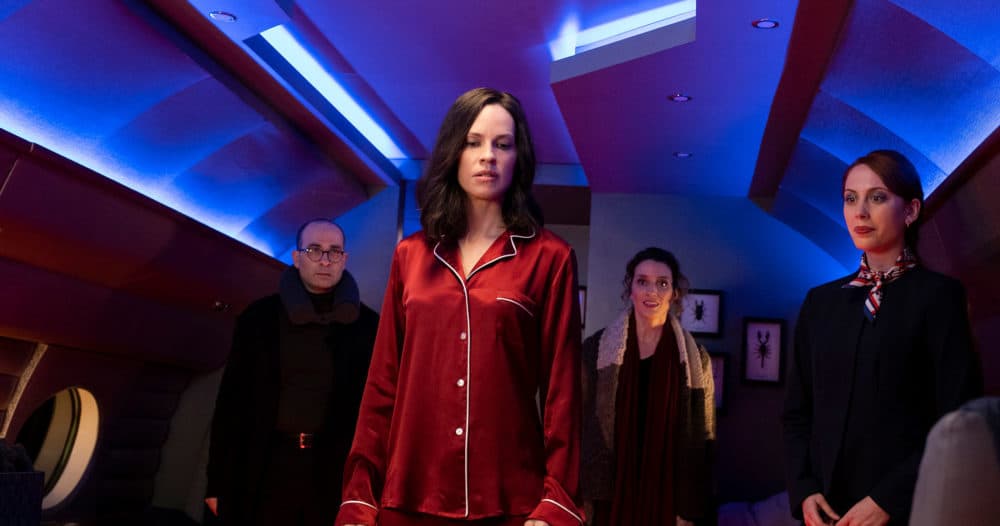 After playing with audience expectations by immediately blowing away some semi-famous faces, the movie settles in on a protagonist played by Betty Gilpin, the burly breakout star of Netflix's "GLOW." As an uncommunicative Afghanistan vet who has no time for this political nonsense, she plays the role with a permanently downturned snarl and occasionally bugged-out eyes. It's a turn so confident in its strangeness and so at odds with the other actors in the film I'm not sure if she's great or an embarrassment, but the fact that I'm still questioning it means probably the former.
It's no surprise that our battle-tested heroine easily outmatches the latte-sipping libs, who are too busy checking their social media posts for likes by Ava DuVernay (the movie's only out-loud laugh) to put up much of a fight. Our killers shout "Climate change is real" before pulling the trigger while their victims carry on about "snowflakes" and "crisis actors," but the shockingly shallow screenplay by Nick Cuse and Damon Lindelof never engages with these characters' beliefs long enough for the jokes to land as anything besides empty signifiers. (It feels like someone took an old action movie script from the '80s and peppered it with buzzwords they picked up on Reddit.) "The Hunt" comes off like a sorry second cousin to Blumhouse's "Purge" pictures, which handle the same class warfare questions to varying degrees of success and provide a good deal more in the way of transgressive kicks.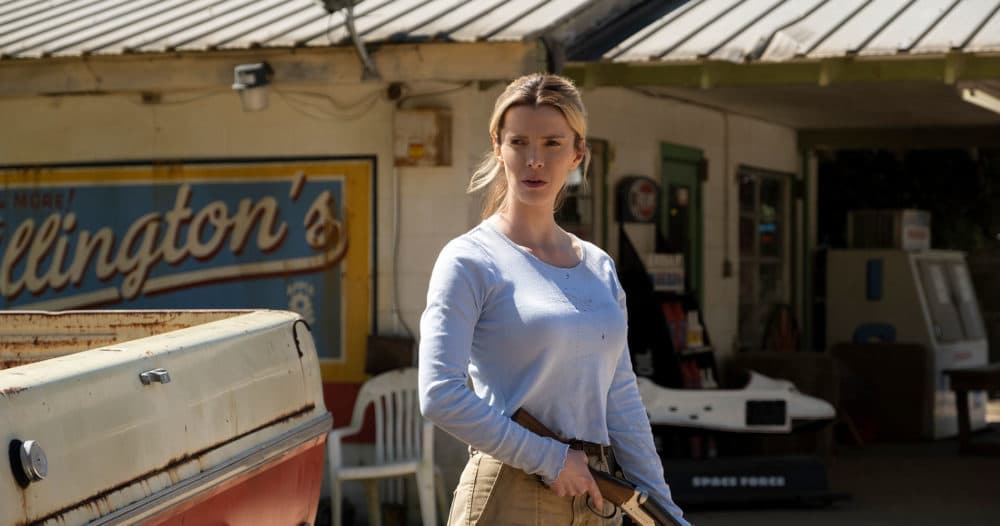 Director Craig Zobel is no stranger to provocation. I recall attending a now-legendary Q&A following the Sundance premiere of his 2012 "Compliance" that had audience members out of their seats and screaming. Based on a true story, that film followed a prank caller who pretended to be a policeman and turned fast-food franchises into his own Stanford Prison Experiment, illustrating how little it takes for our corporate culture to creep into authoritarianism. He's a talented filmmaker and by no means a barrel of laughs, all wrong for this picture's cartoony ultra-violence.
We watch an eyeball get gouged out with a stiletto heel, a spaghetti network of optic nerves and such dangling from the back. There's a "Final Destination"-worthy stunt in which a woman is impaled on a set of spikes, only to be rescued and then blown in half when her savior steps on a landmine, looking down to discover what's left of her upper torso impaled once again on that same set of spikes. This kind of hyperbolic, gross-out comedy requires the lip-smacking relish of a Paul Verhoeven or an early Sam Raimi, but Zobel's dour, dispassionate gaze leaves the gag-worthy gags lying there, inert.
But then the entire production is so carefully equivocated it's missing any point of view at all. You'll watch it longing for the lefty proselytizing of something like John Carpenter's "They Live" or the fervor of director S. Craig Zahler's reactionary bloodbaths in "Dragged Across Concrete." Instead, all we get from "The Hunt" is something we already learned from the movie's most prominent critic, that there are very bad people on both sides.