With 'Queer Body In Ecstasy,' An Artist Claims Space And Examines Sexuality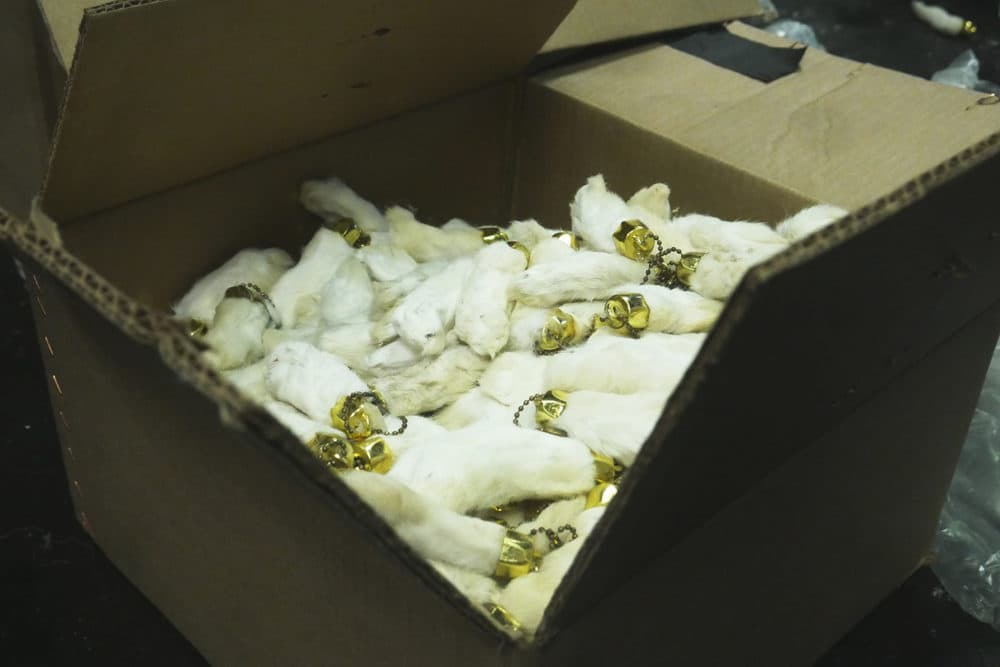 This article is more than 2 years old.
Georden West grew up in a Franciscan community learning about religious ecstatics like Saint Francis who had divine experiences and visions. "There was a certain sort of magic...I grew up with the idea that...people could talk to animals, that nuns could float. There was something really divine within ecstasy," West said.

As a queer media and installation artist raised in a religious community, West's work addresses learning about their sexuality and claiming space as a queer person. "Queer Body in Ecstasy," at the Dorchester Art Project March 14 through April 11, is an immersive installation by West that draws upon their ever-evolving perspective of the queer body. "This piece is all about queer sexuality and what it's like for me specifically...to move through space as a sexual being, but also all the implications that come with the queerness in my appearance," West said.
Gallery spaces are often white cubes with art on the walls. West wants to challenge that norm. Inspired by art like Félix González-Torres' conceptual installations and William Forsythe's choreographic works, West's installations activate and reimagine spaces. For their first and most recent installation, "Patron Saint" at the Distillery Gallery in March 2019, West and their installation team sewed 7,200 live carnations in a sculptural form and created a false wall that people peered and crawled under. For "Queer Body in Ecstasy," West takes the focus off the walls. Instead, a massive structure made out of rabbits' feet and 20,000 feet of ball chain hangs from the ceiling in a dimly lit room with the walls painted black. "I think it will look very ephemeral and I'm hoping people interact with it in a really meaningful way," West said. "If the ceiling was 1,000 key rings and there was no end to the ball chain in sight, what sort of structure would manifest? [It's] a structure that represented more or less my personal ecstasy, or searching for that and what that means to me." The piece is heavy and stark in nature. The lack of light and sound elements compel the viewer to absorb the structure.
West initially had trouble deciding which objects to choose for the installation. They started with a keychain, an everyday object, and expanded from there. Then they added rabbits' feet --  an animal that contains multitudes and represents many different parts of life. "The rabbit, of course, is a social animal. It's a family animal. It's an animal that represents fertility. But it's also something that is severed and displaced and carried around to ward off a certain sort of evil," West said.
Zachary Thomas, a fashion/lifestyle blogger at the quarterrican and part of the installation team, said that the sheer scale of the structure engulfs the viewer. "Things can be kind of pleasant when you have five [rabbits' feet] but they become very grotesque when they're in mass, when you have thousands and thousands of them," Thomas said.

The rabbit's foot is something that's prized and symbolic — it is a symbol of luck, a token and a trophy. Much like a rabbit's foot, queerness is tokenized, according to West. "The idea of something that more or less is...trophied is something that I feel a lot within space, especially with the way we have to posture our identities within the art world, within the academic world," they said. "I'm excited to use form within that conversation and allow that to speak for me rather than text or anything that would justify my identity within it."
"Queer Body in Ecstasy" manifests queerness within a gallery space at a time when queer spaces like Machine Nightclub have closed. West said that it is critical for queer people to have gathering spaces both historic and contemporary. "My work remains architectural for that reason. Because I feel like queerness demands space and I'm not gonna stop demanding that space and I know our city, our community shouldn't either," they said.
The exhibit, West said, was constructed for queer people. "Queer Body in Ecstasy" draws upon their experience as a nonbinary person who has been conditioned and socialized to accept womanhood. "I think dismantling that [conditioning] and learning how to examine is an important overarching conversation within our community. So my work...is by me for my community, always."
West continued, "It's a cool piece because you can't buy it, you can't sell it. It's sight specific, it is what it is within that specific site. If you were to do it and manifest it somewhere else, it would change. I think there's something innately queer about the form. It's malleable. I think it's really exciting to get to experiment that way."
---
"Queer Body in Ecstasy" is on view at the Dorchester Art Project March 14 to April 11.