Some Hospitals Move To 'Universal Mask' Policy. Should Everyone Wear Masks In Public?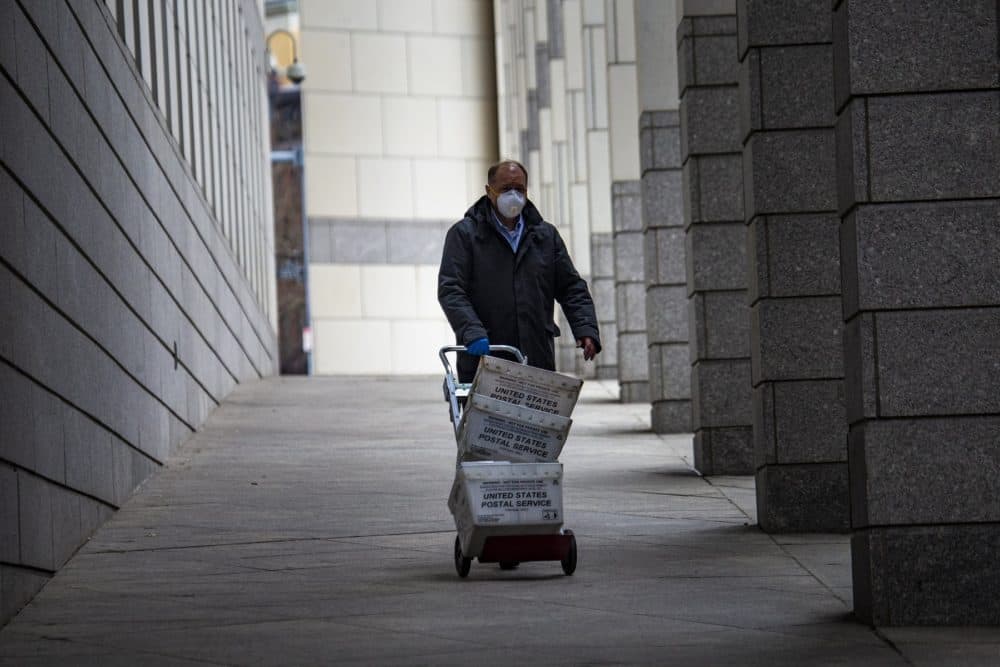 This article is more than 2 years old.
As of this week, the largest hospital chain in Massachusetts is imposing what's called a "universal mask" policy: All Partners Healthcare staffers in public areas are supposed to wear surgical masks to protect their patients — and themselves — from the coronavirus.
"We've never done anything like this, that I'm aware of, here at Mass. General or Partners," said Dr. Erica Shenoy, the associate chief of infection control at Massachusetts General Hospital, which is part of Partners. "I've heard of other institutions considering this."
It's not only health care institutions. In recent days, noticeably more Massachusetts residents can be seen wearing masks when they have to be out in public spaces, raising the question: Should "universal mask" practices spread beyond hospitals to, well, everyone?
Down a rabbit hole

On Tuesday, Shan Soe-Lin and Robert Hecht and their golden retriever, Spud, set out for their usual stroll in Boston's Back Bay neighborhood. Soe-Lin was wearing a pink cloth mask, Hecht a black one, and Spud had a jaunty green shamrock print (though he wasn't in the mood to wear it.)
In past days, the masks sometimes drew funny looks, but now, the couple was seeing more passersby wearing masks as well.
"There's a person with a bandana. That counts," Hecht pointed out.
"Jogging with a bandana," Soe-Lin responded. "Excellent."
Soe-Lin and Hecht teach at Yale and run Pharos Global Health Advisors, a nonprofit that advises governments and philanthropies on using medical data to improve health. And lately, they've become vocal advocates for wearing non-medical masks in public, including a Boston Globe opinion piece headlined in part: "You should cover your face."
Soe-Lin explored the research on how often people touch their faces, something health officials are telling people to avoid because it can help spread the coronavirus. She realized we just can't stop doing it.
"And that's when I went down a rabbit hole of evidence," she said, "and just realizing that masks were an important way to make 'don't touch your face' actually happen, that they were an important barrier."
Many measures are needed to stop the virus, Hecht said, including vastly expanded free testing and measures to isolate people -- but he agrees that masks have an important role to play.
"We talked about what more could be done," he said, "and felt that there was a glaring gap in the response in Massachusetts and throughout the United States around the use of masks, both to prevent being infected and spreading this this very contagious disease."
Not Recommended

From the beginning of the outbreak, Massachusetts public health officials have said they are not recommending that people wear masks in public unless they're sick and coughing.
For example, on March 4, public health commissioner Monica Bharel said it was important for members of the public without symptoms to remember that "the face mask does not protect us. So none of us need to be wearing face masks."
"Face masks are really critical within our health care systems," she continued, "so it's important for us as general public not to try and keep supplies of face masks, so that we have enough within our health care systems."
The state coronavirus website says "There is no hard evidence that wearing a mask protects the wearer outside of the health care setting."
You might notice a logical inconsistency here: If a mask can protect a health care worker, why wouldn't it protect someone else?
It's actually a question of priorities, explains Harvard epidemiologist Marc Lipsitch.
"The public health message came in part because of a concern about shortages," he said, "and the sense that it's more valuable to protect health care workers than to protect low-risk members of the general population."
That makes sense, he added: "We have to increase production of masks, and we do have to make sure that the health care system gets them first, or we're really going to have no health care workers, because they'll be sick, and they'll be in quarantine."
Wave of DIY Masks

But that's manufactured masks. In recent days, the CDC has shifted its guidelines to allow health care workers to use improvised masks in some settings, even bandanas.
And there's a great wave of volunteers making do-it-yourself masks. The Massachusetts Nurses Association says it's a good use of homemade masks for people to wear them in public spaces. Hospitals are posting mask-making how-to videos and accepting donations.
So do these masks work? Lipsitch said there's just not very good data about the effects of the general public wearing masks, and improvised masks to boot. But he recommended Ben Cowling, a professor of infectious disease epidemiology at the University of Hong Kong, as a leading authority.
From what Cowling reports in a paper this month, it sounds like Hong Kong basically has an unofficial universal mask rule.
"In Hong Kong, we now have 99% of people wearing face masks in the community, on the street, in public transport and often still indoors in offices as well," he said.
And Hong Kong is one of the places that has managed to beat back COVID-19. Cowling thinks widespread masks contributed something to that success, but that other measures like widespread testing and physically isolating people were more important, he said.
Overall, the research on masks for protection against viruses is just very limited and the results have been mixed, he said.
A Small Effect

"My conclusion of the research is perhaps there's a small effect — maybe a 5% or 10% reduction in the risk of transmission if people wear face masks," he said. "Probably not a very large effect."
When it comes to taking action, Cowling said, the top priority is to make sure health care workers have enough masks. The World Health Organization does recommend that people wear face masks if they're sick.
And, in a recent paper, he suggests going one step further, "and maybe consider recommending that older adults or vulnerable individuals consider wearing face masks, particularly if they're going into crowded areas, because those are the highest priority to prevent COVID-19 in."
The masks can fail if they're worn wrong or taken off wrong, Cowling said, and it's just not known how well do-it-yourself masks will work.
So if it's a choice between going out to a crowded area with a mask on or staying home, staying home is definitely safer.
And, he said, maybe before the next pandemic, funders will decide to support better research on masks and other simple interventions that can act as stopgaps until drugs or vaccines can be brought to bear against the virus.