Seabrook Is Nation's First Reactor Refueled During Virus Crisis
02:30
Play
This article is more than 1 year old.
New Hampshire's Seabrook nuclear plant, the largest of three commercial reactors in the region, powered down to zero yesterday. It was the start of a scheduled, month-long refueling process involving about 1,000 additional temporary workers.
During refueling, workers remove about a third of the plant's radioactive fuel rods. They are replaced with fresh fuel, and the spent rods are submerged in a deep pool of water, where they cool down over a few years.
Under the best circumstances, removing and replacing radioactive fuel rods is a complex process. This time, it's complicated by the coronavirus crisis.
To operate efficiently, Seabrook and the two reactors at Millstone Power Station in Connecticut, have to refuel every 18 months. According to the New England Power Generators Association, last year the three reactors produced a quarter of the electricity used in the region.
The refueling start date is kept secret for commercial competitive reasons. Even federal regulators keep it under wraps.
"The nuclear plants don't publicize when they're going down for refueling," says Natalie Hildt Treat, executive director of the Amesbury-based nonprofit C-10 Research and Education Foundation, which monitors Seabrook and collects data on airborne radiation.
Six Massachusetts municipalities are within Seabrook's 10-mile evacuation zone, including Amesbury. The group has petitioned the NRC for more stringent safeguards at the plant, claiming that cracks in the reactor's cement foundation make the plant unsafe.
Treat says that Seabrook refuelings, planned years in advance, usually offer a multi-million dollar boost to area hotels and restaurants.
"Typically it's a boon to the local economy, but now things are a little different," Treat said.
The difference is the coronavirus outbreak. Seabrook, and the nation's other 95 commercial reactors, are considered critical infrastructure; plant workers and reactor operators are deemed essential. Amid the outbreak, the secretive refueling process has generated questions about worker and plant safety.
"We would feel a little bit better knowing some specifics about it," Treat said. "For example, some nuclear plans may be asking key employees to live at the facility."
Plant owner NextEra has been tight-lipped about the refueling process. According to an email from NextEra spokesperson Lindsay Robertson, the company has "implemented our pandemic plan and are following our well-established procedures for insuring continuity of service." The plan includes limiting access to control room centers to essential personnel.
The NRC mandates a minimum number of operators who must monitor and control the reactor. Edwin Lyman, director of nuclear power safety with the Union of Concerned Scientists, wants more information about pandemic safety protocols.
"There are a number of concerns associated with refueling outages at this time," Lyman said. "Some of the inspections that are carried out have to be done in close quarters with teams of people in close proximity, and that could lead to the spread of the disease."
Earlier this week, federal regulators announced that they will waive some nuclear plant work rules. For instance, if plant owners put in a request at least a day in advance, certain personnel can work 86-hour work weeks, instead of the current 72 hour limit. Regulators are also allowing resident NRC inspectors to monitor plants remotely, but be available onsite if needed.
Seabrook is the largest nuclear power plant in New England and the first to undergo refueling during the coronavirus crisis. One reactor at the Millstone nuclear plant in Waterford, Connecticut, will begin refueling later this month.
[Correction: The original version of this story stated that the Seabrook reactor unexpectedly shut down while powering down for refueling, due to an electrical problem. That incident actually occurred in 2014. The audio has been updated to reflect this correction. WBUR regrets the error.]
This article was originally published on April 02, 2020.
This segment aired on April 1, 2020.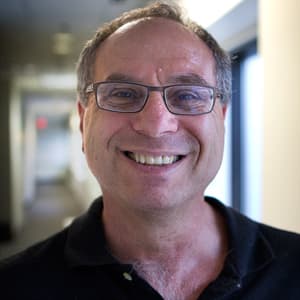 Bruce Gellerman Senior Reporter
Bruce Gellerman is an award-winning journalist and senior correspondent, frequently covering science, business, technology and the environment.