Holyoke Soldiers' Home Staffers Say They've Been Told To Work If They're COVID-19 Positive But Have No Symptoms
The union representing staff at the Soldiers' Home in Holyoke says that as recently as last Friday, employees were told to keep coming to work if they tested positive for the coronavirus but showed no symptoms.
WBUR obtained an email from Debra Foley, the communications director of the state-run facility, outlining the "action chart" for staff. According to a union representative and several workers, employees have interpreted the chart to mean that if they test positive and have COVID-19 symptoms — defined as a fever over 100.4 degrees with a dry cough and shortness of breath — they should  "stay home." However, if they test positive and don't have symptoms, they should  "return to work."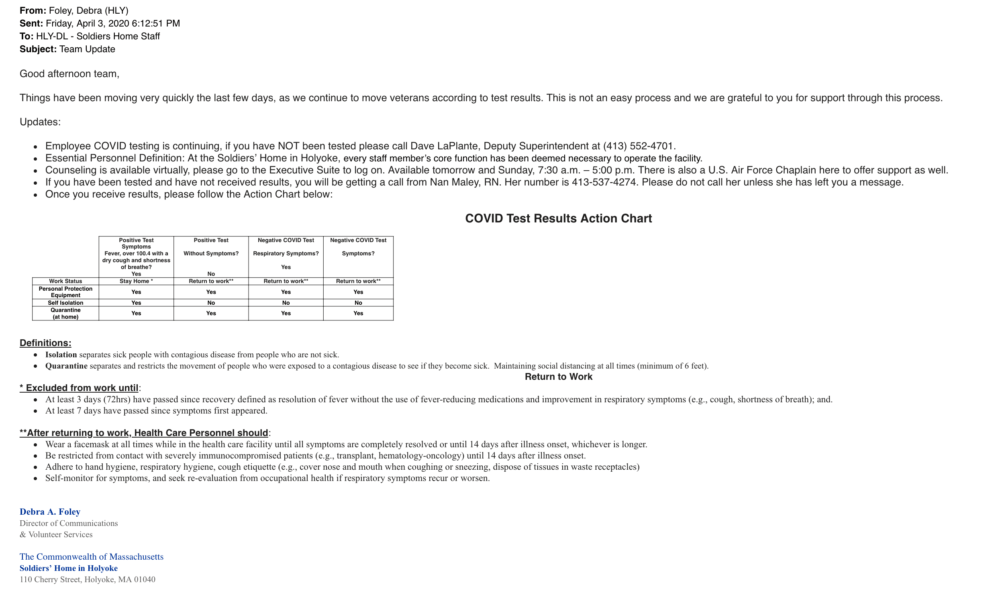 Cory Bombredi, an internal organizer with SEIU Local 888, calls the directive "disgusting," and says he's aware of at least one employee who is asymptomatic, but tested positive for the virus, and is continuing to work.
"Our workers have asked the command center for clarification, and that's what they've been told [to do]," he says.
At a press conference today, when asked about the e-mail, state Secretary of Health and Human Services Marylou Sudders replied, "I can't say I've seen that chart." Sudders added: "The guidance generally is if you test positive that you should stay out of work for a period of time, and then if you're asymptomatic you can come back to work with protective gear — masks and the like."
WBUR reached out to the state's Executive Office of Health and Human Services and was told that the policy outlined in the chart aligns with guidance from the U.S. Centers for Disease Control and Prevention, and that the state was working on an "enhanced staffing pattern," which will include hiring contractors and per-diem staff.
The spokesperson also clarified that staff members who are positive and asymptomatic will only work with residents who also have COVID-19 — a detail not included in the original chart.
According to guidance from the CDC, health care professionals who test positive for the novel coronavirus may return to work in a healthcare setting after:
Resolution of fever without the use of fever-reducing medications and

Improvement in respiratory symptoms (e.g., cough, shortness of breath), and

Negative results of an FDA Emergency Use Authorized molecular assay for COVID-19 from at least two consecutive nasopharyngeal swab specimens collected ≥24 hours apart (total of two negative specimens)
However, the CDC does offer some leeway to facilities operating with staffing shortages during a crisis: "Healthcare systems, healthcare facilities, and the appropriate state, local, territorial, and/or tribal health authorities might determine that the recommended approaches cannot be followed due to the need to mitigate HCP staffing shortages."
Bombredi says that employees are under the impression that the command center sent the email because they are worried about having enough staff at the facility.
"In two weeks, this could have been completely taken care of, but I'm afraid with [sick] workers still going in there, they're going to continue to spread the infection," he says. "Honestly, what it says to me is [those in charge] don't give a shit about our workers or their safety ... All they care about right now is protecting the state's image."
Employees of the Soldiers' Home tell WBUR that even before the pandemic, the facility was chronically short-staffed. According to the most recent state figures, 31 employees have tested positive and 179 have tested negative. The state began testing employees last week, and it's unclear whether these numbers include people who were tested independently.
The Soldiers' Home in Holyoke has been embroiled in public controversy since last week, when news broke about a fatal outbreak at the facility that allegedly went unreported to state and local officials. Following the news, Gov. Charlie Baker called in the National Guard and hired an independent investigator to look into what happened.
As of publication, 25 veteran residents have died — 18 of whom tested positive for the virus. Fifty-nine living residents have tested positive and 159 have tested negative, according the state.
"Things are better since the state has come in, but they're nowhere near perfect yet," Bombredi says.
This story is developing and will be updated.
This article was originally published on April 07, 2020.