In Essay Collection, Author Megan Sandberg-Zakian Argues 'There Must Be Happy Endings'
Megan Sandberg-Zakian's life in the theater began as an infant strapped to the chest of her father, playwright R. N. Sandberg, while he directed. Allegedly when Sandberg-Zakian was just three years old, she woke up from a nap with an insightful analysis of "The Bald Soprano" before going back to sleep. One of her earliest memories of her directorial ambition is when she made paper dolls act out "The Beggar's Opera," complete with a paper-tab costume change for the second act. In her collection of essays "There Must Be Happy Endings," Sandberg-Zakian writes the book she always wanted to read about directing theater.
"There Must Be Happy Endings" is part theatrical analysis, part "coming of artistic age" story. While Sandberg-Zakian wrote these essays about the vulnerability of storytelling on stage, she eventually found herself writing about herself as a human being. Exploring her journey as an artist confirmed her belief in happy endings. "What I mean by happy endings is not a story where nothing bad happens," she says. "I mean something that's restorative, something that's fortifying, something that has the quality of inspiration of what kind of action you're going to take in the world."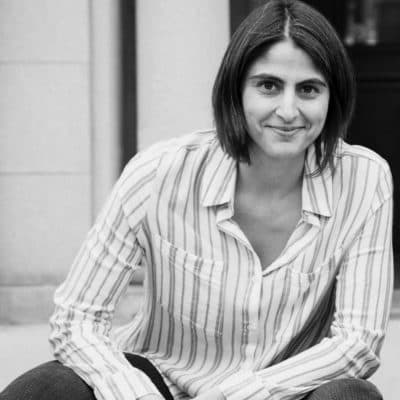 In the titular essay of the collection, Sandberg-Zakian talks about how the kind of theater that leaves a lasting impression on her has a rich combination of darkness and lightness. "I don't believe the world is only one thing," she says. Plays that lean starkly to one side of bleakness or happiness don't resonate with her days, months, or years afterward like the productions that contrast the high highs with the low lows do. As a director who identifies as a "militant optimist," she writes about how she had to "reconcile [her] desire for hope and possibility, connection and transformation, with an authentic witnessing of darkness and despair, hate, and violence."
As she directs actors to portray those complex stories, Sandberg-Zakian has to be mindful of the trauma she is asking them to recreate and perpetrate. While directing "Nat Turner in Jerusalem" at the New York Theatre Workshop in 2016, Sandberg-Zakian developed a protocol for the use of prop shackles in rehearsal to give solemn acknowledgment of the violent history it symbolized, so the cast and crew would not become cavalier in their treatment of the prop during routine rehearsals. While directing the Underground Railway Theater's 2010 production of "Harriet Jacobs" — adapted from Jacobs' autobiography "Incidents in the Life of a Slave Girl" — Sandberg-Zakian had to balance the triumph of Jacob's escape to the North with the unspeakable horror of her enslavement and hiding.
Throughout her essays, Sandberg-Zakian wonders, "In the face of an enormously unjust and chaotic history and present, is it acceptable — is it even ethical — to believe in the happy ending?" To not tell these stories is the dishonor of forgetting, but Sandberg-Zakian wants to produce theater that "reaffirms hope and faith and offers us a vision of another possible world, a transformative vision of what if." To portray those "what ifs" authentically, she says, the most important thing for a director to do is to listen. "Be openhearted, pay close attention, and give feedback from an attentive place of what needs to be heard in that moment." Sandberg-Zakian says that we all become the best version of ourselves when someone is paying very close, loving attention, and therefore we also make the best art when we're doing that.
In reading the "The Odyssey," Sandberg-Zakian was struck by the repetition of Penelope raveling and unraveling her tapestry while she waited for Odysseus to return home. "It's living in a space of optimism and possibility. It's not unmaking because it was wrong or bad, but continuing participating in creative act," Sandberg-Zakian writes in the essay. "The thing that matters in life and in art is the persistence of imagining the kind of world you'd like to see or the story you'd like to hear."
In the essay "Take It from the Breakdown," Sandberg-Zakian writes about how the only stories she read growing up about her Jewish and Armenian heritage revolved around their respective genocides, without offering catharsis or healing. Now as an adult, Sandberg-Zakian sees the stark difference between the art surrounding both cultural histories. There's a global consensus about the atrocity of the Holocaust and a lot of art has been made to process it, but there is still denial about the Armenian genocide from the Turkish government and other global allies (including the U.S.). However, Sandberg-Zakian is doing her part to proliferate Armenian stories by directing "Zabel in Exile" by R. N. Sandberg (her father), based on the life and work of Armenian activist, feminist and writer Zabel Yesayan. She's still looking for a theater to stage the production.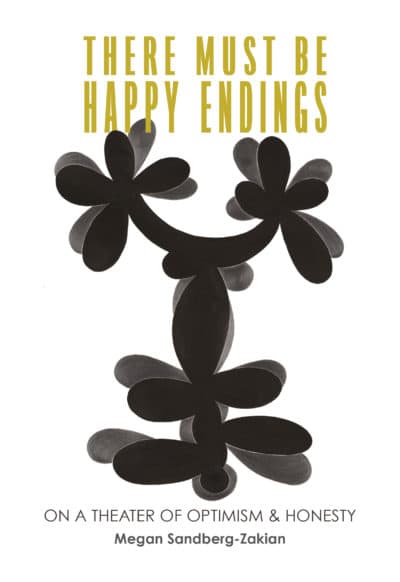 Three years ago, at The Lark theater laboratory in New York, was the first time Sandberg-Zakian had ever been in the room with other Middle Eastern directors. "It was the experience of love at first sight. Meeting each other, we thought, 'We have to know each other.'" Sandberg-Zakian began talking on the phone with Kareem Fahmy, Evren Odcikin and Pirronne Yousefzadeh, and they realized they collectively spent a lot of time doing work — such as making recommendations for casting, design, community outreach, and marketing for Middle Eastern, North African and South Asian plays — for free. "We realized that the work we're doing has value and we could be a better resource by collaborating together." They formed Maia Directors as a commitment to bring more stories from the MENASA region to the stage and to screen. They offer consultations with theaters, filmmakers, novelists and nonprofits.
Ever since the Black Lives Matter movement raised the national consciousness about humanizing the stories of black and brown people, more stories have been pouring onto the stage to make people feel welcome. There has been a radical shift in American theater to also bring forth stories challenging white supremacy, misogyny and classicism in the 10 years since Sandberg-Zakian started writing the essay "Unstable Ground." In that essay, she dissects how in 2009's allegedly "post-racial" world after Obama's election, saying we were all the same was to erase the uniqueness of experience. By not mentioning race in casting decisions, actors could tacitly request to play the coveted "culturally normative" roles as white roles. But even as the demographics of plays change, slower to change is the apparatus of theater in terms of the leadership charge and who's in the audience. Only in the last year have women of color finally begun running large budget regional theaters in notable numbers. As the coronavirus pandemic puts all theater productions on hold indefinitely, Sandberg-Zakian worries that the perception about strength of leadership will suck the momentum out of this change. Audiences might be tempted to return to leadership that looks familiar, which is to return to theaters led by white men. "I hope I'm wrong," she says. "But we need to come together to help these institutions weather the storm."
In the essay "A Lamp, A Bridge, A Ship," she references an idea from Anne Bogart that "the director is the person who can tolerate uncertainty the longest of anyone else in the room." Sandberg-Zakian holds herself to the directorial responsibility to create space and opportunity for that uncertainty while making artistic decisions. By considering multiple interpretations of any given play, the director creates the best position for the production — and the audience — to be compassionate toward the story. "We have to try to sit with the way ground keeps shifting underneath us," Sandberg-Zakian says. "We have to take in the enormity of loss and grief and find some necessary alternative — a new path to lead us forward with joy. But it's really hard. It's a lifelong practice." In art and in life, we can make peace that uncertainty is the only certain part of life.