Telemedicine Use Has Nearly Tripled Among Mass. Residents, Poll Shows
As Massachusetts approaches a projected surge of COVID-19 cases, residents remain keenly aware of a widespread shortage of tests and protective medical gear. But as the health care system seizes under the weight of coronavirus, one sector of it is growing by leaps and bounds: telemedicine.
A rapidly growing share of residents are "seeing" their doctors over the phone or computer, according to data from the latest MassINC/Blue Cross Blue Shield of Massachusetts coronavirus tracking poll. Before social distancing and stay-at-home advisories began in mid-March, just 8% of Massachusetts residents said they had consulted with a physician by phone or video.
As of the latest wave of the survey which finished fielding on April 5, that figure has climbed to 21%.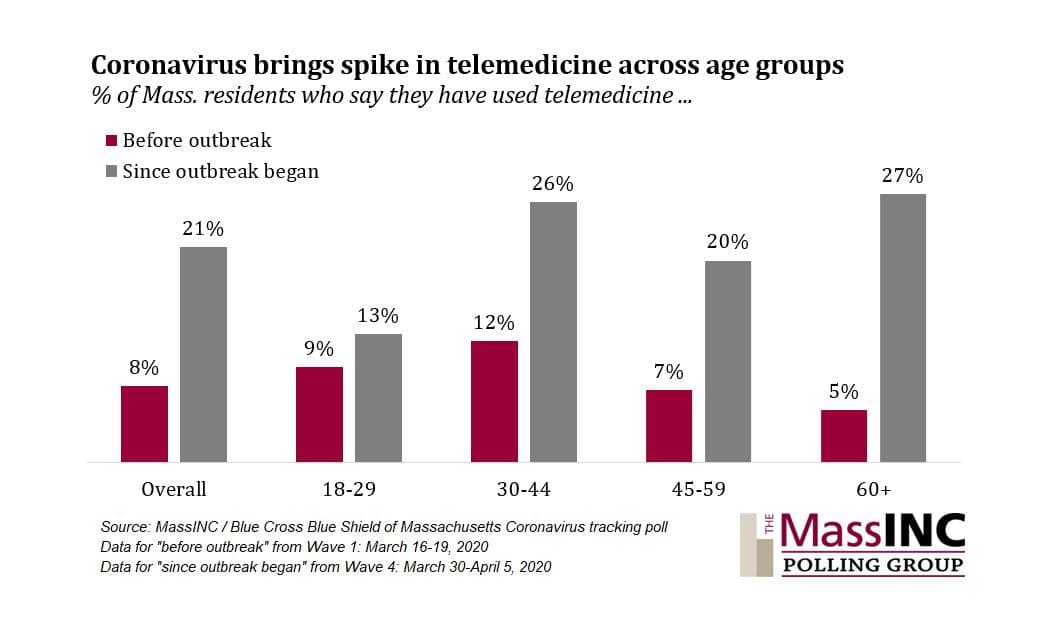 Telemedicine usage is up across the board with large increases across demographic groups. There has been a particularly notable spike in adoption among older residents. In a mid-March survey, only 5% of those ages 60 or older reported using telemedicine prior to the outbreak, a figure which rose to 27% this week. Among people under 30 who are less likely to see a doctor during any time period, usage grew from 9% to 13%.
It was not only age groups that saw major differences in growth rates. Almost a month into the crisis, the pace of adoption across demographic groups has also been rapid.
Those in households with an annual income of less than $50,000 also saw a large spike in telemedicine usage, from 7% in mid-March to 29% in this latest wave. That compares with 20% of those in the highest-income households, up from 15% in mid-March. Finally, the proportion of women who have used telemedicine since the outbreak began jumped from 6% to 26%, while usage among men only grew from 11% to 17%.
While residents seem adaptable when it comes to their own health, few have the same confidence that the broader health care system can adequately meet this challenge.
For the last several weeks, residents have been following the shortages in tests and in protective medical gear. Last week, 82% of residents knew hospitals do not have enough equipment, and 68% knew about the testing shortage. Testing has been catching up to the demand, but the pace has lagged behind what experts say has been needed.
While residents are doing what they can to "flatten the curve," they can only watch and wait to see if shortages will be overcome. But in the meantime, telemedicine is being put to the test. Its proponents have long argued it increases access and reduces costs — qualities that are especially relevant as coronavirus exposes the ongoing disparities in our health care system.
Whether this spike in telemedicine usage will last remains to be seen. But it's another clear example of how the pandemic has redrawn the boundaries of what can be done remotely in many aspects of society.