'We're Absolutely In The Surge': Boston Hospitals Already Seeing Predicted Rise Of Patients
This article is more than 2 years old.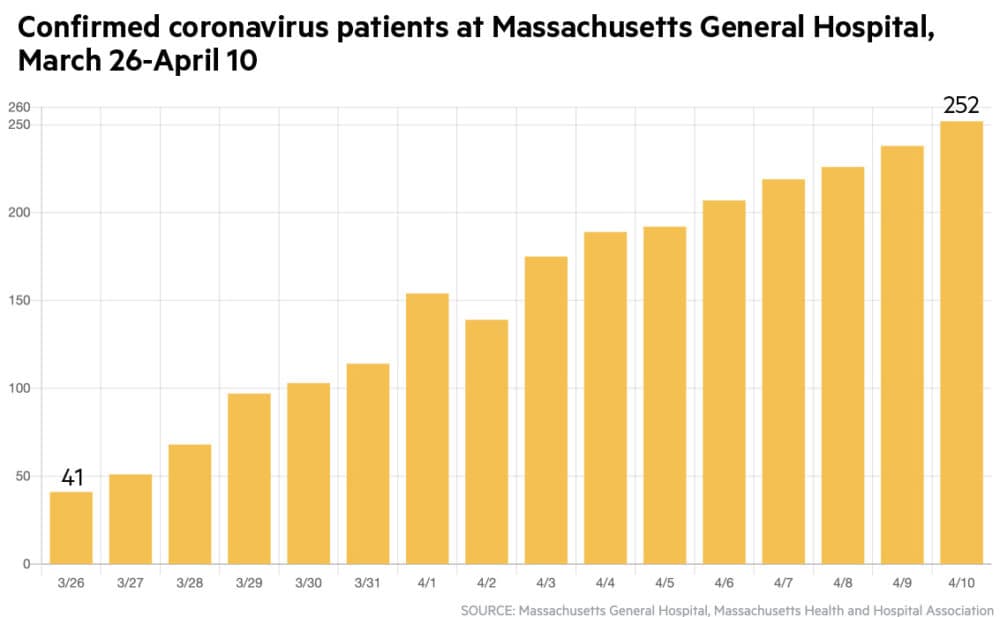 As of Saturday, 686 Massachusetts residents had died from COVID-19, and over 2,100 had been hospitalized. Yet state leaders talk about a "surge" of patients that's still to come — any day now, in fact.
Gov. Charlie Baker has said the state is tracking coronavirus testing and hospital admissions, and it looks like "the surge is going to land about when we thought it was going to land, which is somewhere between the 10th and the 20th." On Friday, he said COVID-19 cases were still "on an upward slope" and the latest data suggest the peak will come closer to the 20th.
But some Boston hospital leaders say unequivocally that for them, the surge has already begun.
There's no precise definition of a surge in this context, says Dr. Kevin Tabb, the president of Beth Israel Lahey Health, but it's generally taken to mean that the numbers of patients in the hospitals are going up significantly day after day.
"And if that is what we use to define surge, we are most definitely in the surge," he says. "In other words, our numbers of patients that we are seeing with COVID-19 are increasing on a day-to-day basis and increasing significantly."
For a sense of those numbers: As of Friday morning, Beth Israel Deaconess Medical Center had 134 confirmed COVID-19 cases, up from 102 on Tuesday and 86 on Sunday. That's not an exponential rise at all, but the numbers are definitely going up.
Massachusetts General Hospital is seeing something similar: at last count it was up to 252 COVID-19 patients, with 110 in intensive care.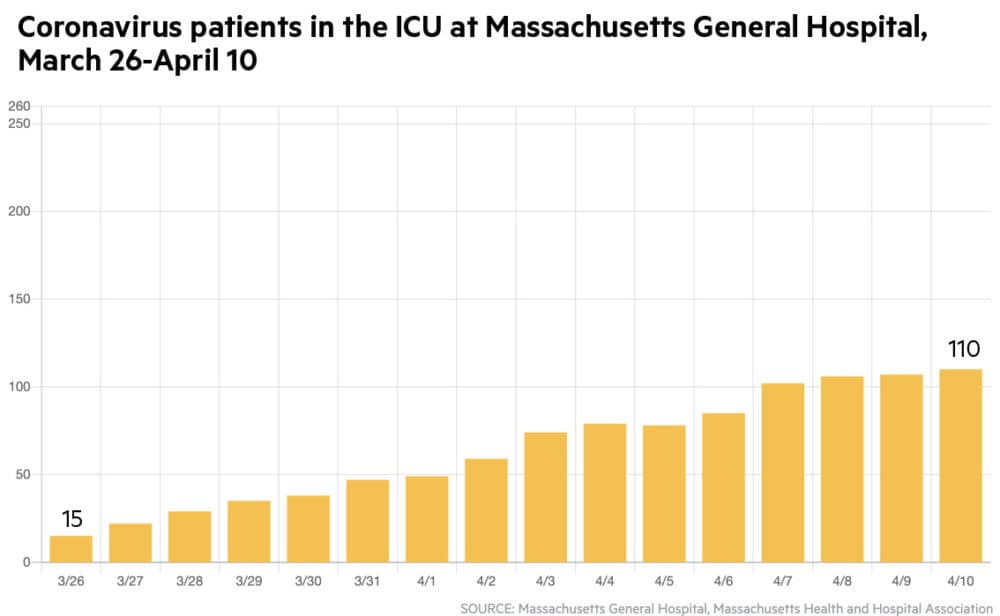 "Surge, in some sense, is a term of art in the emergency management world," says Mass. General's chief of emergency preparedness, Dr. Paul Biddinger. "And so, we're absolutely in the surge. It's a way we aggregate the S's of surge planning — staff, stuff, space and the system."
(In other words, during a surge, hospitals need more personnel, more "stuff" like ventilators, room for the additional patients and a system that brings it all together because it's not medicine as usual — it's crisis medicine.)
Biddinger says Mass. General has actually been in surge mode since mid-March. He says internal modeling now predicts that the hospital is a week or two away from the peak number of patients; then it expects a plateau of perhaps a week or two, then a longer decline.
"We all want it to go away as fast as it can possibly go away, but I think six to eight weeks is realistic," he says, in part because the people who get very sick from COVID-19 tend to need a long time in the hospital.
Our health care system will be stretched like never before.

Gov. Charlie Baker
One of the most daunting questions right now is whether, at the peak of patients needing hospitals, the hospitals will have enough capacity to treat them. Both Tabb and Biddinger say that currently, their hospitals can take more patients, even though for them, the surge is underway.
At one point, before social distancing was broadly adopted, it appeared that Boston might be hit by COVID-19 as badly as northern Italy has been, Biddinger says, and the need for hospital care could overwhelm every single readily available resource. Now, he says, for all the challenges ahead, "I'm extremely grateful that we don't think we're going to hit that peak."
Gov. Baker on Friday outlined the state's preparations, including additional beds — at field hospitals and within hospitals — that bring the state from a total of about 11,000 beds for acute and intensive care to 14,500 beds. He says there are currently 6,400 available beds for intensive and acute care patients, about 45% of the overall supply.
The state is continuing to develop several additional sites for field hospitals around the state, he says, including on Cape Cod and in the Merrimack Valley.  Overall, he says, "hundreds and hundreds of beds" are coming online, because "Our health care system will be stretched like never before."
Call it a surge, call it a peak, Baker's message is clear: "We're about to enter the most difficult period we are going to face," he says. "What's right in front of us is going to be a very difficult few weeks in managing something that's never happened before in Massachusetts."
This article was originally published on April 10, 2020.