Documentary 'Other Music' Chronicles A Record Store Navigating A Shifting Industry
Watching a movie about an indie record store at this particular moment feels about as far away as a Ken Burns miniseries about the Civil War. What I wouldn't give right now to go kill a couple of hours flipping through a shop's stacks while chatting with the clerks and fellow customers. I suppose the next best thing is "Other Music," an unexpectedly moving documentary about the beloved, recently shuttered New York City institution of the same name. The film was originally scheduled to screen at the Brattle Theatre this weekend, in tune with the now-postponed Record Store Day. Instead, on Friday it will be available to rent via virtual screenings, with a portion of the proceeds going to the Brattle or music shops like Vinyl Index in Somerville and Dyno Records in Newburyport.
Directed by Puloma Basu and Rob Hatch-Miller, "Other Music" chronicles the cramped, underdog store for connoisseurs that thrived for a time directly across the street from Tower Records' East Village multi-story megalopolis. A labor of love begun by three young clerks who worked together at the sprawling, sketchy Kim's Underground — a place that could probably spawn several R-rated documentaries of its own — Other Music provided an impeccably curated collection of sounds one would never find at the neighboring corporate colossus, selected by a staff that could be downright intimidating in their expertise. (In the film, regular customer Benicio Del Toro confesses that he usually just let the clerks pick out whatever he bought, because after a while they knew his taste better than he did.)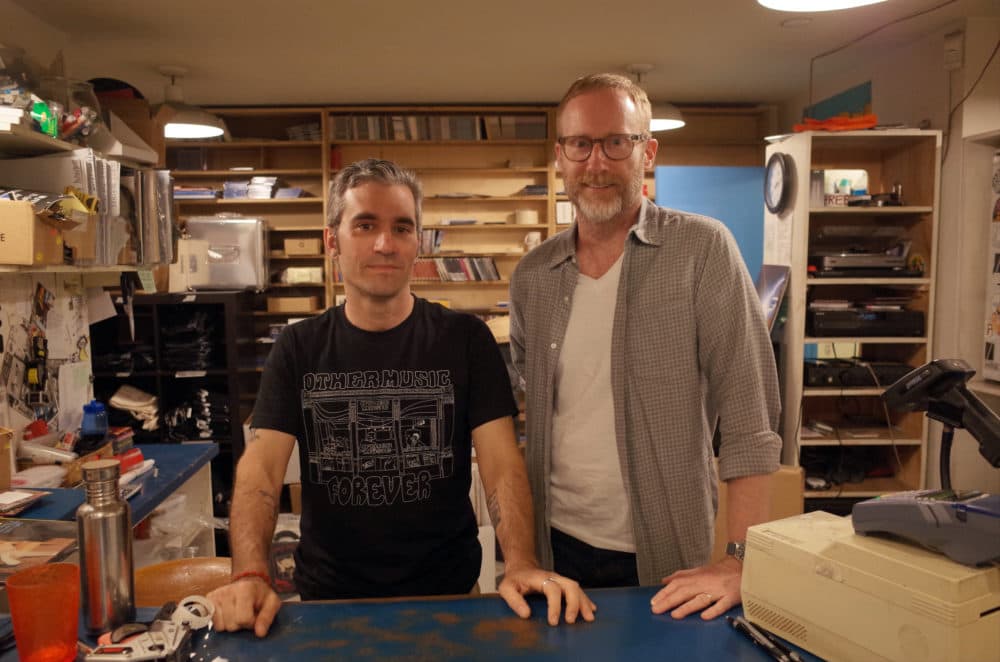 The film focuses on owners Chris Vanderloo and Josh Madell as they attempt to navigate seismic shifts in the music industry and a formerly funky New York City being blanded out by anonymous commercial monoliths. (The store's third founder, Jeff Gibson, moved to Belgium in 2001 and did not participate in the movie.) You'd never know it now, but there was a time when the East Village was overflowing with such strange shops and oddball artistic endeavors. Other Music had an endearingly personal quality, with its passionate staff recommendations hand-written on one-inch cards. In the late '90s and early aughts, the shop became a nexus for the city's underground music scene, with the burgeoning careers of bands such as Vampire Weekend, The National, LCD Soundsystem, TV on the Radio and Interpol helped along via in-store appearances or selling homemade CDs through the store's consignment program.
I used to work at a video store on the next block, and to be honest, I never felt like I was cool enough to hang out at Other Music. There was an intimidation factor that's hilariously copped to by interview subject Jason Schwartzman, with Regina Spektor amusingly adding that every visit to the store felt like the first day of school. (It was, however, a favorite haunt of my college drinking buddy Tunde Adebimpe, the actor and TV on the Radio frontman who's one of this movie's more delightful talking heads.) But later in the film, The National's Matt Berninger mounts a passionate defense of the store's storied snobbery, urging audiences to set a high bar for both art and life, because "when art gets dumber, I think we all get dumber and meaner and sh-tier."
Animal Collective's David Portner, a former Other Music employee (and by all accounts in the film, a terrible one), points out that these days we've got robots picking songs for us. Indeed, an algorithm will never understand you the way an attentive, informed clerk can, and the most touching parts of the film for me were the scenes spent with the staff — so ardent about passing along the music they love and sharing their discoveries on those hand-scrawled cards. One of the employees admits he probably would have grown up to become "a very unhappy lawyer" if it hadn't been for Other Music, and Adebimpe scores the movie's biggest laugh when he wonders what the rest of these guys' resumes must look like.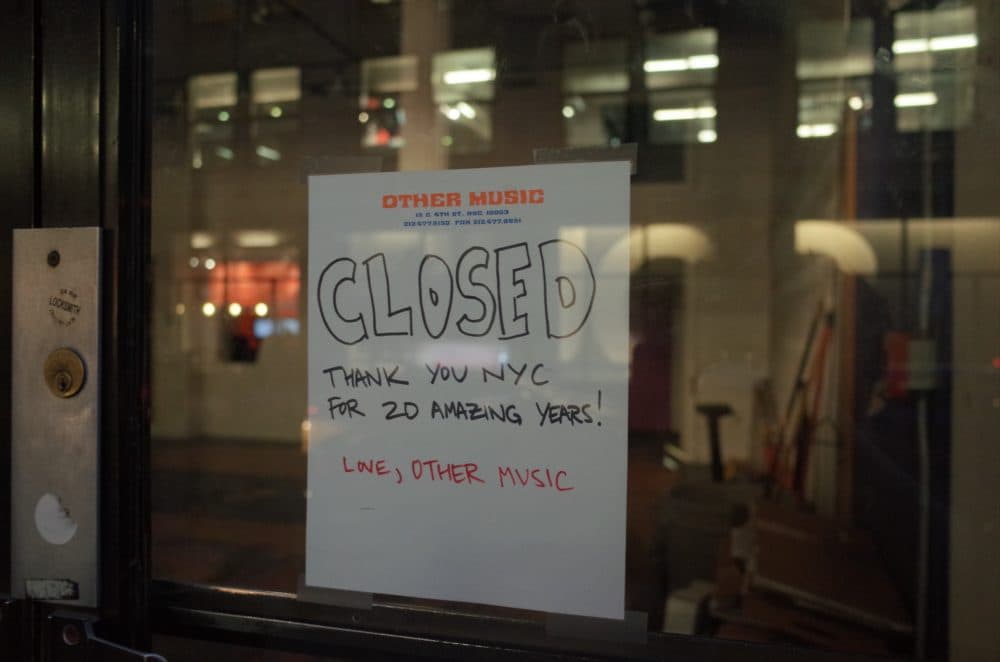 Basu and Hatch-Miller provide a cogent overview of the music industry's woes and the larger cultural shift towards buying online and away from places like this one. "Other Music" is like a cooler cousin to Colin Hanks' terrific 2015 documentary "All Things Must Pass," about the wild rise and abrupt collapse of Tower Records. You might imagine that the monster chain's 2006 demise would be something to be celebrated in this film, like a triumph of David over Goliath. Instead, it's devastating to the little store's foot traffic and very much a dark sign of arts culture vanishing from the East Village altogether. (A member of the Yeah Yeah Yeahs furiously points out that the Tower complex's upper floors are now a fitness club, which feels like a terrible insult to rock 'n' roll.)
I often joke that being a video store clerk was the job I was most suited for in life, as there's nothing I enjoy more than telling people what to watch and arranging stuff on shelves. But I'm not kidding when I say that browsing well-curated collections is one of the pastimes I treasure most in life. Bookstores and record shops were already an endangered species even before our current crisis, and "Other Music" is a wistful, welcome reminder of how such places can create a community, with our shared interests and enthusiasms becoming a shared humanity.
---
"Other Music" will be available to rent from Friday, April 17 through Monday, April 20 via the Brattle Theatre, Vinyl Index, Dyno Records and other independent movie theaters and record stores.