Boston Filmmaker Delves Into The History Of Two Towns Divided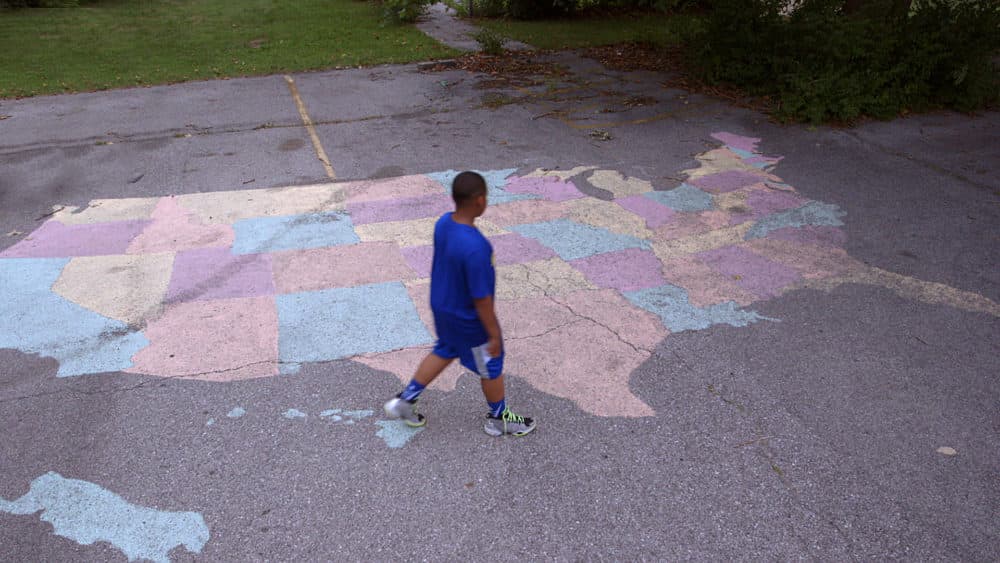 This article is more than 2 years old.
Jane Gillooly's documentary "Where the Pavement Ends" is a tale of two Missouri towns. One is Ferguson, formerly a whites-only town during the Jim Crow era that became infamous in 2014 when Michael Brown, an unarmed black teen, was killed there by a white police officer. The other is lesser-known neighboring Kinloch, a once-thriving black community, that's now all but vanished.
In Gillooly's visually evocative portrait, which airs May 5 - 10 on WGBH World as part of the series America Reframed, the two suburban St. Louis communities are examined through time and memory by way of the 1960s roadblock that divided the towns until the following decade.

Gillooly, a Somerville resident and chair of the Media Arts Department at the School of the Museum of Fine Arts at Tufts University, grew up in Ferguson. For years she wanted to make a film about Kinloch and the closed road that had particularly left a scar on the town's elderly residents. She was deep into writing and researching the film when the news broke that Brown, 18, had been shot and killed as he walked home.
"I knew I had to include it. I also knew Michael Brown's story, at the moment it was taking place, was monumental compared to this closed road in the '60s," says Gillooly. "I struggled with how to give both these things equal weight. I did not want to diminish [Brown's] story but I did not want to make a film about his murder. Other people were doing that and doing a great job at it … When I saw the news reports that he'd been killed in Ferguson, I immediately thought of Kinloch and wondered, 'how could anyone be surprised?'"
Gillooly knew she wanted to weave the story of both communities together: one white, one black. The barricade on Suburban Avenue splitting Ferguson and Kinloch served as the connection. The blocked road forced Kinloch residents to drive several miles out of the way to reach St. Louis. She remembered how Kinloch residents in 1968, after the assassination of Martin Luther King, Jr., protested and demanded that the barrier finally be removed.
"I wanted to explore the metaphor of the roads, linking together the inability to drive down a road in the 1960s, the inability to pass from one community to another, then fast forward almost a half century later and [Brown's] inability to walk freely down a road in his hometown," Gillooly says. "I wanted to tell the story that he was killed on this street, without diminishing either one. The '60s was the prehistory, the backstory to why there was so much tension" that exploded in Ferguson in the aftermath of Brown's murder.
Gillooly teamed with filmmaker and editor Khary Saeed Jones, also a professor at Tufts, to complete the film. "I'd seen his work and we shared similar sensibilities. The subject interested him. He was a huge influence in elevating and including more of Kinloch in the film," she says adding that the editing process took at least two years because "we both teach full time, and things kept changing; we'd find more material."

Gillooly's past work includes her acclaimed 2015 documentary "Suitcase of Love and Shame," a reconstructed narrative of a 1960s adulterous affair woven from reel-to-reel audiotapes discovered in a suitcase purchased on eBay. "Where the Pavement Ends" similarly unearths a hidden history through a rich collage of images, audio recordings, archival material and a narrative that's more lyrical and meditative than linear.
Gillooly left Ferguson in 1978 to attend Massachusetts College of Art and has been a fixture in Boston's documentary film scene ever since. When in 2012 she traveled to Kinloch to scout locations and start research, the bustling community she remembered from her youth was gone. Kinloch fell victim to, among other things,  property buyouts for a proposed expansion of St. Louis Lambert International Airport in the 1980s that never came to fruition.
"By the time I was filming, there were less than 100 residents left," says Gillooly. "It was shocking to me when I decided to start making the film and drove through Kinloch. I remember my disbelief that a place that had thousands of people had been razed. I knew it had to do with gentrification and buyouts of property in the neighborhood. It destroyed a community. There are lots of tornadoes in the Midwest; when I saw Kinloch, I thought that maybe a tornado had come through and I never heard about it. I'd been gone so long … I knew that little by little it had been dismantled from the early '80s to the 2000s."
The generations of Kinloch residents interviewed in the film all had their own memories, or the memories of stories passed down over the years, about the barrier that stretched across Suburban Road. But no image of it existed. Gillooly says this ended up serving the film's impressionistic quality. "Everyone had a memory of it; you can just look at the empty space now and the truth will always be your truth."
---
"Where the Pavement Ends" will be broadcast on PBS affiliate stations May 5 - 10.