During COVID-19 Pandemic, Drag Performers Go Digital
This article is more than 3 years old.
Just a few months ago, Binx was celebrating a big milestone. She was finally able to support herself fully through drag, but the celebration didn't last long. By mid-March, she'd lost almost all sources of income to the COVID-19 pandemic.
"It was pretty devastating, to be honest," says Binx. "I finally got to a point where I could pay all of my bills with drag and I just watched my entire income disappear."
She had a weekly show, a couple of monthly shows, and though others in the community were hopeful things would open back up within a month, Binx was less optimistic. "I knew this was going to affect the rest of the year, especially for drag because it involves a crowd and people gathering together."
This time of year, drag performers are usually booking constantly because of colleges' spring festivals and pride celebrations. Now, like nearly everything else, those events have been canceled. Nightlife workers and performers had to accept a new reality: crowded bars and venues would be some of the last parts of the economy to reopen, and no one knows when that's going to happen.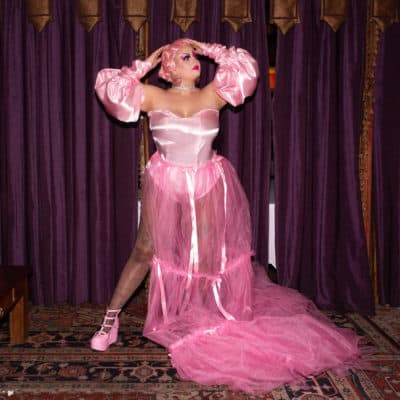 "It was surreal," says Kirbie Fully Loaded, who hosts a monthly show, Private Life, with Binx and another local performer, Static. Then the anxiety set in: how would they support themselves financially, use their art in a meaningful way, and stay connected to their community despite physical spaces being shuttered?
"There's obviously this intense sadness around the cancellation of in-person events because our events are like queer church. It's where we go to connect with each other," says Kirbie. "It's healing. Those are my friends, those are my family members."
But, they say, artists in the community adapted quickly, moving their shows online. So far, fans have followed, and Kirbie says they're attracting new audiences as well — those who are underage or who otherwise avoid bars and nightlife. Drag performers who had never used Instagram live before the pandemic, now attract hundreds of viewers in a two-hour show.
"People have been really generous," says Kirbie. "If I perform Tuesday night on Instagram, I'm definitely going to make more tips virtually than I would on a Tuesday night at Jacques Cabaret."
Kirbie started hosting a weekly Instagram Live show Saturdays at 5 p.m. with their partner, Po.ave, a local hairstylist. During the show, Po.ave gives at-home haircutting support, and the two talk about current events, sex, and queerness. For those who are new to drag or don't know the local scene well, Kirbie suggests some other live shows to check out: Monstera Delicious Presents Night Flowers on May 7 at 8 p.m.; Severity Stone's Super Spooky Story Time ongoing on Wednesdays at 10 p.m.
But as Binx points out, there's only so much one can do with Instagram Live from their apartment. So performers have been experimenting with different platforms where they can host pre-recorded content.
Last week, Binx and Kirbie moved their monthly show, Private Life, to Twitch, an online platform that's popular in the video game community. Their first show attracted more than 400 viewers. Other local shows that have moved to the platform include Violencia Exclamationpoint's Serve Mondays at 9 p.m.; Cyber Service, hosted by Pamela Manderson, Baby Bruiser and Assa Sination at 1 p.m. on May 17 and 31; and Haus of Oni with the Coolidge Corner Theatre hosted by Akira Oni on May 16.
Kirbie says they were inspired by Biqtch Puddin', a Los Angeles-based performer who is also active with online gaming. Last month, she hosted a four-and-a-half-hour digital drag show on the platform that garnered 11,000 views. Kirbie says they haven't set a date for the May show yet, but it's in the works and will be streamed on Twitch.
Some performers in the Boston drag scene, like Kirbie, have day jobs that they've been able to continue through the pandemic, but others, like Binx, do not. For them, it remains to be seen if digital drag can be sustainable in the long term.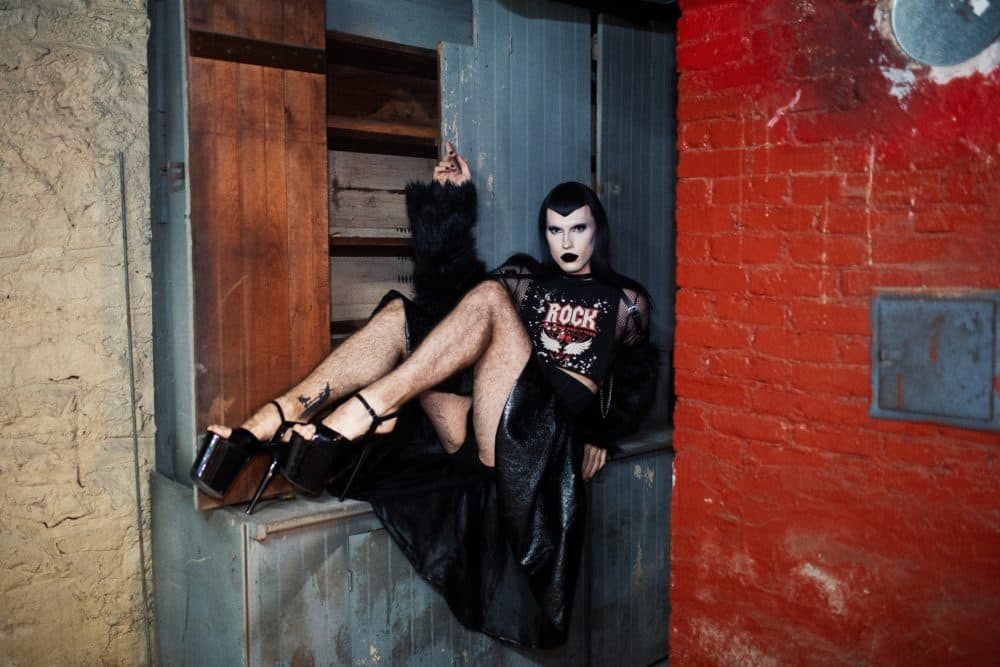 "I've made do as of right now, but I'm interested to see if I could survive on it as it is becoming more and more saturated," says Binx. "Also, the longer this goes on, supporting drag may not be top of the list for people seeing more financial problems as they lose their jobs."
Binx — whose drag is playfully gothic, witchy and fashion-forward — is taking advantage of the extra time she has during the pandemic lockdown to create more looks. She's already started filming for a pre-recorded fashion show she hopes to stream in early June. "It gets hard because I live in a two-bedroom apartment in Fenway, and I'm not sure how much of my home I want to make my backdrop for drag."
The advancements in digital drag in recent weeks have been significant, and Kirbie says that even when the bars open up, these new platforms are likely here to stay.
"I think people are being really creative and finding ways to be sustainable," says Kirbie. "If you really wanted to, you could probably be in a live virtual drag show any night of the week but also how sustainable is that to be able to produce that much content?"
Drag artists typically do everything themselves: they make their wigs, their costumes, do their own makeup, create their sets, curate their props and find their audiences. Many are selling wigs, accessories and other creations to help make ends meet.
"We keep picking up these skills and learning to do things ourselves so we can keep sharing our art," says Kirbie. "It's a hard time right now, but this community is incredibly resilient."