5 Podcasts To Listen To If You Really Want To Know About Race In America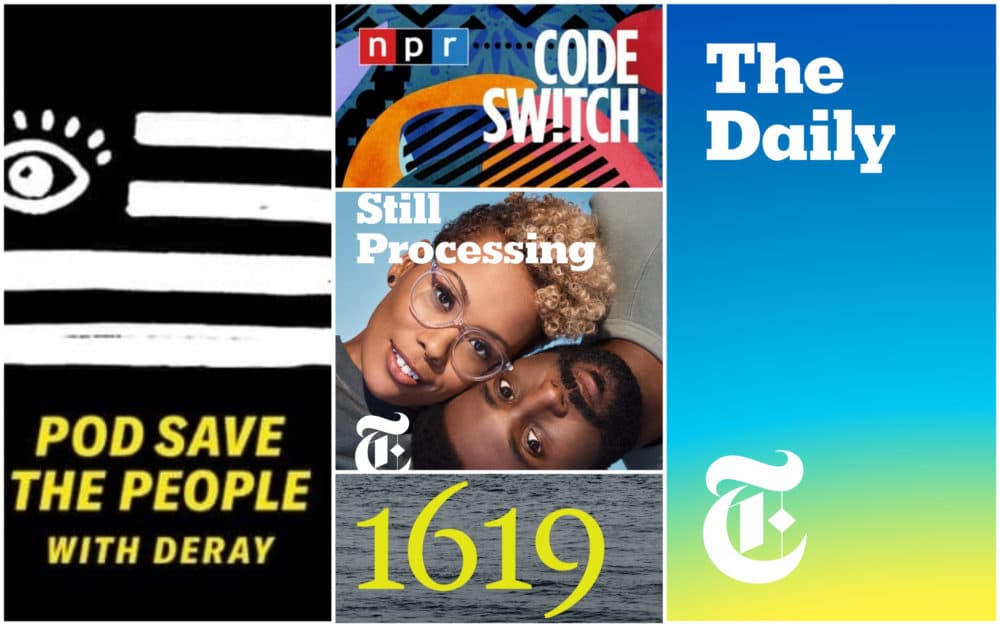 This article is more than 2 years old.
Some of you are new here. I don't mean to WBUR or The ARTery, but to a real education on race that goes past your high school U.S. history class that offered no more than a vague description of slavery in relation to the Civil War. Here's the thing about this list — this is NOT a "how to be a good ally" list. I am not doing that work for you. It is just one of the many resources you can look to for help on understanding what the heck is going on and why it's happening. Do the work and seek out other means of education so that your interest doesn't seem so, well, surface level. We don't have time for any performative interest in anti-racism with all that's at stake. As a Black person, and I'm sure people like me will agree, I can see right through that.
The thing I love about podcasts is the backlog of episodes you can binge, similar to whatever Netflix show you just finished. If you really want to invest in learning (and unlearning) right now, you have to do the work. You have to read and listen to people willing to teach you about the plight of Black folks in this country. Lucky for us, there are many books, podcasts, documentaries, art and various other materials available. They've actually been available for quite some time now, and you may just be making your way in that direction. I decided to make the journey a tiny bit easier for you. Here are five podcasts that will help jumpstart your anti-racism education.
Let's go ahead and get this one out of the way. NPR's "Code Switch" is the star of the show right now. Co-host Gene Demby tweeted that the show is number 1 on iTunes right now. Great! Some of you have already started listening! But I hope you went past one of the most recent episodes titled "A Decade of Watching Black People Die." Talk about a backlog of information on race relations in America. Journalists of color Demby and co-host Shereen Marisol Meraji talk through how race impacts everything, and I mean everything in America. Politics, education, parenting, pop culture, sports, gender disparities, history — you name it and they've probably covered it at some point. Some of my favorites episodes are "What Does 'Hood Feminism' Mean For A Pandemic" about what the mainstream feminist movement could learn from on-the-ground feminists of color, "Respect Yourself" about how behavior gets policed and "After The Cameras Leave," a look at what has changed since Mike Brown was shot by policemen over five years ago.
---
If you've known me for any amount of time, I have probably raved about "Still Processing." Hosted by two Black, queer culture writers from The New York Times, Jenna Wortham and Wesley Morris, who make sense of the internet, trends, social issues and pop culture at large. This has been a favorite show of mine for a few years now and never fails to provide an insight to how they process, learn and critique different topics such as big corporations aligning themselves with social movements in the episode "Kaepernick," going to the National Museum of African American History and Culture for the first time in the episode "Our Journey to the 'Blacksonian'" and an examination of the show "Watchmen" and the movie "Parasite" in the episode "Wake."
---
If you want something quick and thorough for your morning walk or to get you thinking while you make breakfast, "The Daily" is where it's at. Hosted by Michael Barbaro, this show keeps most episodes to around 20-30 minutes in length while going through the nation's biggest stories with the journalists reporting on those stories. It doesn't focus solely on race relations, but many of the episodes touch on racial disparities and explores how much race plays a part in everything we see and do. Recent episodes include "The Systems That Protect the Police" and an emotional special episode with guest Audra D. S. Burch, "The Latest From Minneapolis." The compacted nature of this show makes daily digestion of the news easier. (WBUR also airs "The Daily" each weeknight at 9 p.m.)
---
I'm going to call a few of you out. Some people pretended to read The New York Times Magazine's "The 1619 Project." I say this because that project, helmed by racial injustice reporter Nikole Hannah-Jones (and recent Pulitzer Prize winner), should have connected some dots that got us to where we are now upon its release last summer, but those dots obviously did not connect. When she said no aspect of the nation went untouched by slavery after the 1619 arrival of 20 enslaved Africans, she meant it. And the writers on that project literally wrote about the different ways that continues to be true. Either way, I'm happy we're making our way back to this excellent work, this time focusing on the accompanying podcast. In the first part of this ongoing series, currently with five episodes, some topics covered are the true fight for democracy, the economy that slavery built and the birth of American music.
---
The blue vest has been making the rounds on Twitter for years at this point. Activist DeRay Mckesson and his vest made their way to this show in 2017 and he was soon joined by activists Brittany Packnett Cunningham and Sam Sinyangwe and writer Dr. Clint Smith III. The quad analyzes social issues, culture and politics in hour-long episodes that often feature special guests. I'd like to point you in the direction of an on-the-nose episode from last November titled "No In Between," where they talk to author and historian Ibram X. Kembi about how to be an anti-racist, which coincidentally enough is also the title and subject of Kembi's book.