Pioneering Artist Howardena Pindell Reflects On Art And Race
A trailblazer of our time, Howardena Pindell is an artist, activist, curator and educator whose work often reflects her personal experiences with racism and greater social issues.
Pindell was awarded a Doctor of Fine Arts honorary degree by Brandeis University this year, honoring her contributions to social justice through her artwork and advocacy.  Her work has been featured in major American art museums, and she's had two retrospectives at Brandeis' Rose Art Museum, where she spoke with graduating curatorial interns Friday, June 5.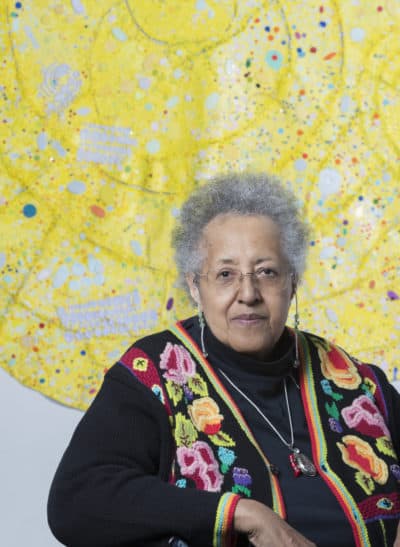 Pindell discussed her college education in New England, ways to work through the pandemic and whether she thinks the art industry will get more inclusive.
Rose Art Museum assistant curator Caitlin Rubin, along with curatorial interns Hannah Kressel and Emma Peters, joined Pindell via Zoom. Rubin began the conversation addressing race and Black lives lost. "The lives of George Floyd, Ahmaud Arbery, Tony McDade and Breonna Taylor, who today would have celebrated her 27th birthday, are the most recent to be taken at the hands of the police within a deep-seeded system of white supremacy that has long structured our country and its institutions."
Rubin went on to describe Pindell's work as resonant, critical and vital, needed now more than ever. "For more than five decades, she has explored the intersection of art and activism, challenging material traditions and structural inequalities of the art world," Rubin said.
After graduating from high school early in Philadelphia, Pindell came to Boston to study art in the 1960s at Boston University before she attended Yale University for her graduate degree. She said she encountered issues in Boston as a student. Parents of her white friends offered the art department money to expel her and urged teachers to lower her grade. One teacher actually followed through.
"Boston was not exactly what I would say the happiest moment in my life, but I will say the Isabella Gardner Museum is a place where I found peace," Pindell said.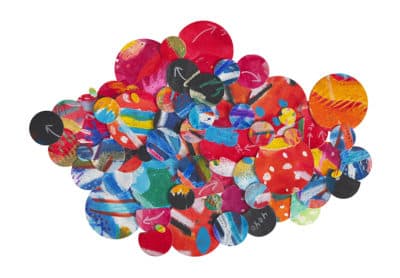 Pindell also shared advice with the graduating interns. She suggested ways to stay motivated outside of the structure that classes provide. Pindell, understanding that there isn't much they can do outside of their homes, suggested staying in touch with peers and touring museums virtually to study exhibits around the world. In the months since folks have been advised to stay in the house, more and more museums have made their collections available online and free of charge.
Pindell also suggested making a day page. "What's happening now on the outside is so overwhelming. Be able to write it down so you don't cling to it," she advised. "Also keep a journal in terms of your ideas as an art historian. What you like to write about, research on as an artist, keep a visual journal of the ideas that you have."
After giving advice to young artists and curators, she revealed that at age 77, she is starting work on her memoir.
As Pindell discussed the prospect of the art world diversifying in the wake of global Black Lives Matter protests, she said she has been impressed by the number of white people who have shown up. "The future will not be as limiting towards people of color and women."