It's Official. Phase 3 Of Massachusetts' Reopening Begins Monday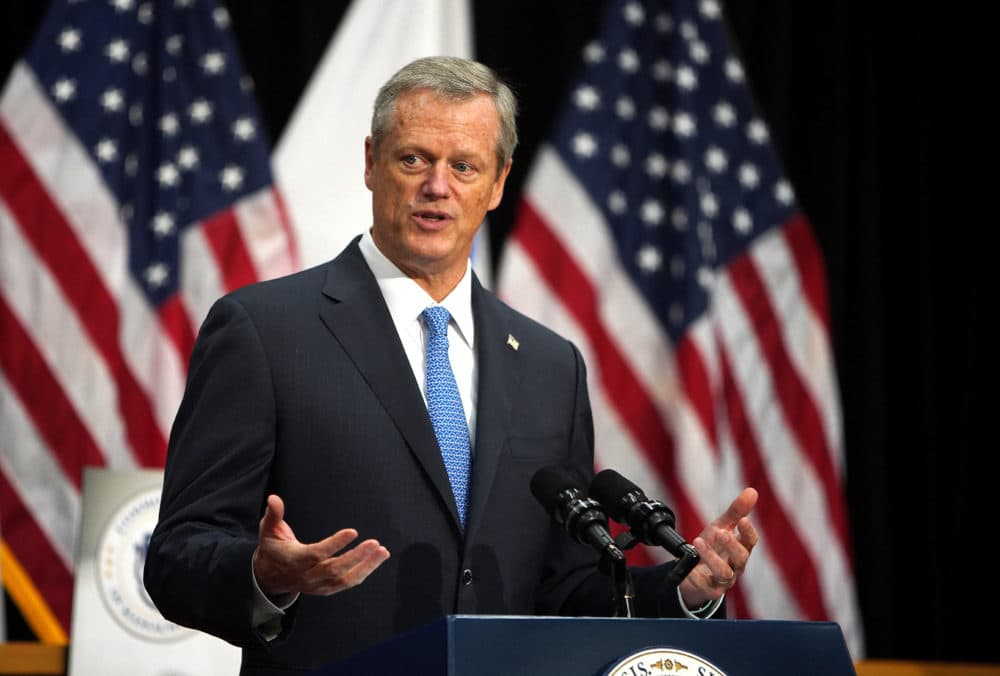 This article is more than 2 years old.
Massachusetts will move into the third phase of its gradual plan to revive public activity on Monday, allowing gyms, museums, movie theaters and more to resume some operations even as COVID cases surge in other parts of the country.
Gov. Charlie Baker's order covers all of the state except Boston, where the changes will take effect on July 13. Somerville has also decided to push back reopenings, following a similar schedule to Boston.
Gov. Charlie Baker, Lt. Gov. Karyn Polito and members of the cabinet unveiled plans Thursday to transition into the next stage of reopening after the holiday weekend, touting positive public health metrics in the state and urging people to continue to abide by social distancing, face-covering and hygiene practices.
"The public health data makes clear that Massachusetts is effectively bringing the fight to the virus as we've reopened," Baker said.
The governor said data shows that the state is controlling the coronavirus, but recent surges in other parts of the country serve as a cautionary tale. "We'd hate to have to move backwards," he said.
Before announcing his decision, Baker noted that Wednesday's daily report included 261 people who had newly tested positive for the virus, 753 patients hospitalized for COVID-19, and a 1.8% positive test rate.
Businesses that return in phase three must follow safety restrictions, including limits on capacity. The phase will "last significantly longer than the other phases," Baker said, and will be broken into two smaller steps.
Strict rules are in place for the third phase of a four-phase economic reopening in Massachusetts.
Gyms and fitness centers, for example, are limited to 40% of capacity and must install barriers between exercise equipment, or commit to 14 feet of spacing between them.
Casinos are among the businesses permitted to resume operations, though Polito noted that the state's casinos will likely only open to workers for about a week, starting on July 6. Encore Boston Harbor in Everett announced in a statement Thursday it will welcome back members of the public on Sunday, July 12 at 9 a.m. Staffers and casino-goers alike will have to adjust to new safety rules under the State Gaming Commission's plan.
The announcement clears the way for the area's pro sports teams to once again host games, though the stands will remain free of fans.
Speaking at a press conference in Fenway Park Thursday afternoon, both Baker and Boston Mayor Marty Walsh welcomed the return of live sporting events as a way to help residents cope with the ongoing restrictions placed on their lives.
"We're certainly not back to normal, but welcoming the Red Sox back and being able to watch live sports again is a big win for Boston and for all of us," Walsh said.
Each league is developing its own standards to meet state restrictions and maintain the health and safety of the players and staff. Red Sox President and CEO Sam Kennedy said Major League Baseball has a 125-page set of protocols in place for teams to follow. It includes rules for screening and testing personnel, and isolation and quarantine protocols for anyone who is exposed to the coronavirus or tests positive.
As the next phase begins, the Baker administration will also update restrictions on gatherings to allow more people to congregate. Indoor gatherings will be capped at eight people per 1,000 square feet with a maximum of 25, while outdoor enclosed gatherings will be limited to 25% of permitted capacity with a maximum of 100.
For the city of Boston, the Baker administration said in a statement that the new gatherings order will go into effect a week later, on Monday, July 13.
Caps do not apply to unenclosed outdoor events, such as backyard parties or park visits.
Health and Human Services Secretary Marylou Sudders explained that while the health care industry would continue to emphasize a focus on telehealth services, several in-person services would return, including certain group treatment programs, as well as some day programs. Additionally, some community-based day services for adults with intellectual disabilities can now reopen, too.
Notably, phase three also loosens restrictions on visitations at long-term care facilities such as nursing homes.
The decision comes as New York and New Jersey pump the brakes on their own progress toward reopening due to record numbers of new infections reported across the country concentrated in southern and western states.
With additional reporting from WBUR's Newsroom and the Associated Press
This article was originally published on July 02, 2020.