Prayer, Song And Drum Beats: Indigenous Groups Show Solidarity For Black Lives In Boston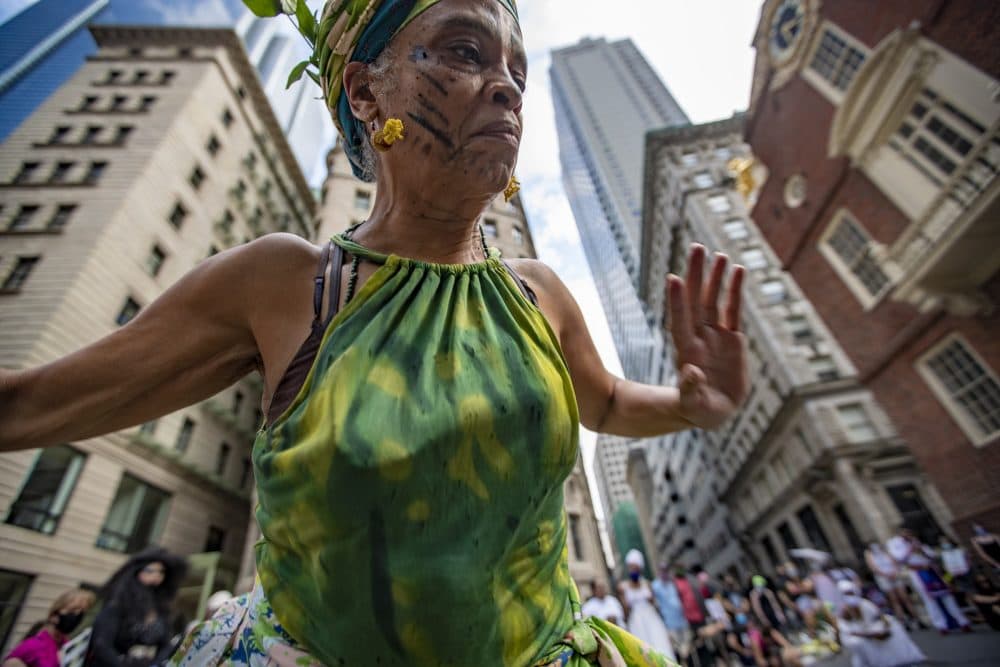 This article is more than 1 year old.
This was not simply a protest.
On Wednesday afternoon, a demonstration called Dismantle Now! BIPOC Solidarity Against White Supremacy used Indigenous prayers, song, dance, drum beats and chanting to beckon their ancestors, move the crowd and stand together against centuries of oppression.
Throughout the march, moments of ceremony and ritual emphasized that the fight for Black, Indigenous and Afro-Indigenous lives are one.
"It is time for everyone to acknowledge that this is a stolen land in a nation built by stolen peoples. We wish to express our solidarity with movements for Black lives and against police violence," said Mahtowin Munro, spokesperson for Indigenous Peoples Day Massachusetts and United American Indians of New England (UAINE) in a statement. "Our people have also been on the streets here and elsewhere to those demands, because of our centuries of ties with our Black relations and because our Native communities also suffer a disproportionate impact from police violence. Politicians and others who now say they want to work for racial justice need to ensure that Indigenous voices and perspectives are included in the work, not erased or silenced."
Though smaller than other recent actions, the representation was vast and diverse.
The BIPOC (black, indigenous and people of color) event began in front of Faneuil Hall, a building named for merchant and slave holder Peter Faneuil.
Streets were blocked to make room for people holding decorated umbrellas with messages like "Dismantle White Supremacy" and "Black Lives Matter."
Organizers set an altar at the site of the Boston Massacre where Crispus Attucks was killed, along with a large black octopus puppet. Each of its eight tentacles represented a system to dismantle, such as capitalism and white supremacy.
In addition to Indigenous Peoples Day Massachusetts and United American Indians of New England, other organizations taking part included representatives from the North American Indian Center of Boston (NAICOB), United American Indians of New England, United Confederation Taino People and New Democracy Coalition.
Though each group has its own goals, they came together to demand change. Beyond the removal of all symbols of white supremacy, they want an increased investment in BIPOC communities and to abolish the police, said Jean-Luc Pierite, president of the board of directors at NAICOB.
"I hope that people walk away and feel not only in solidarity, but definitely enlightened about all of the diaspora and the richness of our communities," Pierite said.
"Indigenous and Black liberation is entwined. Our solidarity with our Black Sisters and Brothers is firmly rooted in breaking the chain of atrocities from the inception of the U.S. project. We stand. We rise. We demand that Black Lives Matter," said Mea Johnson, vice president of the NAICOB board, in a statement. "We are out here fighting for freedom and liberation. We could not be more supportive of Black folks across the country and the world. We say #BlackLivesMatter today and everyday. We will never stop fighting in support of BLM."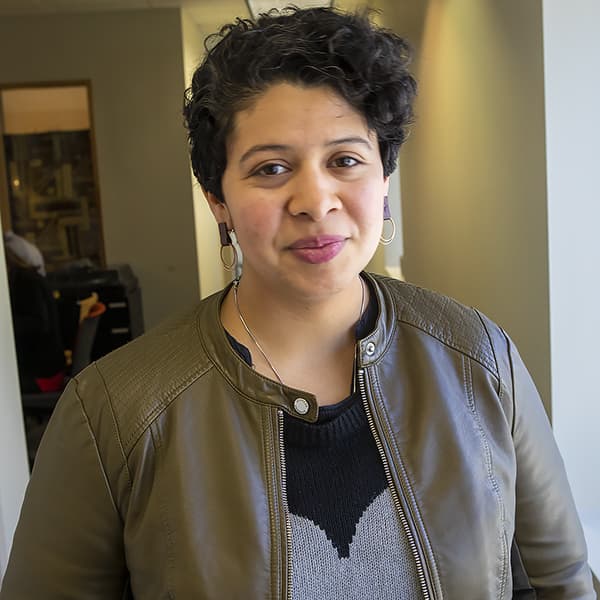 Cristela Guerra Reporter
Cristela Guerra is an arts and culture reporter for WBUR.