State Police: 22 Troopers Implicated In Overtime Scandal Will Be Disciplined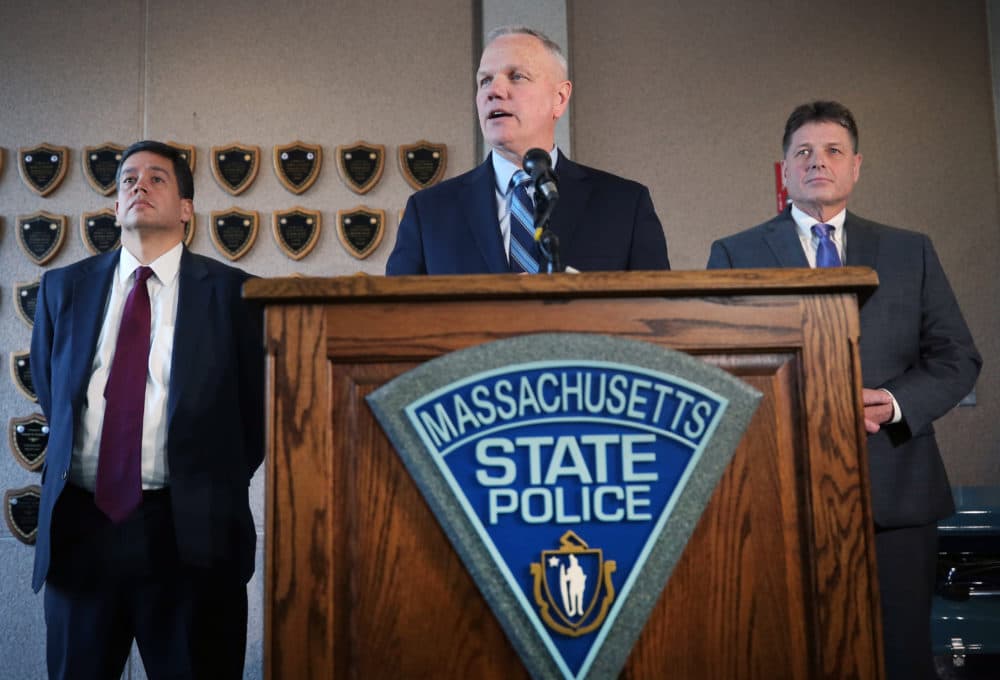 This article is more than 2 years old.
The Massachusetts State Police says it will discipline 22 troopers who submitted false payroll records to collect extra pay for hours they didn't work. Of those, one trooper has already been fired, and the department says it intends to fire five more.
In all, 46 troopers who worked in Troop E were implicated in an overtime fraud scandal in which troopers submitted for overtime they didn't work and then covered it up. The unit, which primarily patrolled the Mass. Pike, was disbanded after the scheme was discovered in 2018.
Twenty-four other troopers were either already fired after they were charged criminally, or they retired amid the investigation.
The decision to discipline, rather than fire, most of the 22 remaining troopers is a reversal from January, when State Police Colonel Christopher Mason said he recommended 22 members of the force lose their jobs.
"Under the department disciplines rules, the maximum penalty for these charges sustained here is termination," Mason said at the time. "As a result, I have directed the internal affairs section to notify each member of my intent to pursue termination of their employment with the Massachusetts State Police."
The 15 troopers who can keep their jobs face unpaid suspensions ranging from 60 to 841 days. The troopers will also have to pay full restitution for the money stolen, receive a reduction in seniority and waive rights to appeal.
The department says restitution amounts range from nearly $3,000 to almost $16,000.
Of the 46 troopers implicated, only one will not be disciplined beyond a letter in the trooper's file. The department said the trooper improperly billed for four overtime hours, but it was an administrative error.