Drag Queens Katya And Trixie Challenge Societal Expectations In Their Guide To Modern Womanhood
Katya Zamolodchikova is a Russian nesting doll of characters. Once a fixture in the Boston drag scene, the Marlborough native first hit the small screen during the seventh season of "RuPaul's Drag Race" before vaulting into massive fame. Sometimes, she's part Simone de Beauvoir, dishing on existentialism during her YouTube shows. Sometimes she's part Simone Biles, flipping and splitting onstage mid lip-sync during live performances. Now the drag entertainer, actor, and comedian can add author to the list, with the July 14 release of "Trixie and Katya's Guide to Modern Womanhood."
The book, written with friend, frequent collaborator and fellow "Drag Race" alum Trixie Mattel, is based on a vintage etiquette manual and dishes advice on everything from beauty to hookups and travel. "Unless your makeup bag is a Ziploc of anthrax, nothing in there should scare you," Trixie advises readers on beauty. Elsewhere, Katya offers the insight: "Creating a morning hygienic ritual is a way to reset the body and mind as you scrub off the scum of yesterday's shame and prepare for whatever trials and humiliations the new day inevitably has in store for you."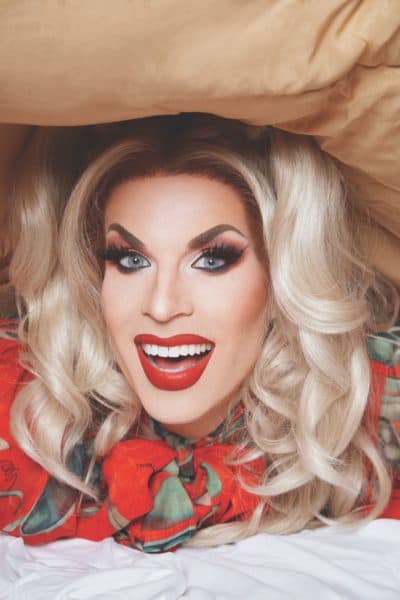 It's clear from the jump that the advice is tongue-in-cheek. And that cheek is slathered in layers of makeup and contoured to within an inch of its life. But maybe, you're wondering why was this mashup of feminine mistakes and "The Feminine Mystique" written by two men?
"That line of questioning is offensive," Katya says with a laugh on the phone from her home the day of the book launch. Katya has lived in LA since moving from Boston in 2016. "Well, there's two reasons. One is like because in the drag terminology everybody's 'girl.' Then you graduate onto being a woman. So it's just another word for personhood. And we like the irony and the absurdity of two white, bald, gay, thirty-something men telling people how to be women. It's sort of like a piss-take on the whole 'Queer Eye' format which I loathe. Secretly."
In a separate chat from her LA home, Trixie sums up the book with a zinger. "It puts a clown nose on the expectation of women in society."
Writing a book has been a lifelong dream for Katya, she says, and when she and Trixie were pitched the idea of writing a book together, the task seemed more doable than going solo. "When I got the opportunity to do it with Katya I was like, 'OK, I believe in us and I believe in our commitment to one another,' so I knew we could it," Trixie says.
They're both no strangers to serving both looks and advice, thanks to their massively popular YouTube series, "UNHhhh," which they've hosted since 2016. The show led to the 2017 premiere of their series, "The Trixie and Katya Show," which ran on the Viceland network for one season and saw the pair riffing on everything from spirituality to sex.
"I love self-help books and I've read a lot of them because I'm a person who has needed a lot of help," Katya laughs. "And not just self-help but everything from like the Bhagavad Gita and esoteric spiritual texts to 'The 7 Habits of Highly Effective People' and stuff like that."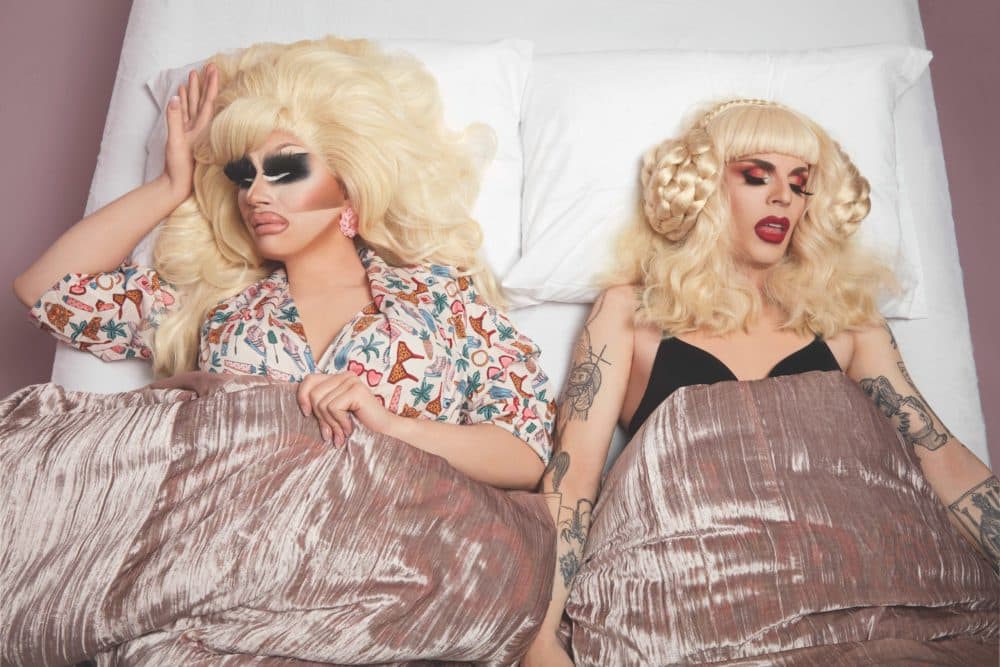 She and Trixie joke about how it was a no-brainer that Katya tackled the chapter on drug use. She's been open about her struggles with drug addiction, and how a relapse and subsequent "complete psychotic break from reality" led to her leaving "The Trixie and Katya Show" during filming in 2018. Comedian and "Drag Race" season eight winner Bob the Drag Queen took over co-hosting duties while Katya sought help and took a break from drag. Initially, she hesitated about mining her past struggles for the chapter titled "Pills, Pipes, and Potions: Over the Rainbow and Under the Influence."
"There was a big back and forth between me and the editor, who is this wonderful, wonderful woman, because at one point I was like, 'do we scrap this [chapter] all together?' Because it was too difficult to establish what I felt to be an appropriate tone," Katya says. "I know I have a lot of experience in wild stories, which is great for a book. But I also don't want to glamorize but neither do I want to stigmatize the use of drugs." She's happy with the end result, of the stories that are entertaining but maybe a bit harrowing — a kind of cautionary-tale trapeze act in stilettos. "I mean, you know, if someone had told me about their experience chugging a bottle of Robitussin, I wouldn't've done it."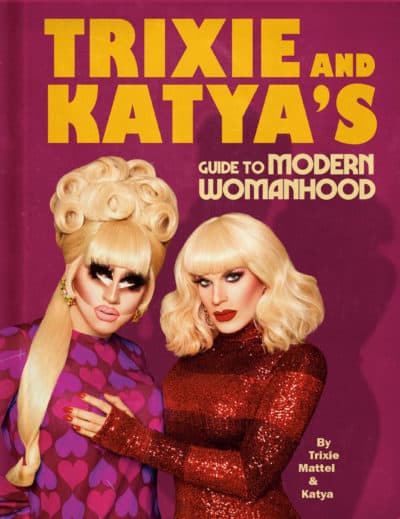 The book isn't the first time that the lines between creator and character have blurred — like the edges of an expertly applied lace-front wig. With the full name of Yekaterina Petrovna Zamolodchikova, Katya is the brainchild of Brian McCook, who created the drag character in 2006 while at MassArt. Katya was conceptualized as a former gymnast turned "high-class Russian whore." In her early days, she hosted the Perestroika drag show at Jacques' Cabaret in Bay Village, where you might find her lip-syncing to a Russian version of "Memory" from the musical "Cats" while dressed in a catsuit and pretending to defecate in a tub of kitty litter (seriously, Google that). She also worked for about seven years at the recently closed Dorothy's Costume Boutique. "I definitely want to write a book about it or have it be a section in the memoir," she says of the place, which she describes as "magic," though with "equal parts comedy and tragedy."
The character of Katya used to have a defined, discrete identity, but she adapted and kind of fractured the hammer-and-sickle shtick while on "Drag Race." "If I could go back, I would just pretend to be Russian the whole time and just see how long I could've kept it up. And then one day be like [with a heavy Boston accent] 'I'm from Marlborough, Mass.' It could've worked. The girls weren't that smart," she laughs. "So now there's like various versions of me. There's Katya the Russian. And then there's me in drag. Basically, regular Katya is like me in drag with a Red Bull."
Sometimes, Katya busts out the character of Trish, a Dunkin' cup-sporting Quincy native who cuts hair in her mom's garage, is 10 days sober — sorta, though she'll admit to a little pot — and at one point lived in a dumpster behind Jacques. As for what Trish is up to during quarantine, Katya says, "Oh my god. I think she's taken advantage of all the people that have left the city and she's squatting her life. Like she's squatting in luxury." She pictures Trish in Malibu, making her way down the coast.
Whatever form Katya takes, her satire-steeped drag combines glamor and grit, bouncing between looks that are what she calls "sexy gymnast whore" and "camp, clown idiot." Braided blonde up-dos stuffed with cigarettes. A red gown paired with black teeth and a bloody pentacle on her forehead. Opera gloves plus a sheath dress with portraits of Mao Zedong.
If womanhood (or gender in general) is performative, then maybe two people with combined decades performing as females really do have a lot of wisdom to offer. After all, they'll tell you in videos or photo captions, they are Female Women. And, look at these "biological women," commenters will agree.
"It's tough, though, because these days it's tricky," Katya says of that smoky-eyed wink to the audience. How someone wearing three wigs, and pounds of makeup, who announces that they are a biological woman might not, you know, actually be one. "I think most people get it. I think because we look so ridiculous and it's so obviously coming from a comedic angle that at least until now we haven't been accused of misogyny or transphobia or something like that."
Not everyone wants to give queens a pass, though, and some detractors of drag peg it as misogynistic. A 2015 viral Facebook post by Mary Cheney, the out lesbian daughter of former vice president Dick Cheney, accused drag performers of "act[ing] out every offensive stereotype of women (bitchy, catty, dumb, slutty, etc.)" and compared drag to blackface. When the "Drag Race" franchise expanded to the United Kingdom, where it aired on the BBC — which is funded by the annual television license fees paid by households — viewers like writer Rose Collis complained about the show's misogynistic nature.
Katya, however, finds it ridiculous to dismiss all of drag as misogynistic but notes the importance of the context. "I just watched this incredible documentary called 'Disclosure' that looks at representation of trans people in media and how often it's like a man in drag, in and of itself is a joke. Like, it's an inherently comedic thing for a man to dress up as a woman." From the Three Stooges dressed as ballerinas to Jamie Foxx's character of Wanda in the '90s sketch comedy series "In Living Color," the underlying joke — perhaps rooted in misogyny and transphobia — has been for many years, "look how ridiculous that man looks in a dress."
But Katya views the role of drag as satire and subversion. "There's always a subversive element," she says. "I think that's the key. I mean, not to get too pretentious or philosophical about it, I like to slip into the role in order to illuminate the artifice and its ridiculousness. Like, to simultaneously enjoy this kind of arbitrary set of rules and features while broadly broadcasting their uselessness or their ridiculousness." Turning into Katya is a complete construction job — an hour in the shower shaving, the layers of makeup, the lashes, the heels. "Society says, 'this is what it means to be a woman. This is what it means to look like a woman.' And then we kind of play with that. And then you realize, like, 'what the f--k?' This is all kind of bull---t. I mean, it's fun. But it can also be really harmful and dangerous and painful."
So what can a drag queen teach you about womanhood or otherwise? Or what can you learn from this how-to guide?
"An alternate title could be like 'How to Be a Person,'" Katya offers. "Or 'How Not to Be a Piece of S--t.'"