Gov. Baker Meets With Pence On Nantucket To Discuss Virus Response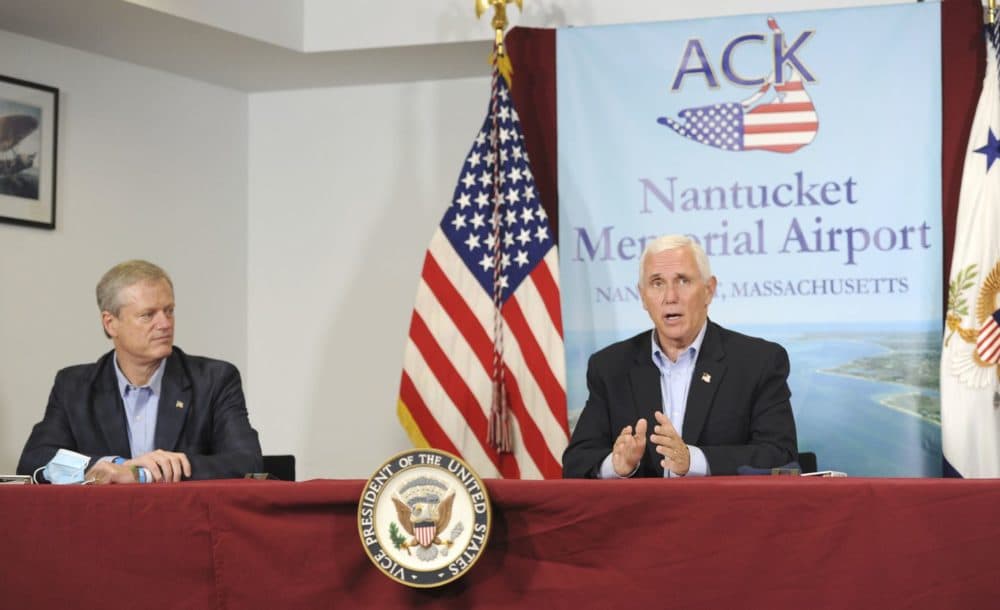 On Nantucket Saturday, Mike Pence met with Gov. Charlie Baker and the Trump administration's coronavirus testing czar, Admiral Brett Giroir.
Pence visited the island for a fundraiser for Trump's reelection campaign, which Baker said he was not attending. The fundraiser was expected to raise $1 million, and tickets cost $25,000, POLITICO reported. Nantucket has seen a rise in COVID-19 cases in recent weeks, likely stemming from out-of-state visitors.
Baker has been critical of the federal pandemic response. Early in the pandemic, Baker asked the federal government not to outbid states on COVID-19 supplies.
During a press conference, Baker said the administration's task force has been supportive of the state's efforts to battle the coronavirus.
"I just spent an hour with the admiral going over all of the things that keep me up at night and will keep me up at night for the next few days, the next few months," Baker said. "Almost all of them are [not only] things that are ... keeping him up at night, but he's already come up with some pretty interesting ideas about what to do about them. So we're looking forward to continue the work."
Pence, who leads the White House coronavirus task force, pledged more federal resources to help bring Mass. kids back to school. School districts in Mass. are developing individual plans for bringing students back in the fall. Many are juggling concerns about classroom and bus capacity.
"We simply believe it's best for our kids to be back in the classrooms," Pence said.
Pence tweeted his support for Baker's coronavirus response Saturday.
He also reiterated his pledge to support Mass. with federal resources.
The meeting comes on the heels of Baker's Friday announcement that travelers to Mass. must fill out the state travel form with details about their travels and an acknowledgement that they will quarantine for 14 days or until they receive a negative test result.
On Friday morning, Baker signed a $1.1 billion state COVID-19 spending bill that included funds for personal protective equipment, field hospitals and shelters, contact tracing and supplemental payments to hospitals and providers.
Elie Levine Freelance Digital Producer
Elie Levine is a freelance digital producer for WBUR.