MFA Appoints First-Ever Director Of Belonging And Inclusion
Rosa Rodriguez-Williams, the Museum of Fine Arts' first-ever senior director of belonging and inclusion, begins her job next week, on Sept. 9, at a time when many institutions across the country are pushing themselves to reconsider their roles in the community.
This includes re-evaluating how they reach underserved audiences and taking a closer look at what visitors actually experience once they cross the threshold into the museum.
After more than a decade as the director of Northeastern University's Latinx Student Cultural Center, Rodriguez-Williams said some asked her, why a museum?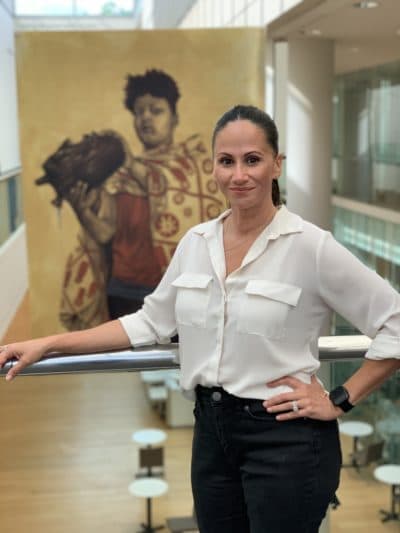 "Why not a museum," she answered. "Why not take my expertise and things that I've done as part of cultural life at Northeastern to this space ... that has a lot of similarities in terms of how particularly people of color feel in this environment."
Her job is a crucial one, according to Makeeba McCreary, the MFA's chief of learning and community engagement.
"One of the conversations we've been having here just among my colleagues, but also with Matthew Teitelbaum, the director, is to really start to interrogate who we are open for," McCreary said. "Why is the museum here? We're here to serve a city. Who is in this city? What is it that they need when they come into this museum? What stories do they need to understand about themselves? About other people? And do they see that? Do they find themselves when they come in here? And we know that actually, for the most part, no. If you are black or brown or you are indigenous from another community, if your language is not English, that we haven't delivered in that way."
One way they're addressing this is by rethinking what has traditionally been known as the American wing as well as what's inside of those frames and on the walls, she said.
Rodriguez-Williams holds a bachelor's degree in sociology from the University of Massachusetts at Amherst and a master's degree in social work from Boston College School of Social Work.
In May, the museum committed $500,000 over three years to community engagement and diversity initiatives. The agreement included collaboration with the school, the implementation of an anti-discrimination and anti-harassment policy, and hiring an external consultant to study the museum's broader culture and climate. This was the result of an investigation after a group of then seventh-grade honor roll students were allegedly harassed and discriminated against by other museum patrons.
"There's a little bit of groundwork that's already there that I'm excited to get my hands on," Rodriguez-Williams said. "I think a lot of the times people will view inclusion work as the organization's work. And that's very true. You know, we sort of lay down strategies and do the things that we need to do. But it is also the people, right? The organization is the people ... so how we interact with each other is also a part of that."