Dorchester Art Project To Expand Into Street Level Space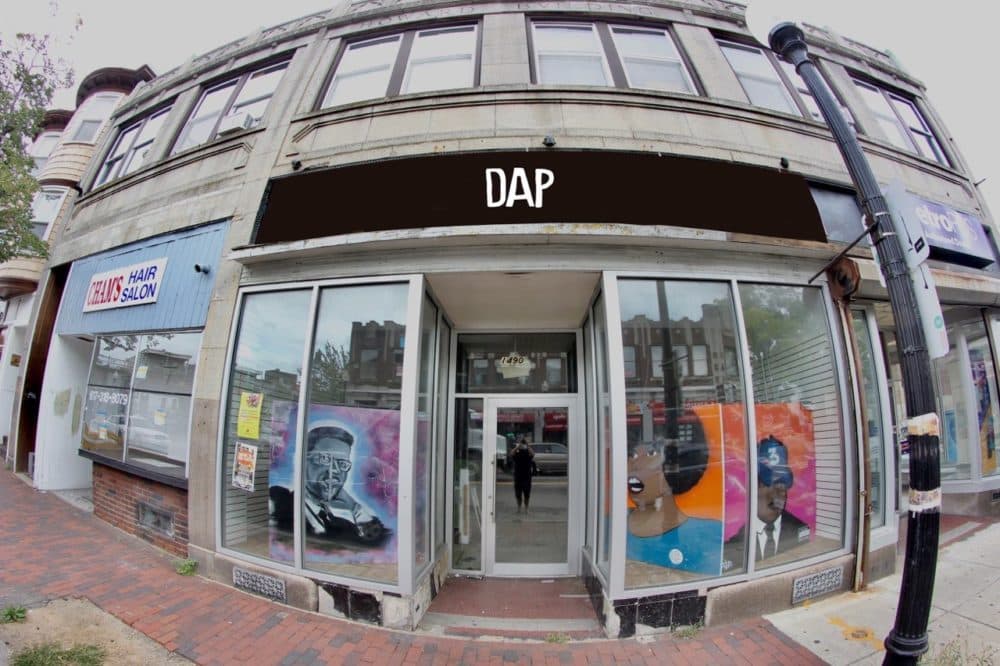 This article is more than 1 year old.
Fields Corner renegade art space Dorchester Art Project is officially expanding their space from their second-floor loft at 1486 Dorchester Ave to include a first-floor storefront in the same building. The plan was announced on Dorchester Art Project's Facebook page earlier last week.
The current owners of Dorchester Art Project, or DAP, have occupied the second floor of the building since May 2018. In the past two years, they have operated the second floor as a combination art gallery, events venue, and studio space. Currently, the studios host up to 20 resident artists at various times, three-fourths of whom are people of color and half of whom live in or are originally from Dorchester. The storefront, with the address of 1490 Dorchester Ave, is slated to open Oct. 1 pending renovations to the space.
"It's totally wild," says Sam Potrykus of DAP. "The space has been vacant for a long while. But once COVID happened, we negotiated a deal with the landlord, and he gave us an opportunity to grow the business."
The retail space was previously occupied by the store 99 Cent State, which shuttered in 2015. Potrykus, who co-runs DAP while moonlighting as a professional furniture mover, is also the principal of arts and publishing nonprofit Brain Arts Org. He plans to continue to offer affordable artist space and creative outlets to locals in Fields Corner and Dorchester at large.
"We work with incredibly talented people who at one point didn't even consider themselves artists, because they didn't have the opportunities or the resources to consider becoming an artist," says Potrykus. "We didn't have to bring in all this awesome stuff [from outside], we just put in the effort to find the awesome stuff that was already here. Look no further."
Amid shifting retail presences in Fields Corner — with nearby favorite America's Food Basket recently closing to be replaced with a Target — the storefront space is gearing up to host a small maker's market, a workshop and co-working space, and/or more studio space for artists.
"I think it'll be a great use of the space", says neighbor Peter Om. Om is the owner of Coco Leaf Dessert Café, located a few doors down. "They've been great members of the community, and they boost [our business] as much as they can."
From 2018 through 2020, DAP regularly hosted live shows, concerts, workshops, and dance events in their performance space on the second floor. Their hallmark open mic nights, on the last Tuesday of every month, regularly packed the house of their upstairs performance venue. With the onset of the COVID-19 crisis, the venue has switched to hosting livestreamed events.
"With COVID and not being able to host events, they've pivoted in such an ingenious way for artists to do their work there," says Amanda Shea. Shea has hosted various events at DAP including the Dorchester Open Mic. "For artists like myself, who do livestream shows and also film projects, it's crucial to have an institution that is both smart and stands by their mission of being a hub for local artists. If you didn't know where the scene was, DAP is a one-stop shop."
Meanwhile, the artist studios have continued to operate relatively unabated, with precautions in place. Tenants of the studio spaces include visual artists as well as musicians, DJs, and small business owners.
"With the storefront, it'll give artists a better chance to sell their art and get more attention," remarks musician Jessica Johnson. Johnson, alias JESSCX, has been a resident artist at DAP since January 2020. A Dorchester resident for most of her life, she happened upon DAP while walking down Dorchester Ave and immediately became absorbed into the fray of the space.
"It's been a place that has filled a void when you don't belong to a community," remarks Johnson. "It's become more and more of why I love being here. With the expansion, I'm happy that there will be more space for this community — and it will be wheelchair-accessible as well."