'I Feel Like I Have Already Lost A Home': Young Environmentalists On Why They're Fighting For Change
Resume
Editor's Note: Want to help us improve our climate coverage? Take this short survey to let us know what you like and what you want more of from our reporting.
There's a saying that "The personal is political." And young environmentalists often say they got involved in the movement after seeing the effects of climate change — and climate injustice — firsthand.
WBUR spoke with two young activists, Andrea Nyamkeye and Dania Halak, about how their experiences as immigrants and women of color inspired them to take action.
Nyamekye, 25, is the co-director of Neighbor to Neighbor, a Massachusetts-based nonprofit that works for progressive causes. And Halak, 18, is a freshman at Amherst College and a Field Advisor for Our Climate, a local environmental group that advocates for equitable and science-based climate policy.
Excerpts from this interview have been lightly edited for clarity.
Interview Highlights
Andrea Nyamekye: I was born in Ghana, and my family moved here in 1998 when I was three. I remember my childhood feeling like it went by very quickly; just constantly having to work, and seeing my mom and my parents constantly having to work, but still not feeling like they're being stable.
It wasn't until college, when I was at UMass, that those things started to click. I was looking back on my story and coming here, and just seeing that there are systems in place that delineate people into haves and have-nots.
Dania Halak: I was born in Damascus, Syria, where my mom is from, and then I moved to Aleppo, where my dad is from. And I lived there — a very great childhood, a wonderful life — and then the Syrian Civil War started.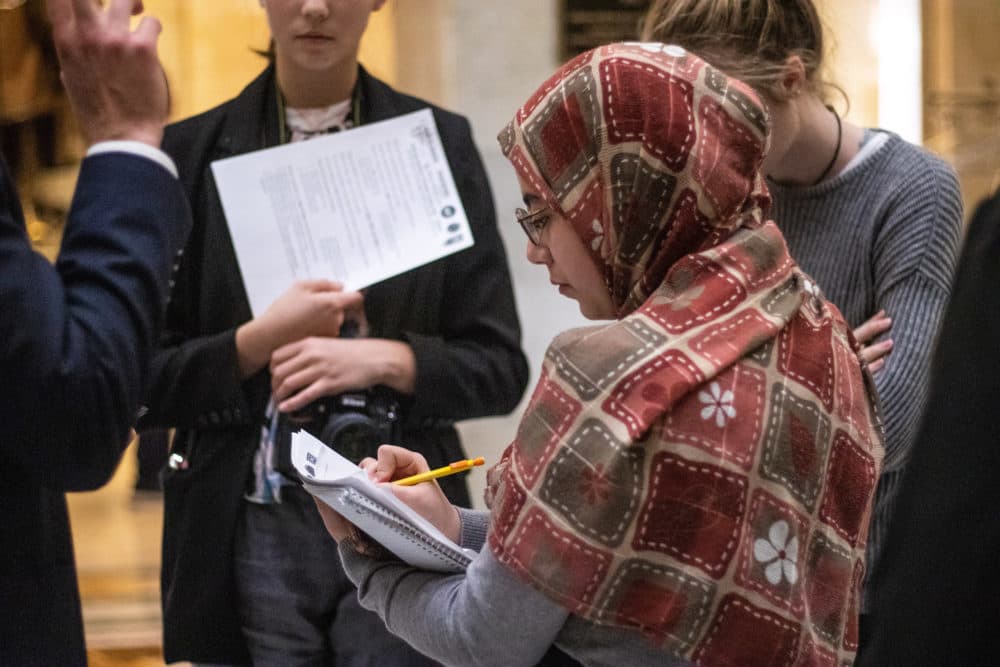 I recall this moment where I had just returned back from school, and a bomb was dropped on the college right across the street from my house. There was so much pressure, I couldn't hear anything. I remember just squeezing my eyes. And I tried to open my eyes, but everything was still black.
I focus on that moment specifically because it comes to mind when I was learning about how the city that I live in now, Revere, is one of the most vulnerable cities to climate change.
I feel like I have already lost a home, which is Syria. I would call Revere home, but it's really difficult to build that attachment to a place I know I might lose as well.
Nyameke: My climate work really sprung in my sophomore year of college. I switched my major, which really upset my dad. I went in as a biology major, pre-med, and then I realized that I really hated the classes in bio, so I switched into natural resources conservation.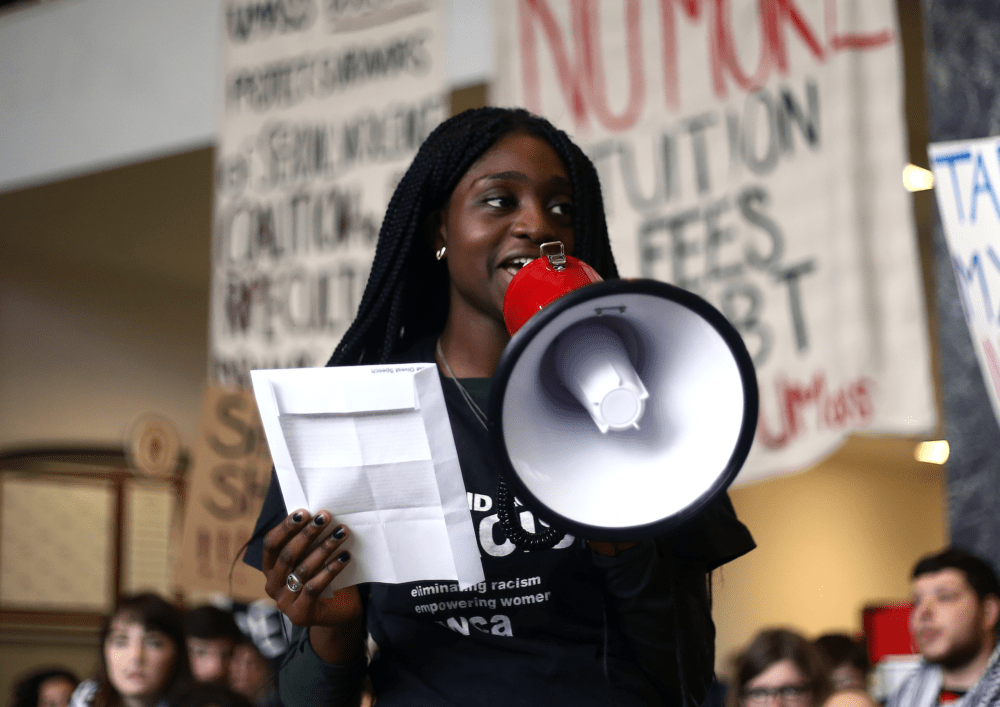 My classes were filled with "this is how the animals are being impacted by climate change, this is the rising sea levels, this is the parts per million" — like, super science heavy. I wasn't yet fully thinking of the people aspect of climate change.
And it wasn't until 2018 when I went back home to Ghana — and this had been 20 years since I had actually gone back home to Ghana — where things kind of clicked for me.
Halak: I came to the United States in late 2016, the beginning of my freshman year of high school. I stumbled upon an article by Richard Seager from Columbia University, and he talks about how climate change actually played a role in starting the Syrian Civil War.
So the story goes, for three years Syria experienced a drought. And crops died, the economy suffered, farmers had to move into cities, and that created some tension. So then the stability of Syria was shaken up.
And I know that is not everything that caused the Syrian Civil War — that would be very naive to claim. But just thinking about how something so small can contribute to the things that happened — having to move from place to place, and country to country. I still battle with that: where is home? I still don't know what home is.
Nyameke: Part of the reason that I [became an activist] is just very personal in nature. Seeing the severe droughts in Ghana; torrential rains during the wet season that can completely flood a whole community; the blackouts because there's not enough electricity to go to everybody.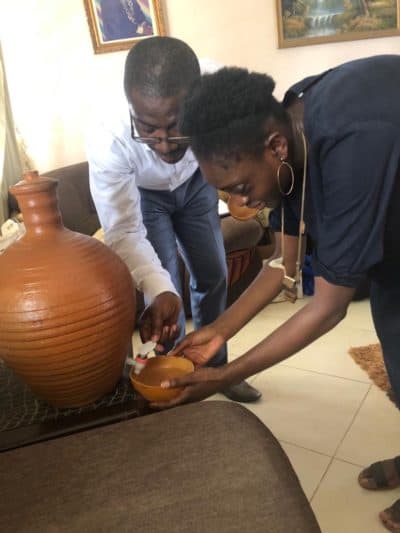 When I was there, I started to see more of the people aspect of environment and climate change. And so now, when I'm doing this work with environmental justice and climate change, [I focus on] really bringing in the people stories because I think that is often forgotten.
Halak: I remember we went to the souk, me and my dad, and we saw cherries. Cherries are a staple in Aleppo — we eat cherries all the time, we even put cherries in meat! And I'm like, 'Oh my gosh, Baba can we get this?' And he shakes his head, 'We can't now.' At that point, the price was too high.
And then you look back at that moment and you're like, 'that was a sign.'
Nyameke: People of color, low income people, working class people, immigrants are grossly under-represented in a lot of the halls of power. For me, it's always been very helpful to be grounded in my own story and to always know that there's a community that I can go back to, to talk about it with, because it's very hard to do it in a space where you're the only one.
Halak: Something I witness a lot as an immigrant is this act of: 'You're poor, you're struggling in this way. I'm clearly superior, therefore I have the power to help you, and I will help you in this way.'
I think that really relates to certain environments in the environmental activism circle where, in my experience, you go into these organizations and it's a very white group. And I bet nobody wants to be racist or insensitive, but when you have places that are not diverse and not representative of the people that you're fighting for, that's often what happens.
Nyameke: The major I was in, I was one of the only women of color. So it was all white, it was all very nature-y people, people who went on hikes all the time and had all this skiing gear. And I'm like, I like to go on walks in nature, but I don't have all this gear! So it was definitely a different space for sure.
I feel very supported within my organization, but a lot of the climate coalitions that we are a part of, I'm still the only person of color in that space.
Halak: I started advocating for climate policy before I learned about its connection to Syria, and then of course, when I learned just exactly how much we are in trouble here in Revere, it was terrifying. And I was like, well, we need to pump the gas now.
I think there is this thing that happens when you are an immigrant, and you just fend for other people. There is this sense of empathy that happens where you do something good simply because it's something good.
This story is part of Covering Climate Now, a global journalism collaboration of more than 400 news outlets committed to better coverage of the climate crisis. This Sept. 21-28 collaborative week focuses on the intersection of climate change and politics.
This segment aired on September 24, 2020.