The Aspirations Of Undocumented Immigrants Meet At Company One's 'Downtown Crossing'
This article is more than 2 years old.
A Nigerian college student looks forward to graduation. A Latina nonprofit worker readies to launch a business. An older Asian woman wonders how she can retire after years of earning low wages. These are a few of the stories at the center of Company One Theatre's new play "Downtown Crossing" (through Oct. 25) by David Valdes. The lives of seven undocumented immigrants cross paths on the MBTA Orange Line on Marathon Monday. When their train gets delayed due to police action, the passengers' hopes, dreams and fears are revealed through a series of intersecting monologues.
To develop the play, which highlights the challenges of trying to live every day with the ever-present fear of being deported, Company One — in partnership with Northeastern University and the Boston Public Library — set up community sessions with Valdes. There were facilitated conversations and interviews with DACA recipients, immigrant rights advocates, current and former undocumented immigrants, among others.
"Downtown Crossing" has a strong narrative structure with its diverse perspectives, surprises that keep viewers on their toes, and tense dramatic touches like a cop stop. But sometimes the dialogue is a little too fast-paced and the storytelling too unfocused for its own good. There were some technical glitches, too, but hopefully they were fixed after the dress rehearsal I was invited to attend. The virtues outweigh the flaws, though, from the impressive digital landscapes to the moments of clear, simple truths that bring home what these characters are going through.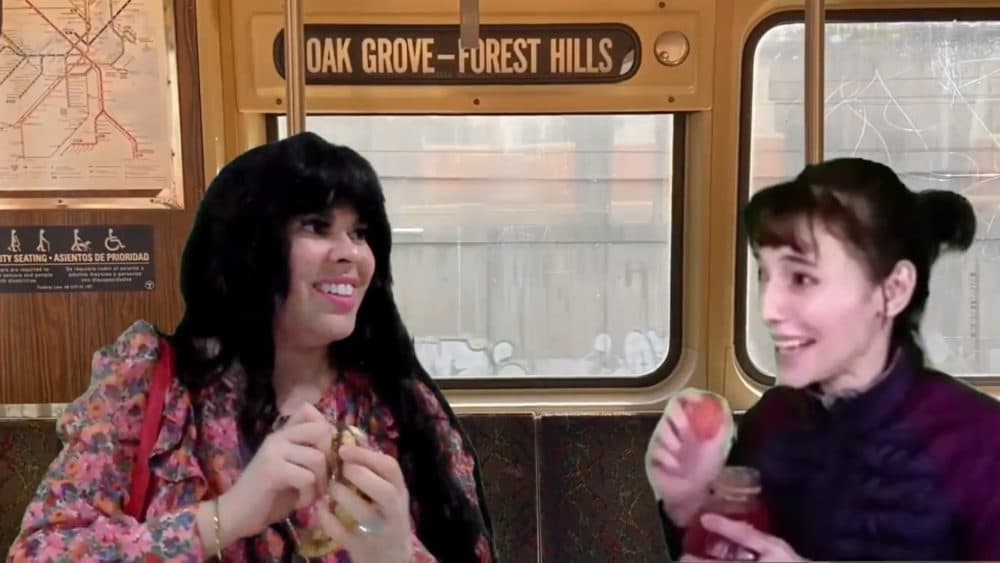 Some of the best moments are between friends Lupe (Venuz Delmar) and Jacinta (Graciela Femenia Tully). At the start of the show, the two ride the train together and talk about their lives while drinking Gatorade and snacking on a banana. Under the direction of Summer L. Williams, the relationship between the women is so seamless, they make it seem as if they're in the same shot rather than separate homes.
Lupe's life was different in her home country. She worked in tech and her husband was an attorney. She went from having "tickets to the ballet to cleaning toilets at Howard Johnson." When she and her husband arrived in the U.S., they quickly learned that he couldn't practice law. Instead, he got a job in construction and later became the manager at a warehouse. Over time, things got better. Lupe's been promoted at her job and she wants to start "Chispa" or Spark, which will offer language classes and later, a path to citizenship.
In his monologue, Bolade aka Bo (Jean Philippe Darang) expertly lays out the need for code switching depending on which environment he's in. That ability to adapt when needed helps him and the other characters stay out of harm's way. He explains that one minute you're legal and the next you're not and his mom never told him the difference. It's not until he tries to get a learner's permit that he realizes that he doesn't have a social security number.
To pull off these different scenes in the digital realm, the harnessing of various technologies is paramount. Here, streaming producer and visual designer Leanna Keyes, utilizes a number of backgrounds to augment the monologues. For instance, when Sarom (Eiko Yamamoto) talks about her kids' cheerleading, bright pink sparkles and what looks like metal hair clips appear. When Jacinta talks about running the marathon, the finish line pops up behind her. And when the talkative Declan (Ben Harris), an Irish immigrant with lots of corny jokes tells of his daughter Aria being christened, stained glass surrounds him. There's even a car scene where two of the actors bop to music before being pulled over.

Perhaps the most memorable story is Ms. Eleanor's or Yingxia (Christina R. Chan). Ms. Eleanor has been working in a restaurant in Chinatown for a long time. She works and stays in a house for restaurant staffers during the week and gets to sleep at home on Sunday and Monday nights. The new owners of the restaurant try to fire her, but she won't leave. Most of her time is spent at the job. She has a favorite customer whom she calls Mr. 23. He tips the same amount every time and always orders the #23 entrée: Chinese eggplant with garlic. When he comes in to retrieve his food, she says to him "two chili hot." He repeats it to her and "it's nice, a tradition." When he stops coming in, she wonders "when you're that old, who cares?" Aging, rising rents and loneliness color Eleanor's life. Her husband died many years ago and her old bosses have retired. But she still works 72 hours a week. One day, Ms. Eleanor asks a lawyer what she can do to retire. She doesn't get an answer.
Valdes — a Company One PlayLab alum and Huntington Theatre Company Playwriting Fellow — has an impressive list of credentials, from the Humana Festival of New American Plays to a National New Play Network Rolling World Premiere of "The Mermaid Hour," (as David Valdes Greenwood) in 2018. He believes "a good play should ask more questions than it answers."
Valdes offers up an interesting array of narratives in "Downtown Crossing." On the subway, one of few places where Bostonians aren't segregated, the passengers' tales of dangerous coyotes, smugglers who bring immigrants across the border, not getting paid fair wages and struggling to become citizens make me consider the stories of the person I'm sitting next to on the train or walking by in the grocery store.
In the end, they all achieve their short-term goals. Still, I wonder will they reach their next milestone without getting sent home?
---
"Downtown Crossing" is showing now through Oct. 24 at 7 p.m. and Oct. 25 at 2 p.m.