Mass. Will Likely See 1st Coating Of Snow Friday
02:44
Play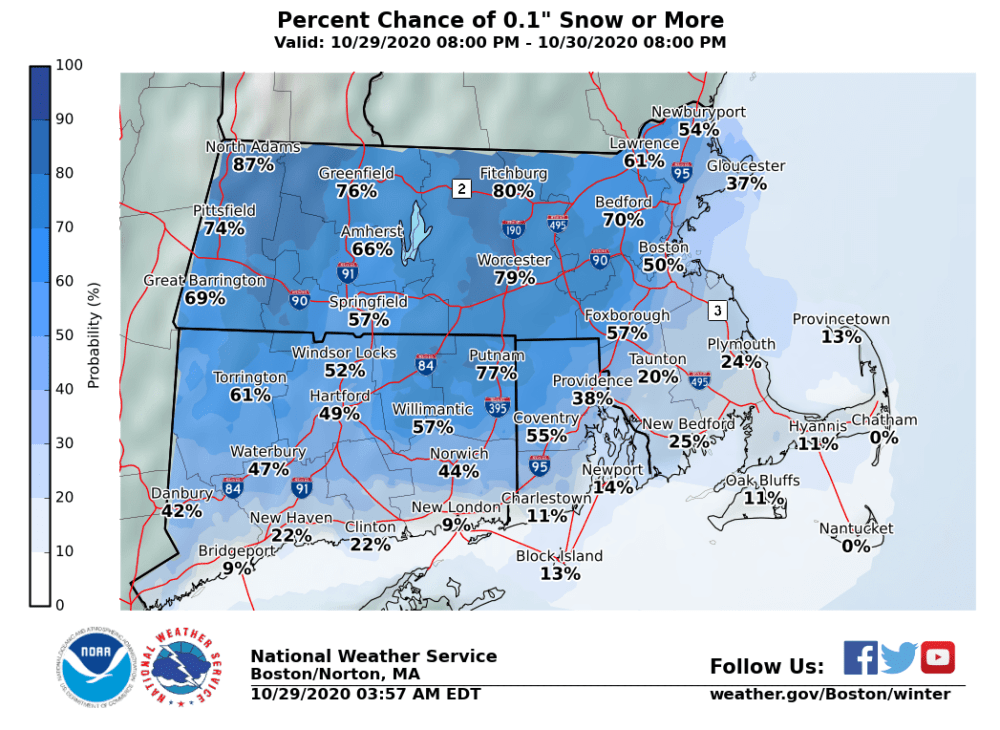 Most parts of Massachusetts have a good chance to see the first snowflakes of the season ahead of Halloween, as a winter storm moves into the region early Friday morning.
The storm is part of the remnants of Hurricane Zeta, which has now been downgraded to a tropical storm. As it moves through New England on Thursday, it will bring rain throughout the afternoon before colder air moves in.
The National Weather Service is forecasting up to 2 inches of snowfalls over the Worcester hills and Berkshires, and a possible coating west of the I-95 corridor, from the northeast part of the state to northwest Rhode Island.
Meteorologist Dave Epstein said the temperature will fall below freezing overnight, bringing snow first to the Berkshires. By sunrise, Epstein said snow will mix with rain in most parts of the state, including Boston, but Cape Cod likely won't see any flakes.
"That snow may come down quite hard for a couple of hours as the sun comes up, although we won't see it, but as it gets light out, that's when we could see some accumulation on the grass," Epstein told WBUR's Morning Edition host Bob Oakes.
Accumulation will likely be minor for most areas, but the cold will linger, making for a cold Halloween. Epstein said temperatures will be in the upper 30s on Saturday night.
"The trick-or-treaters will need to bundle up," he said. "It is going to be very chilly here, that is for sure."
Mild temperatures will return on Sunday, according to the weather service, along with chances of more rain.