On Mayflower Landing's 400th Anniversary, A Greater Embrace Of Native American History
04:25
Play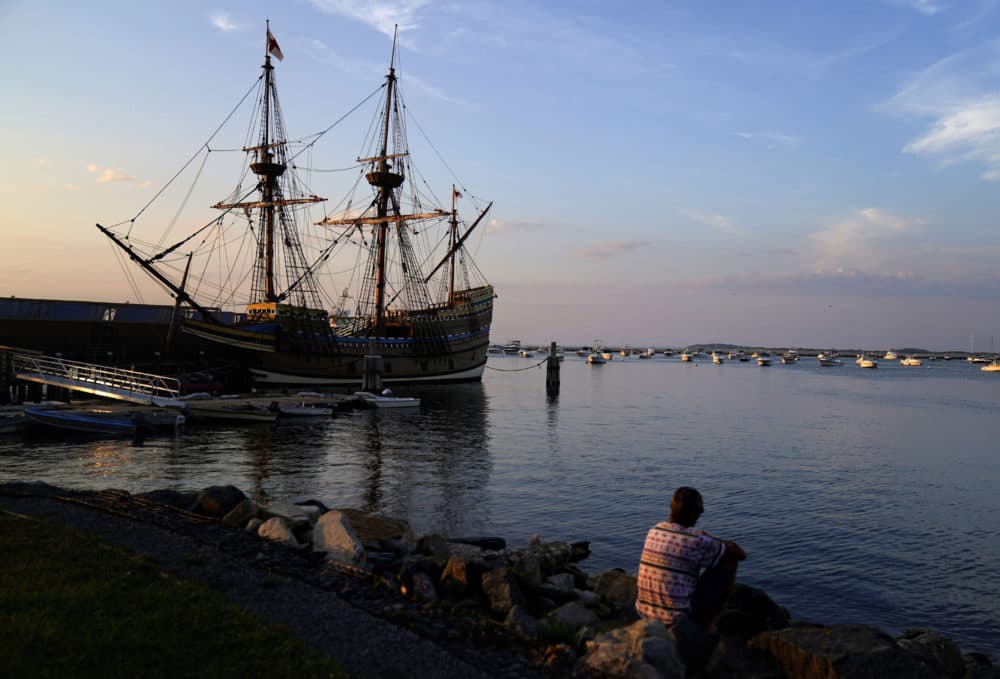 This article is more than 1 year old.
It's been 400 years since the Mayflower arrived in Provincetown Harbor, and local and international organizations spent a decade planning months of quadricentennial commemorative events, many of which were upended by the coronavirus pandemic. But while our nation has a reckoning with racial injustice, colonialism and xenophobia amid a worsening pandemic, some say the more somber tone appropriately matches the evolving, more nuanced conversations emerging around United States history and colonialism.
"This 21st century commemoration could not be the same as past commemorations and needed to include native people and the native voice," says Michele Pecoraro, the executive director of Plymouth 400, the nonprofit organization responsible for planning and executing the 1620-related celebrations.
In the past, these events have unilaterally celebrated the Pilgrims' arrival from England and Europe. Native American speakers weren't given the space to tell their side of the story, and when they were included, they were often censored. Pecararo hopes that Plymouth 400 can set the stage for more inclusive programming for other towns as well.
"There are 37 cities and towns just in Massachusetts, never mind the rest of New England, that will turn 400 over the next 10 years, and Boston will be in 2030," says Pecararo. "We've talked about how in the future or even now in the present we can't do things the way we've always done them. We can't have these commemorations and not include all of the cultures that were involved at the time."
That includes the Wampanoag people, who have lived in this region for more than 10,000 years and who met the Pilgrims when they arrived. As an author, historian, and enrolled member of the Aquinnah Wampanoag tribe, Linda Coombs has for decades been educating the public on what really happened after European contact. Now she's on the board of directors at Plymouth 400, where she's chair of the Wampanoag Advisory Committee.
"[The board] stated they want the whole Plymouth 400 experience to be historically accurate and culturally inclusive," says Coombs. "I can tell they don't really know what that means, they're a little reticent about it."
But she adds that no one has ever stepped up to say, "Oh, you shouldn't say that or anything like that."
"For us, this has been an opportunity to get the history out, not only here but in the U.K. and the Netherlands as well," says Coombs, referring to sister organizations and programming with the other nations involved in the Mayflower voyage. She says it's also important to her to highlight contemporary culture. "Not only is this our homeland, but we're still here. And we're still, you know, vibrant communities and still maintaining our culture, and just, you know, carrying on tradition, and all the rest of it."
After the arrival of European settlers, the Wampanoag language was dormant for over 150 years due to genocide and forced assimilation. Jennifer Weston is the director of the Wôpanâak Language Reclamation Project, and an enrolled member of the Standing Rock Sioux tribe. When she moved to the Northeast to attend Brown in the mid-'90s, she said she was surprised by the visibility of native language in the local place names.
"Here in the Northeast it's obvious that Wampanoag and indigenous languages were very important in early settler colonial and indigenous relationships and those names have persisted on everything from water ways to borrowed words in the English Language."

Jennifer Weston
"Here in the Northeast it's obvious that Wampanoag and indigenous languages were very important in early settler colonial and indigenous relationships and those names have persisted on everything from water ways to borrowed words in the English Language," says Weston.
Today, more than 4,000 Wampanoag people live in the region we now call New England, but there are only about 15 to 20 speakers proficient enough to carry on a conversation. Alyssa Harris, 19, is one of them.
She says language is a huge part of Wampanoag culture.
"It's a beautiful thing to see people practicing their culture, but because they're not speaking the language, it feels like there's a piece that's missing," says Harris, who started learning the language at 6 years old. "Once there's a community of Wampanoag speakers again, you would feel that piece of the culture that's missing."
She says one thing she loves about her language is the way place and experience is reflected in the words and place names.
"It helps you understand this area. For example, Massachusetts, Massachusett, actually means big mountain place. It's referring to the Blue Hills," says Harris. "I didn't even really know that the Blue Hills existed before I knew what Massachusetts meant."
Last spring, Harris graduated from Mashpee High School, which now includes Wampanoag as part of its language offerings. 400 years after contact with the Pilgrims, Harris is part of a movement carrying her language into the future. There are currently more than 100 students taking lessons each week through Wampanoag Language Reclamation Project and its affiliated programs. Each of them brings her one step closer to realizing her dream of conversing regularly with others in her language.
This segment aired on November 11, 2020.