Study Details Lives And Money Saved By Supervised Drug Consumption
Adding supervised consumption of drugs to a needle exchange program in Boston would save three to four lives a year within the area around the site and a little more than $4 million. The findings were from Institute Clinical and Economic Review (ICER), a national group that compares the benefits and cost-effectiveness of medical treatments.
The group found similar or greater benefits in the five other cities where it analyzed overdose data and costs: Atlanta, Baltimore, Philadelphia, San Francisco and Seattle.
"We were surprised at the size of the savings," said ICER's chief medical officer, Dr. David Rind. "It's very unusual for something [in health care] to save lives and save money."
ICER found that it would cost $511,000 to add supervised consumption to a needle services clinic in Boston but that the cost would be offset by savings. The savings were in fewer ambulance rides, emergency room visits and hospitalizations after an overdose. In Boston, the report estimated that three or four of 13 overdose deaths within a quarter mile of a supervised consumption site (SCS) would not occur after the opening of a clinic where medical staff are on hand while people use drugs.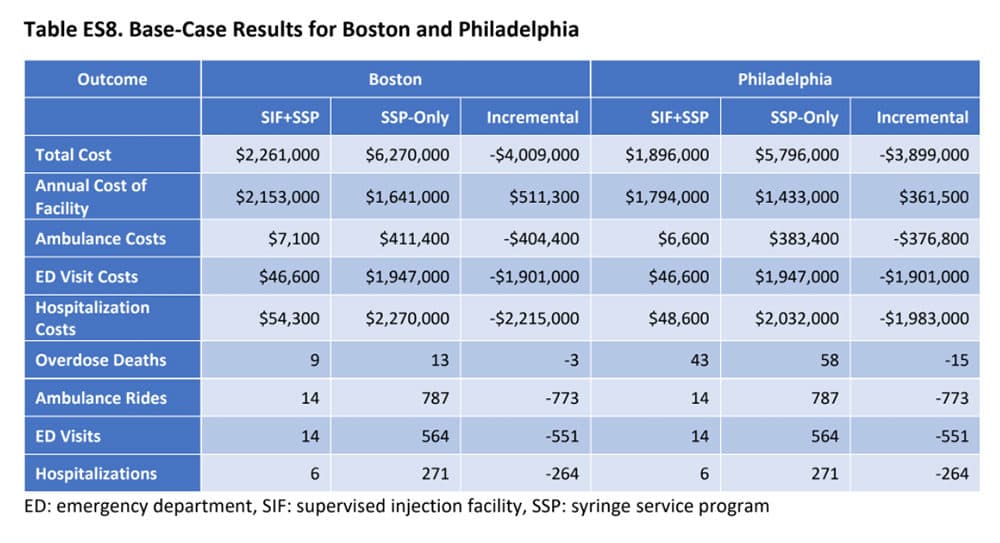 Rind said it would make sense for health insurers and Medicaid to support supervised drug use but they haven't seemed interested.
"There's a real hesitancy to have money spent on a safe place to do something that people consider illegal, and many consider immoral. I think that's the wrong view," Rind said. "We have an overdose crisis, we have an opioid epidemic, and we need to do something."
The Massachusetts Association of Health Plans declined comment for this story, as did the Massachusetts Health and Hospital Association. Gov. Charlie Baker's office, in an emailed statement, repeated concerns about investing in an illegal approach.
"The Baker-Polito Administration remains focused on the legal, safe and evidence-based approaches to prevention, treatment, recovery and education that are already underway and have helped Massachusetts continue to make progress in battling the opioid epidemic," wrote spokesperson Terry MacCormack.
U.S. Attorney for Massachusetts Andrew Lelling has vowed to prosecute efforts to open a SCS. His office declined to comment for this story, but pointed to a statement from 2018 in which Lelling said:
"Supervised injection facilities" would violate federal laws prohibiting the use of illicit drugs and the operation of sites where illicit drugs are used and distributed. Employees and users of such a site would be exposed to federal criminal charges regardless of any state law or study.
It's not clear how the Department of Justice under a Biden administration would react if Somerville, for example, moves forward on plans to open a supervised consumption site next year. Biden co-authored a federal law, the "crack house statute," that has been used to claim SCSs are illegal. Supporters argue that Biden may be more inclined to see drug addiction as a medical condition now rather than a crime based on evolving medicine and his son's experience with drug use.
Northeastern University law professor Leo Beletsky said this report is more evidence that federal authorities should remove barriers to opening SCSs, especially amid concerns about rising overdose deaths during the pandemic.
"Extraordinary times call for extraordinary measures," Beletsky said. "This is a sound and well-proven public health intervention that we need to pull out all of the legal stops to implement."
Beletsky said the federal government could let states know, for instance, that it won't prosecute supervised consumption even if it remains illegal. But doctors, nurses and others who work in these sites could still be in violation of state laws.
A 2019 report from a state commission recommended that Massachusetts test the idea with a supervision consumption pilot. But bills that would make that happen have died in the Legislature. State Sen. Cindy Friedman, co-chair of the Joint Committee on Health Care Financing, said the ICER report findings will renew the debate.
"It just will double our efforts next year, and this is enormously helpful in making safe injection facilities a possibility in the commonwealth," Friedman said.
ICER said research to date shows supervised consumption sites have little effect on crime. They may increase littering of used needles, but they decrease outdoor drug use on nearby streets overall as people move indoors.
Cassie Hurd, who works with the advocacy group SIFMA NOW, said a SCS would relieve problems in areas where drug users gather, near Boston Medical Center for example. And she's excited about the idea of using some of the savings a supervised consumption site might create to save more lives.
"We could get people treatment on demand inside SCSs," Hurd said. "That would be incredible."
Steve, who is homeless in and around Cambridge, has overdosed eight or nine times. We've agreed not to include Steve's last name because the drugs he's addicted to are illegal. Steve says he's tired of seeing people overdose and die on the streets.
"As I walk around, I'm constantly keeping my eye out for people who are overdosing," Steve said. "A safe consumption site would, as has been shown in many studies, be an overdose prevention that's better than anything we have so far."
This article was originally published on November 13, 2020.