Overdose Deaths Have Risen In Mass. Amid Pandemic, State Data Show
This article is more than 2 years old.
Traducido por El Planeta Media.
Drug overdose deaths are rising during the COVID-19 pandemic in Massachusetts. A report from the state Department of Public Health shows a 2% increase for the first nine months of the year, as compared to 2019. The preliminary data translates to 33 more deaths.

There are many suspected reasons for the increase. People are using drugs in more isolated settings. They fear becoming infected with COVID-19 if they seek treatment. Women, in particular, don't want to leave children who are out of school at home alone to attend appointments or programs. And, there is only one treatment program in Massachusetts that takes people who test positive for the coronavirus.
"The opioid epidemic continues to impact too many families and vulnerable populations," says state Public Health Commissioner Dr. Monica Bharel. "We've not let up on our efforts."
Bharel says Massachusetts has made a number of changes to try to reduce overdoses and deaths during the pandemic. The state distributed 75,000 naloxone kits to community health centers, syringe services programs, prisons and jails between March and April. It authorized take-home doses of methadone so that patients didn't have to travel daily for this treatment. It moved treatment management online, using telehealth, and reimbursed for those visits.
"We've tried to lower every barrier for people to access these benefits," says Deirdre Calvert, director of DPH's Bureau of Substance Addiction.
But Dr. Ed Bernstein, a retired emergency room physician at Boston Medical Center, is urging state public health officials to do more. He says patients of color still don't trust medications that can help with addiction. And Bernstein says the state needs more than one program for people seeking treatment who have the coronavirus, especially as cases rise.
"We need help," Bernstein, a member of the Public Health Council, said Wednesday, as the latest overdose death data was presented.
Bernstein suspects the number of overdoses that don't result in deaths are underestimated in Massachusetts. He urged the state to look at ER visits and 911 calls to assess whether overdoses are up as well as deaths.
The state update echos reports about rising overdose deaths around the country during the pandemic. In Massachusetts, opioid and other drug overdose deaths dropped 5% between 2016 and 2018. But the decline plateaued in 2019, and now fatalities are rising again.
Massachusetts does not have drug deaths by race for 2020. Last year, while deaths among whites dropped slightly, fatal overdoses among Black men and women rose sharply and were up among Latinx men. Some in the addiction community worry this disparity will increase during the pandemic.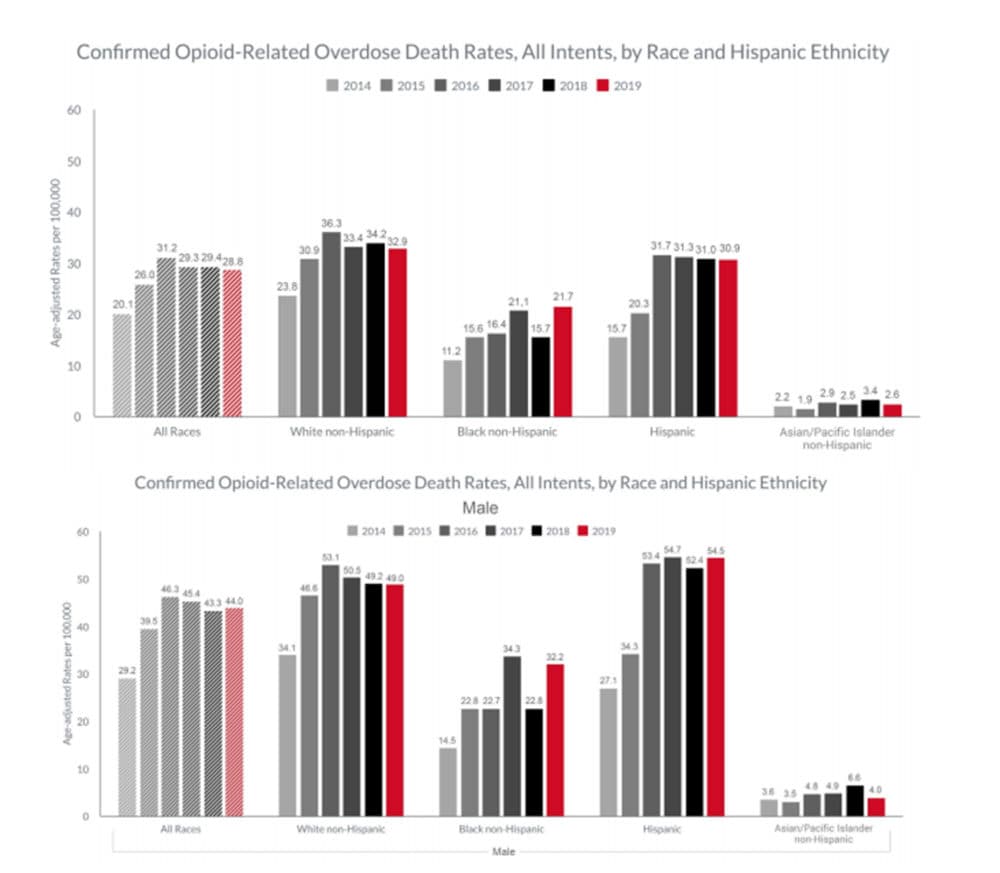 Cecilia Plotkin, associate director of Outpatient Services at Casa Esperanza in Roxbury, says there are layers of stress on Latinx men during the pandemic that is fueling drug use and relapse. Plotkin says many of her patients have lost jobs, don't have stable housing and are afraid to leave their homes.
"Most of our population live with co-occurring disorders, so the challenge is to continue to provide the services we were providing in person using telehealth," Plotkin says. "We need to make sure that funding continues."
In Fall River, SSTAR CEO Nancy Paull says the move to telehealth is a barrier to treatment for some. Paull says SStar used to offer addiction groups and programs that people could walk off the street and join anytime. Now SStar offers fewer options online and fewer people attend.
"Addiction is a disease of isolation, now that we're forcing people to isolate it makes it just that much harder to reach out for this population," Paull says, adding that alcohol addiction appears to be on the rise along with drug use.
The state report does not include alcohol. It shows fentanyl present in 93% of deaths through September. Use of prescription opioids was up. Heroin use continues to drop in Massachusetts. Many people who died after an overdose appear to have taken at least one other drug: most commonly cocaine, benzodiazepines and prescription opioids.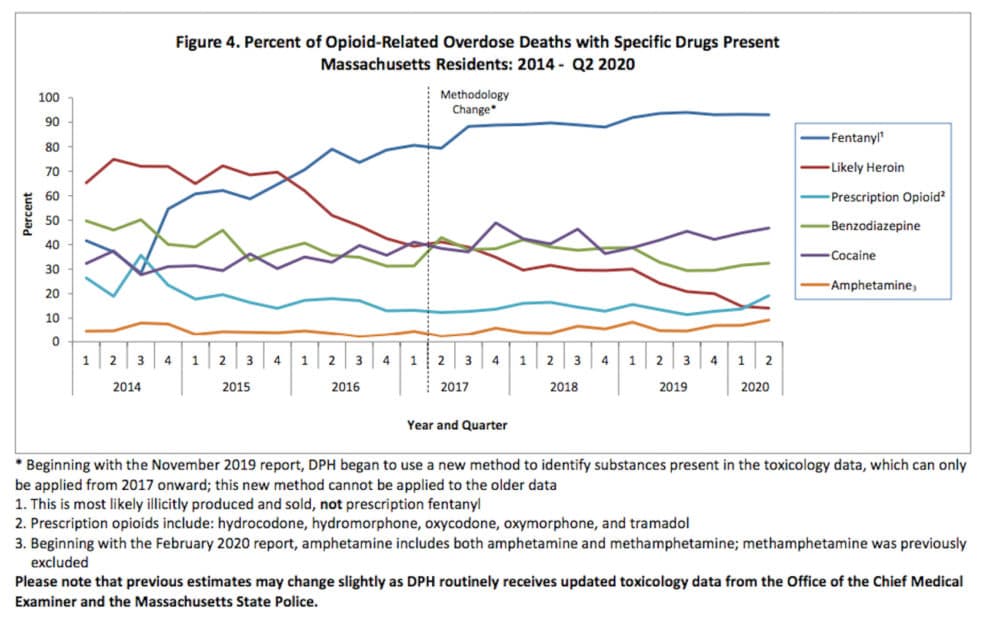 Dr. Marc LaRochelle sees some hope in these latest numbers. While they were higher this April, May and June than last year, overdose deaths dropped in July, August and September, as did cases of the coronavirus.
"It does seem that that spike may have been transient and we hope that trend would continue," says LaRochelle, an addiction researcher and primary care physician at the Grayken Center for Addiction at Boston Medical Center
LaRochelle says there's no proof yet of what will reduce overdose deaths during the pandemic. But LaRochelle credits the harm reduction, addiction outreach and treatment staff members who are working to distribute naloxone and revamp delivery of medication for opioid use disorder so that people can stay in treatment from home.
With this report, Massachusetts has switched to twice yearly rather than quarterly reports on the drug use epidemic. Federal reports on drug use are typically at least a year behind. Some federal agencies and researchers are pushing for information that is closer to real-time data, as is reported on the coronavirus crisis.
"It would be helpful if these reports were made available more frequently," LaRochelle said. "It is something people are working on and is frustrating."
But it will be difficult to speed up the reporting on overdose deaths. The cause is typically confirmed by death certificates, which are based on an autopsy, toxicology reports and sometimes an investigation of the scene where the person died. LaRochelle says some states are testing new, predictive models based on the information presented at the time of death. If pilots show that the predictions and final cause align, it could be possible to have closer to real-time updates that might help save lives.
This article was originally published on November 18, 2020.