Smaller Thanksgiving Gatherings May Mean Fewer Political Arguments. That's Not All Good
03:55
Play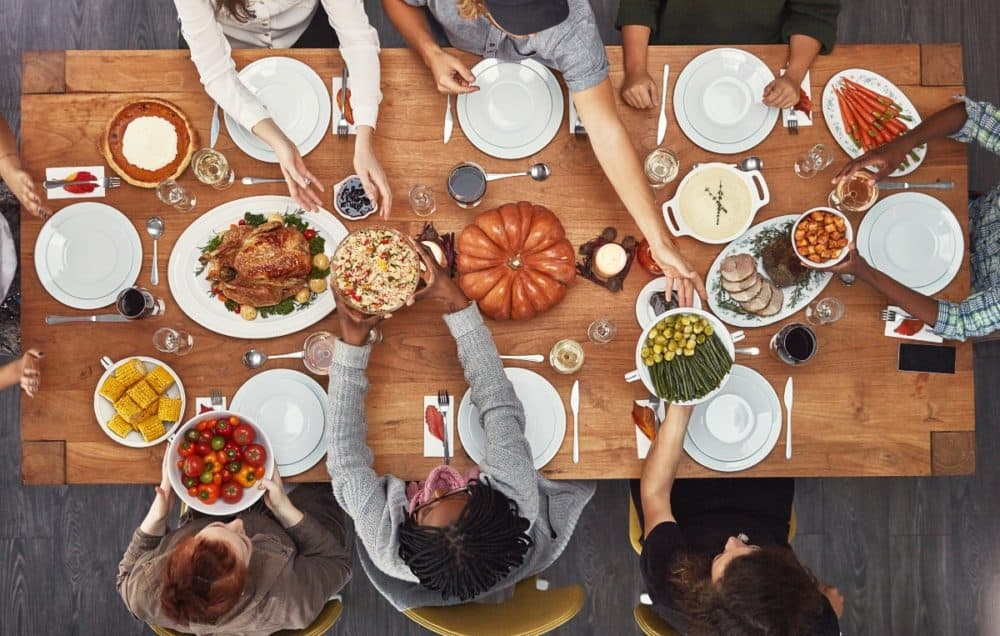 Arthur Brooks and Varshini Prakash may not seem like they have much in common. Brooks is a former president of the right-leaning American Enterprise Institute who now teaches at Harvard, while Prakash is a progressive activist who helped launch the climate-focused Sunrise Movement.
But when it comes to Thanksgiving, they share an experience that is familiar to many.
"I have very different political opinions than my family," said Brooks.
"There's always at least one raucous, extremely loud political debate that happens at some point during Thanksgiving," added Prakash.
Anyone who has ever wrestled over something more than the wishbone knows what they're talking about. In a normal year, Thanksgiving can mean turkey, stuffing — and awkward political conversations with friends and relatives.
But in the midst of a pandemic, holiday gatherings may be smaller this year, which could reduce the dinner table drama.
If that sounds like one positive side effect of the coronavirus, don't be so sure. Prakash says less arguing also means less catching up with loved ones in her hometown of Acton.
"My parents immigrated here, and they met up with other people who immigrated here, and so we're just kind of a big community that loves one other and, you know, also has political disagreements," she said. "I'm going to miss it, for sure."
Prakash says the bonds her parents formed after emigrating from India transcend politics.
As for Brooks, he'll miss seeing his liberal brother. They may not fight about politics if they don't see each other, but they could also miss a chance to talk about all the other things that connect them, which are what Brooks tries to focus on.
"We just don't have enough time together," he said. "So, when we're together, we talk about his kids and my kids and our parents — a blessed memory — and our shared religious faith. And then the time is gone."
In Brooks' opinion, people who start political arguments at holiday gatherings are "jerks."
Lizzie Post — an expert on proper etiquette, as co-president of the Emily Post Institute in Burlington, Vermont — isn't quite so pointed. But she says it is perfectly fine to opt out of talking politics, if a downsized party still features someone who is liable to raise the subject.
"It's really OK to say, 'You know, I made a little deal with myself this year that I am not going to talk about politics, but I would love to hear about what you and the kids have been up to,' " Post said. "Pick a topic and redirect."
Post's advice may have broad appeal.
"We do know that about half of Americans do find political conversations stressful," said Carroll Doherty, director of political research at the Pew Research Center. "There's a new element in all of this, which, of course, is the election. And we put out a report last week about just the profound disagreement over what happened in the elections."
That recent poll showed 94% of Joe Biden voters believe elections were run well this year; just 21% of people who voted for President Trump said the same.
This is the kind of divide that Zoena Howland of Framingham could imagine causing tension on Turkey Day.
"If we were not in a pandemic, and I was traveling to see distant family, then it would be an issue," said Howland, a Democrat who usually celebrates Thanksgiving with Republican relatives in New Jersey. "Conversations I've had with family members that are not in the same political party as I am have been kind of frustrating."
Howland says part of her is glad to bypass those conversations by staying home this year. And yet, "part of me kind of wishes I could have those conversations, just to get other perspectives and see what they're thinking," she said.
Uncomfortable as they can be, Thanksgiving get-togethers can help people with different political views understand one another — or, at least, remember the other reasons why they love each other.
That could be a little harder on a socially distant holiday.