New Boston Police Commissioner Dennis White Sworn In, Fulfilling His Mother's Dream
When Dennis White was sworn in as a Boston police deputy superintendent in 2014, his mother was there, in a wheelchair and relying on oxygen as she battled terminal lung cancer, to pin the new badge on her son.
She whispered in his ear that day, White recalled Monday, that she had a dream for him — that he would someday meet President Obama, and that he'd become the commissioner of the Boston Police Department.
Five months after his mother died, he met President Obama. And Monday, he fulfilled the rest of her dream.
"So today, February 1, 2021, [my mother's] dream came true for her favorite child. Yes, I was her favorite," he told the crowd to laughter during his swearing in ceremony as police commissioner at The Great Hall at Faneuil Hall Monday.
White has been with the Boston Police Department for 32 years. He is now the second Black police commissioner in Boston, after William Gross who retired last Friday.
White was one of two Boston officers serving on Walsh's police reform task force this summer. The panel made a host of recommendations -- all adopted by Walsh — for increasing oversight of the police department. Chief among them is a new Office of Police Accountability and Transparency, which will have subpoena power to compel witnesses and documents in its investigations of the department.
White directly addressed the reforms, saying it will be his "duty and honor" to make sure all the reforms are implemented.
"I know this will not be easy, but I am confident that the Boston Police Department will get the job done," he said.
And he noted the strained relationships between police and communities they serve, "due to COVID and the national reckoning on racial justice."
"We will get through this together, but we will have to make changes," he said.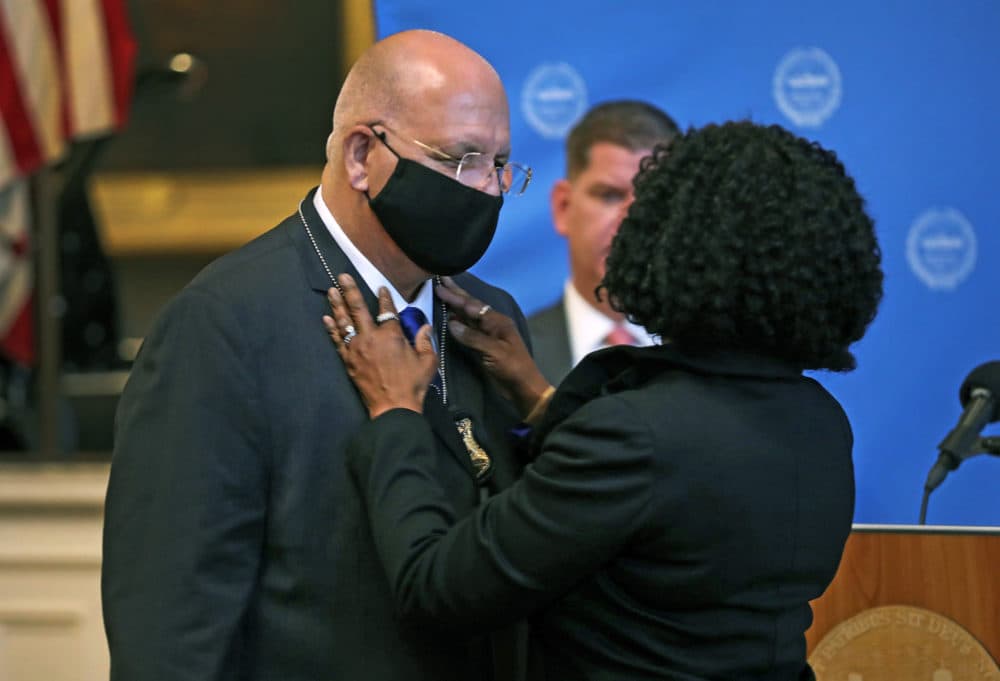 White thanked the men and women of the department for their work over the last trying year.
"Still, the Boston Police Department has answered all the calls to service without hesitation to our citizens," he said. "To all our first responder families at the city, state and federal level, thank you for your dedication and partnership."
Gross abruptly announced his retirement last Thursday, effective the next day. He served for two and a half years as commissioner and was with the department for 37 years. Gross has said he intended to retire when Walsh left office. He hasn't said publicly what his next job will be, but has ruled out running for mayor.
Walsh is President Biden's nominee for labor secretary. His confirmation hearing is scheduled for Thursday.