Bassist Tony Levin Collates A Musical Career In Book 'Images From A Life On The Road'
Like everyone else, Tony Levin's best-laid plans for 2020 went sideways quickly in mid-March.
The month before, the Brookline-born bassist for King Crimson and Peter Gabriel was in the Far East, on tour with one of his other bands, Stick Men. When COVID-19 hit Wuhan, the Chinese dates were canceled. Then, as the band arrived in Japan, all but the first one, in Nagoya, were nixed.
And so, Levin's typical year of touring and recording was kaput. This included a King Crimson U.S. summer tour, which was initially rescheduled for this June and July. This is now unlikely, according to the band's management. (They were to play Boston's Rockland Trust Bank Pavilion June 18.)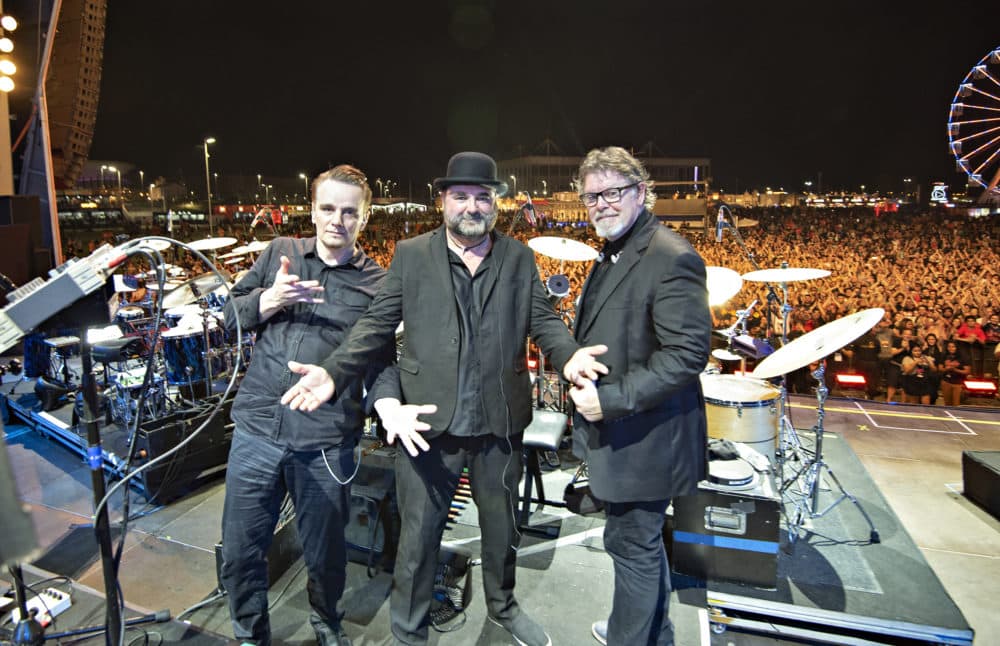 Levin repaired to home in Kingston, New York with time on his hands. "For many, many years, I've been taking a great deal of pictures on the road," he says, "never thinking one day I was going to collate them."
Collate them he did. The result is "Images from a Life on the Road," a 240-page, soft-cover coffee table book, with mostly black-and-white pictures out on Feb. 3.
"It was a huge undertaking and only this year could have provided me with the time to do it," the rangy, shaven-headed Levin says, on the phone from his home. He had a myriad of photographs, visual reminders of four-plus decades of musical and personal memories of a life that has taken him to 54 countries.
"Negatives and digital pictures, thousands of them," he says. "My focus on the road was taking the best photos I can and put them up on my web diary so people can see what it's like."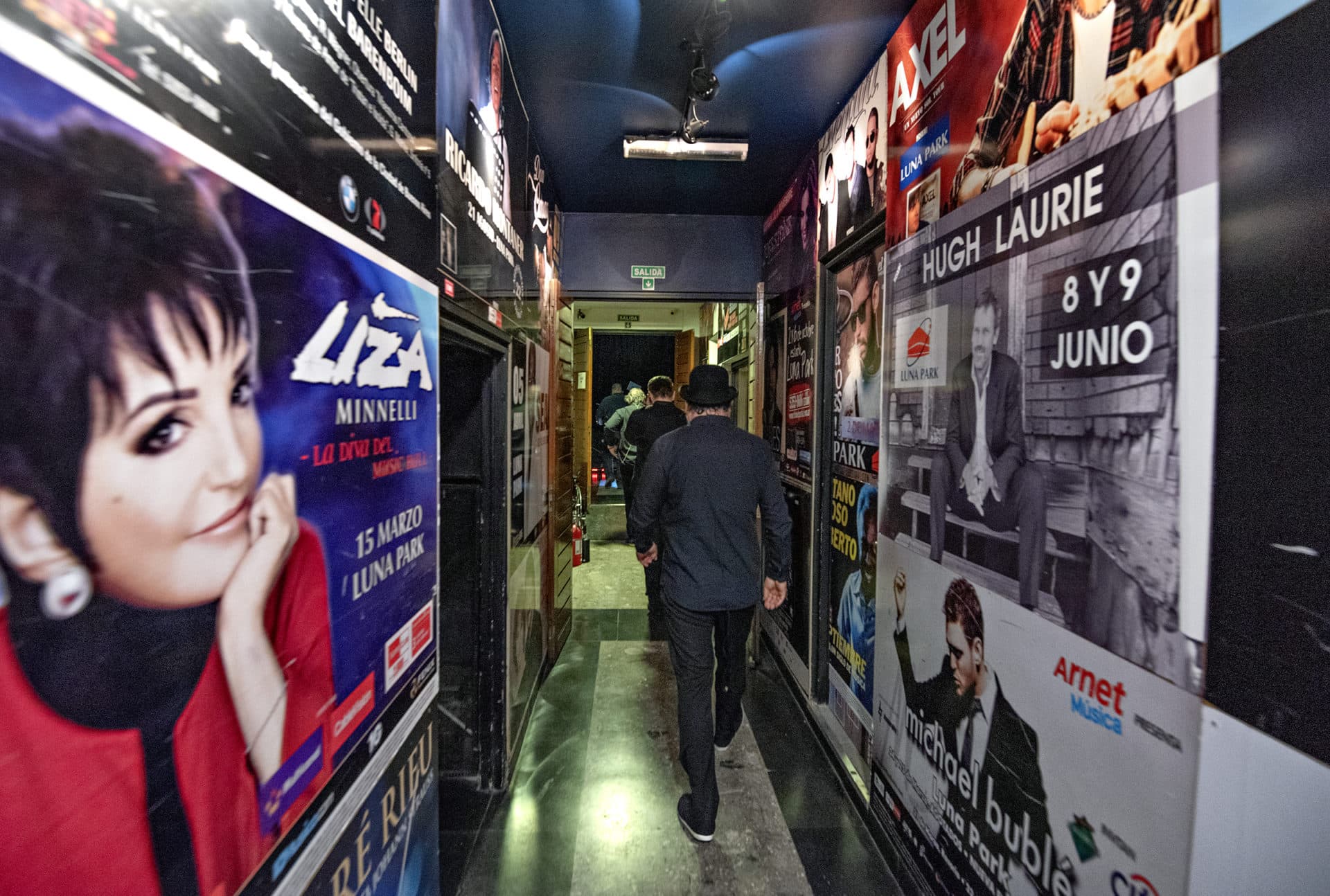 Aside from his most notable gigs — ongoing recording and touring with Crimson and Gabriel — Levin, 74, has a jaw-dropping CV of other concert and studio session work, including stints with John Lennon, Paul Simon, Lou Reed, Tom Waits, David Bowie, Bryan Ferry, Joan Armatrading and the Roches. Last year, Rolling Stone ranked Levin, who popularized the Chapman Stick and the NS upright bass, as the 42nd greatest bassist of all time.
The precision Levin brings to his job as a musician applied to his side gig as a photographer and, last year, as a detail-obsessed organizer. The process of whittling down photos for his book was laborious. He knocked down the choices from thousands down to the 250-300 range.
"I then tried to organize them in a way that made sense to me," Levin says. "The images are very good, I think, and that process meant I had to print them out in an analog way and make some changes. I have a gigantic workbook and gradually I went away from organizing it by band or organizing it chronologically."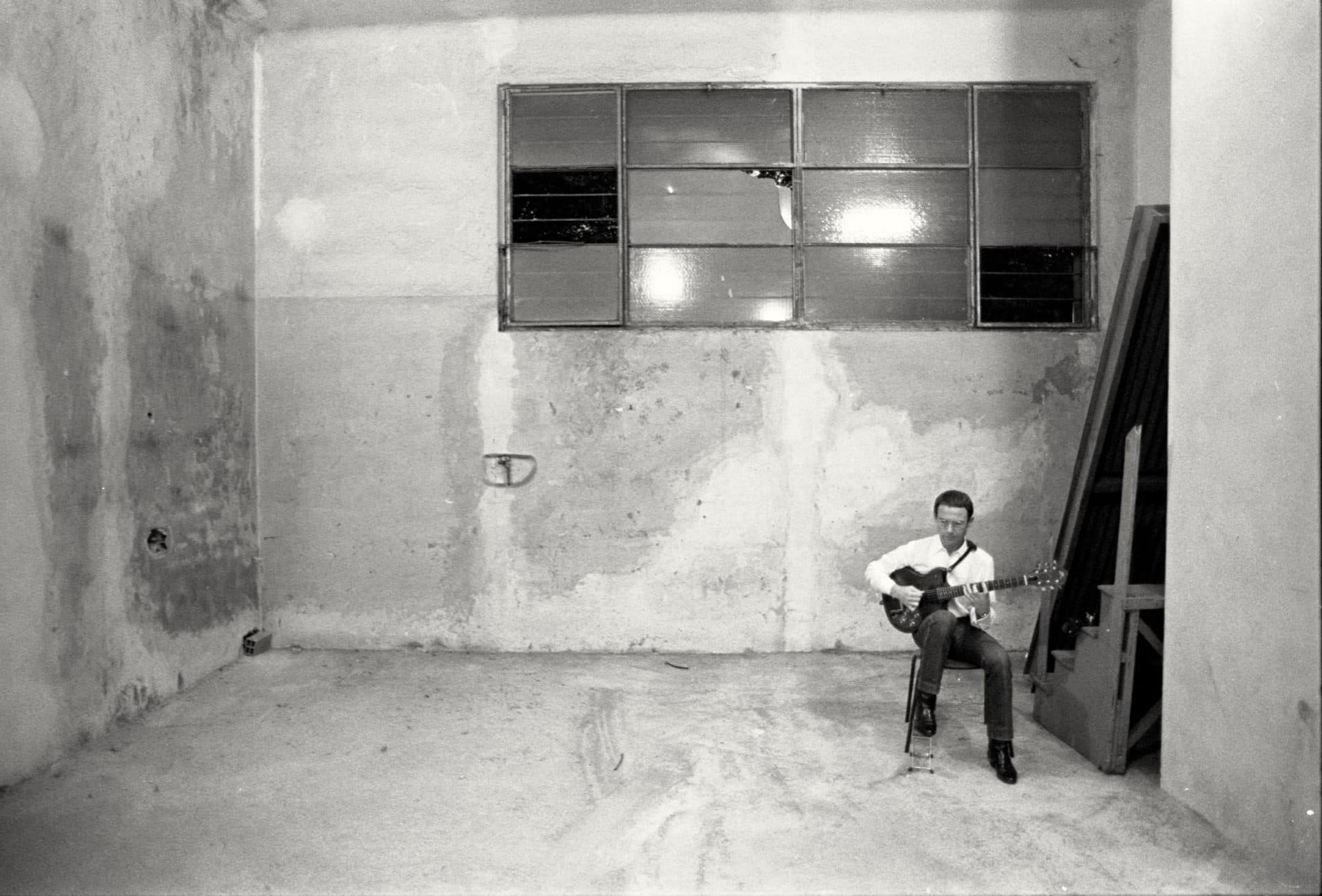 He divided the book into nine chapters: Travel, At the Venue, A Look Around, Backstage, Going On, Showtime, Bows, Players and Coda — the final section for photos he loved that didn't quite fit the categories. The idea, he says, was to convey the sense of journey: "Hey, come and join us and these visions from the road and see what it's like from the afternoon to the evening and then after the show."
"Many of the pictures I found to be most poignant were of the band getting ready to go onstage," Levin adds. "A sentimental moment in our day, which I didn't realize until I saw these pictures."
There's nothing tawdry or untoward. Levin says his road work has been pretty clean. "There were some pretty funky, ugly venues," he says, "but if you're talking about people, the bands I've been lucky to tour with get along fine and there's an extraordinary amount of joking and good humor."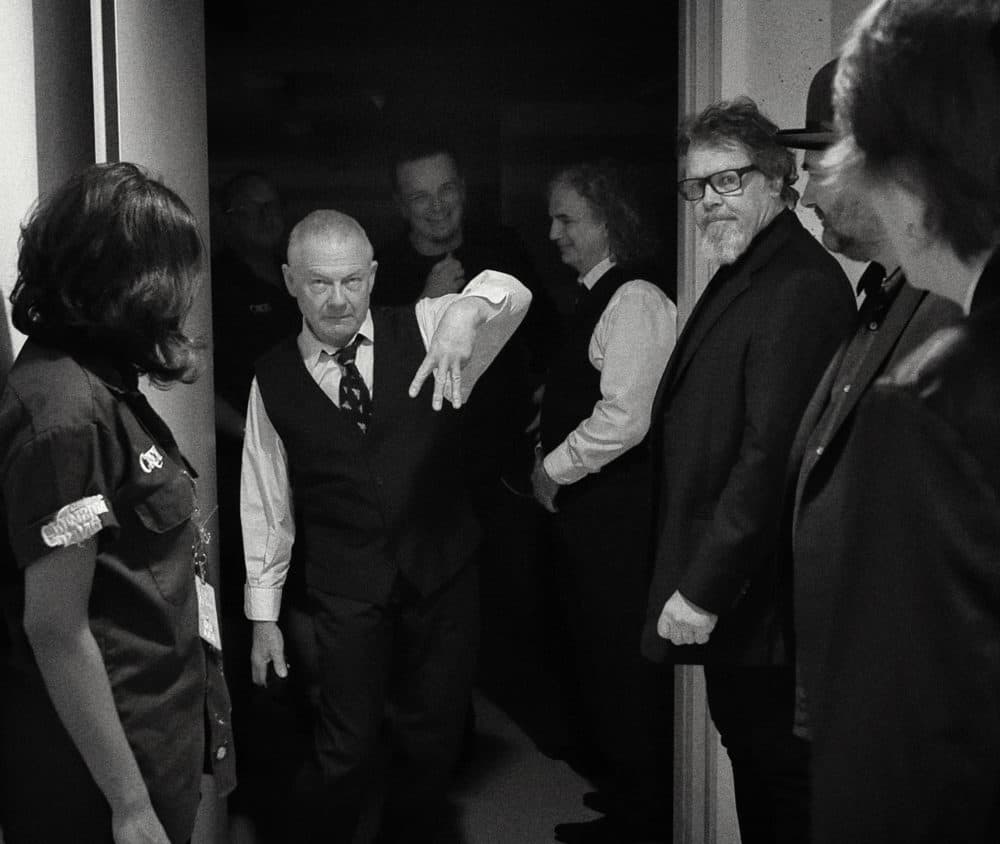 Sting and Simon are in the book, as are numerous lesser-known lights, but the two most noteworthy subjects are longtime bandmates, Gabriel and Crimson guitarist/leader Robert Fripp — not that either, initially, were particularly eager participants.
"Peter and I have a good way to deal with me doing things he doesn't love," says Levin. "If I put the camera on a tripod on the stage, he'll happen to knock it over as he's driving by on his bicycle. After a few times, I realized it wasn't completely accidental. But he doesn't need to let me [shoot photos] and he does tolerate it and we get a big kick out of it." (Gabriel would do this during "Solsbury Hill.")
Some of the most moving shots are from the era that ran from the late 1970s to the late '80s, when Gabriel, during the song "Lay Your Hands on Me," would execute a gentle backslide into the audience from the stage and then be passed about the club (or arena as it later became) on the top of people's hands before being returned up front. This was prior to the hardcore punk stage-diving/crowd-surfing phenomenon, but it conveyed a similar, if gentler, message: Audience bonding and trust.
Most of the time, it went swimmingly, but there was one time in Glasgow. "Rough town, rough venue," says Levin. "The dressing room had bars in the window. The stage in that club was raised higher than six or seven feet up so the audience can't get up there and show their love for the performer or lack of love. Peter was gonna fall back into it and the promoter and his manager said 'You don't do that here, and if you do do it, you can't get back on stage.'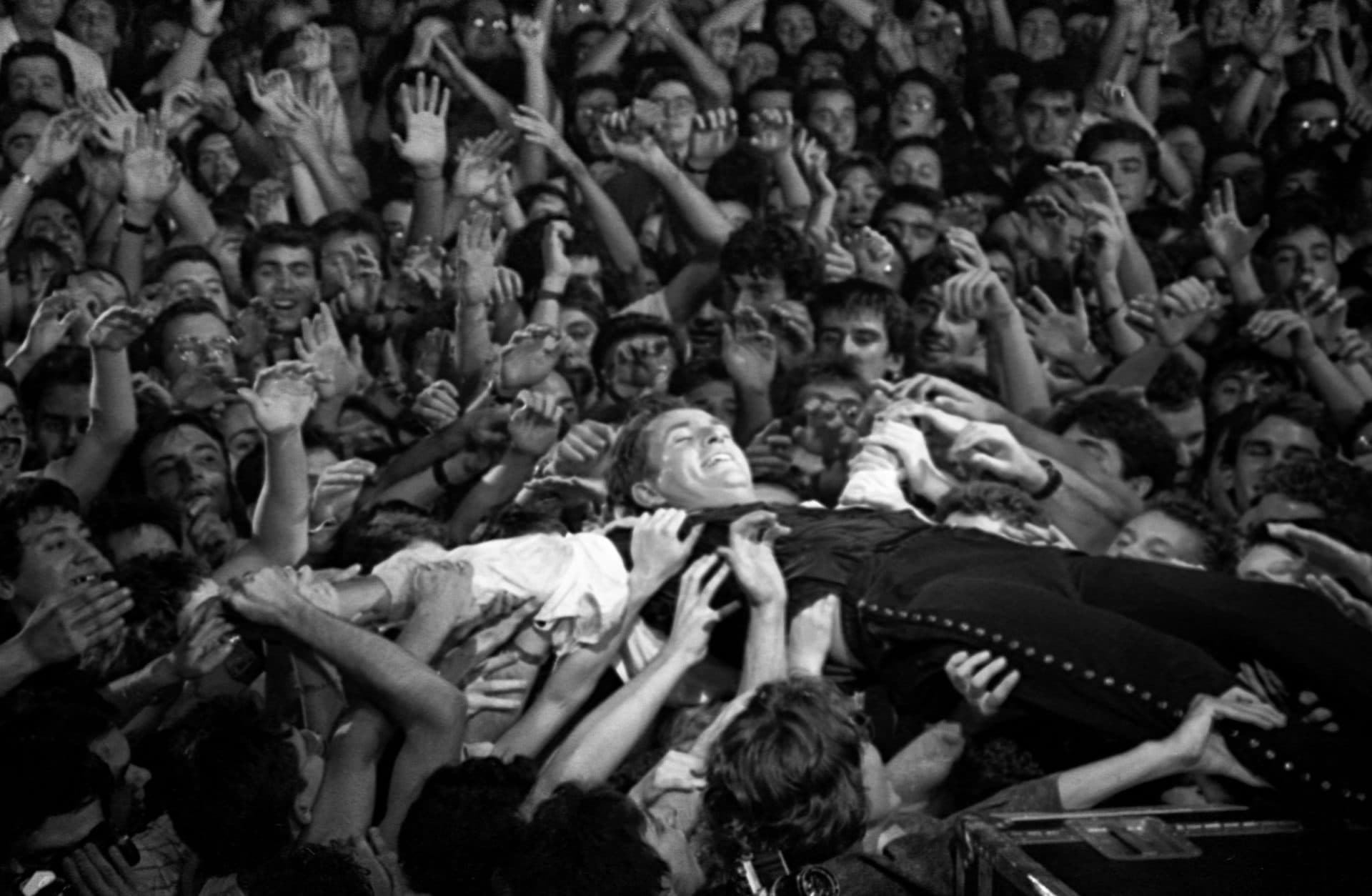 "Peter had a ladder put in and he did it and the audience couldn't believe it. 'Oh, are we gonna tear him apart? We'll somewhat tear him apart but we'll also give him back.' That night, there was a scrum right at the front, [at the end] grabbing him from the audience and up the ladder. I loved Peter for doing that. The manager and promoter did not love it. I think I put one photo of him with his clothes in tatters, coming backstage after doing that."
Fripp was a more mercurial subject. "Robert is very interesting and unique in a number of ways and likewise about photography," Levin says. "So, he really detests it when anyone takes his picture. Except me. He made an exception many years ago: 'Ok, Tony, you can take pictures, it's fine.' He'd run away from anybody else with a camera, but we've never had a problem."
Levin provides an annotated index concerning the pictures, but this is not a deep expository dive into his world. "That would be a different kind of book," he says, "like an autobiography or journal. This started out with me just wanting to feature the images on their own and a few of the places I'd been — a photographer's book if you will."
Is he, then, a professional photographer?
"I think not quite," Levin says. "I have to admit I have made money from taking photos, but I'm a passionate amateur who keeps trying to get better at it. When I spend time with expert professional photographers, I get a glimmer of the many things they know about depth that I don't have a clue about. Having said that, I've been taking more than snapshots; I've been trying to take good pictures for many years. Occasionally, even I get lucky and it comes out right. When you take tens of thousands of pictures quite a few of them are going to come out pretty good."
---
Tony Levin's book "Images from a Life on the Road" publishes Feb. 3