Five Fresh Takes From The 25th Boston French Film Festival
In its 25th year, the Boston French Film Festival has taken several unexpected twists. Normally a staple of summer viewing in the heat of July, this year the entirely virtual festival has edged into spring, running March 3-28, to coincide with Mois de la Francophonie (Francophone Month). This year's festival has also found a new home, new partners, and features an abundance of fresh new takes on French cinema.
For the first time in its quarter century existence, the festival will not be housed at the Museum of Fine Arts, Boston, which halted its public programs and laid off staff in August due to the pandemic. Instead, the festival is presented by the Department of Time and Space (DTS), a new cultural engagement business formed in December 2020 by Carter Long, who programmed the last 13 Boston French Film Festivals as head curator of film for the MFA, and Kristen Hoskins, the MFA's former head and curator of public programs.
As DTS, Carter and Hoskins have helped produce the most recent editions of several festivals that would have otherwise taken place in-person at the MFA. In upholding or developing new partnerships on behalf of festivals such as the Boston Palestine Film Festival, Boston Festival of Films from Iran, and the Boston Turkish Festival, Long and Hoskins saw an opportunity to build new allegiances to benefit the French festival, too. For example, like the Iranian festival, the French festival is co-presented by the Museum of Fine Arts, Houston (MFAH).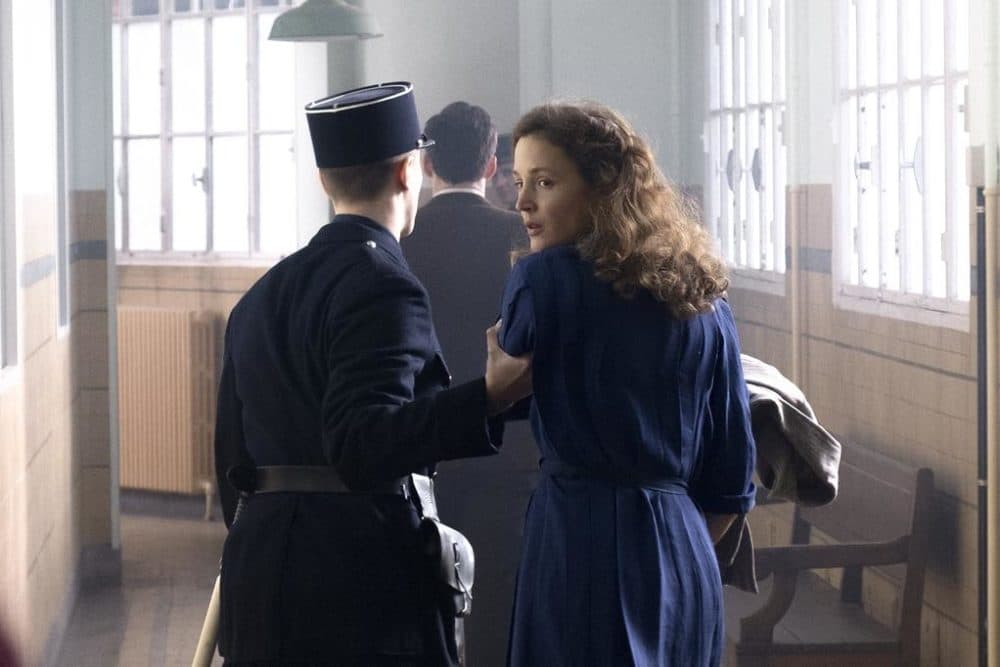 "Elements of our shared culture shouldn't be limited to large cities or urban centers," says Long. "Rather than audiences having to drive or take public transport [to one venue], this opens up the audience quite a bit." Virtual film festivals often have to deal, sometimes one film at a time, with geo-blocking that limits the duration of viewing windows or the geographic reach. By partnering with the MFAH, all 10 Boston French Film Festival films will stream concurrently to audiences in the six New England states as well as in Texas and New Orleans.
In terms of the stories in this year's films, Long says that like in the past, the line-up simply features "the best films from France." The selections sweep across genres such as a policier (or crime thriller) in "Night Shift (Police)," comedy ("My Donkey, My Lover, and I" or "Antoinette dans le Cévennes"), drama ("Two of Us" or "Deux"). Some address France's complicated colonial history ("Faithful" or "De nos Frères Blessés") as well as its ongoing adaptation to immigration ("Tazzeka").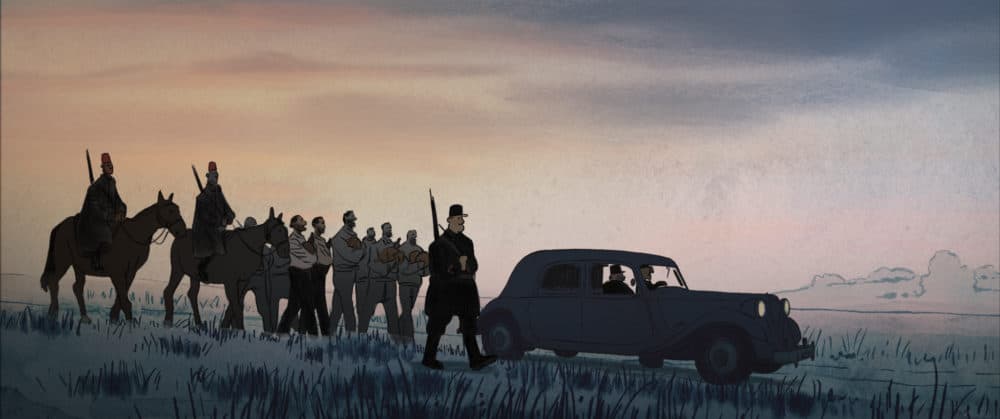 The festival's strengths come in the forms of debut features and those selected from UniFrance and the Cultural Services of the French Emabassy's Young French Cinema program, including "Josep." This debut animated feature lingers over static hand drawn images to connect the film's subject, Catalan artist Josep Bartolí, to the film's director Aurel, known in France as a political cartoonist for Le Monde. Bartolí may not be as familiar a name as say Frida Kahlo (who later became his lover), but his early life as someone who fought the Franco regime and then was imprisoned in one of France's many internment camps during WWII fascinated Aurel. The director recounts this harrowing time, both for the artist and for France, through the recollections of a dying gendarme, or prison guard (voiced by Sergi López), who finally comes clean to his grandson. The result shuffles time and memory between still and moving images, suggesting that memory tends more toward snapshots than complete scenes, and that the former can pack just as heavy a punch.
Hold the eye rolls for "My Donkey, My Lover, and I" on title alone, because it satisfies the need to get out of Boston and into the French countryside and then some. With a French twist on a slightly clumsy and desperate Bridget Jones type, Antoinette (Laure Calamy) falls for her student's married father, then follows him on his family's summer vacation hiking in the Cévennes mountains. Robert Louis Stevenson popularized the trail by writing about it in 1878. Now travelers trek through pastoral fields, stopping off at hostels with communal dinners and bunkrooms that never looked more inviting. The genial hikers spar matter-of-factly about Antoinette's plot to surprise her lover. But she finds her closest companionship in Patrick the donkey (an apparently hilarious name en francais).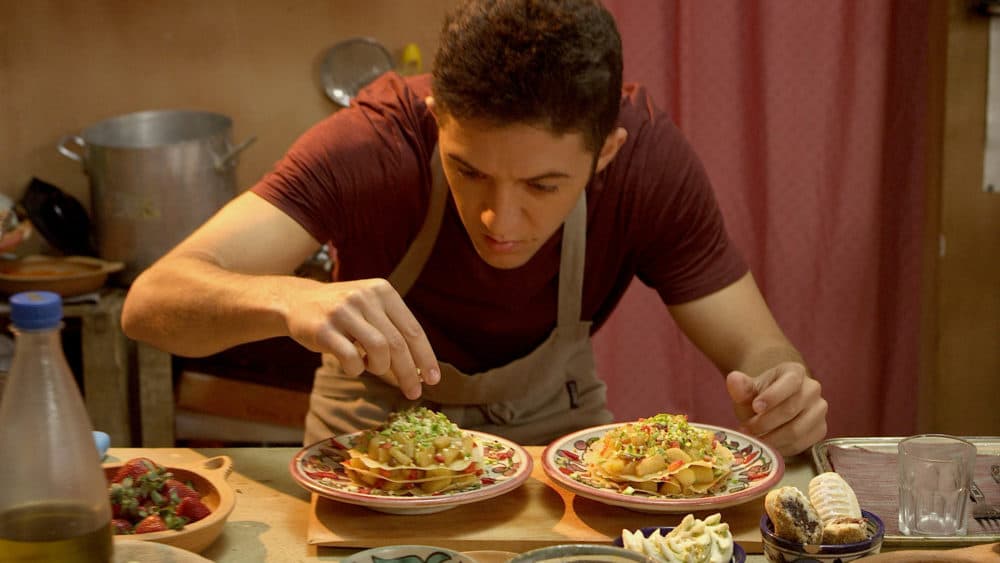 Long describes "My Donkey" and first-time features like "Tazzeka," in which a young Moroccan aspires to master French gastronomy, as "ways to transport us into another culture that isn't just escapism." "Tazzeka" starts off in a tiny northeast Moroccan village, bright and beautiful, slick as daytime television. Young Elias (Mahdi Belemlih) delights villagers with his grandmother's recipes but longs to rise among the ranks of Parisian chefs. When one tastes his impeccable dessert, he becomes even more determined to leave home. He does and reality hits with an abrupt break in cinematic tone. The second half of the movie, set in Paris, clouds the sun of the first with what Long hints may be a dystopian parable where the only way to succeed is akin to winning the lottery.
Pulled from the lesser-known history books, "Faithful" is about losing the lottery in a way. At its best, it's a love story. Set in 1956, Fernand Iveton (Vincent Lacoste), a suave French national from Algeria, woos the headstrong Hélène (Vicky Krieps) into moving with him from Paris. Once home, he takes increasingly risky political action for Algerian independence only to get caught and used as an example by a corrupt court. The movie points a finger at former French president (and then minister of justice) François Mitterrand for his complicity in sentencing dozens of Algerians, and Iveton, to death. Based on a true story, "Faithful" makes a fierce case for the reexamination of the legacies that bind one nation to the other. To Hoskins, both "Josep" and "Faithful" stand out as examples of the importance younger generations of filmmakers are placing on the canon of history. "There are moments that still need attention, and a reckoning," she says.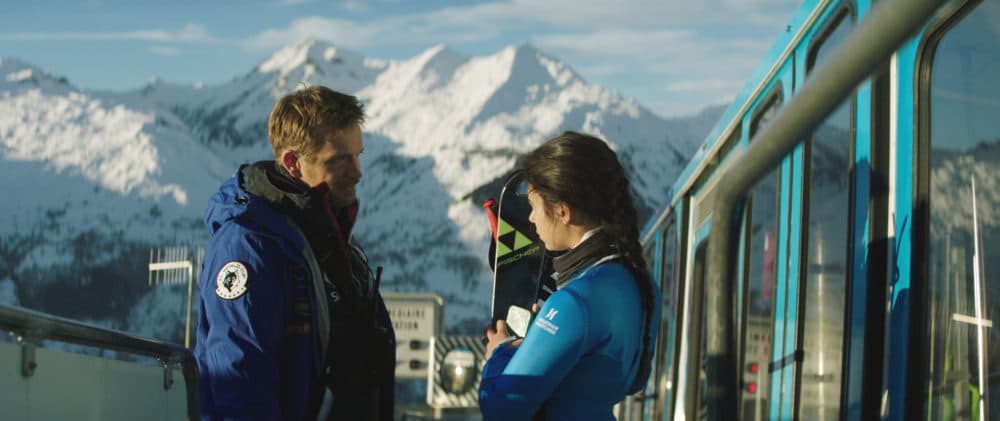 The same can be said of "Slalom" by first-time filmmaker Charlène Favier. The #MeToo movement has not been simple anywhere, but in France, prominent women published a letter that said the movement had gone "too far." Keep that in mind while watching "Slalom," a film about 15-year-old Lyz (Noée Abita) who has  the killer instinct and drive to become a ski champion. Her coach (Jérémie Renier) inappropriately capitalizes on this desire. The film captures the subtle breakdown in all directions, leaving Lyz on her own. Shot in the same location as 2014's "Force Majeure," it's laced with the tension of an impending avalanche.
Long imagines that one day the Boston French Film Festival or other programs may return to the MFA and that DTS has been "keeping festivals alive during this period when the museum isn't doing any public programming."
Looking ahead, Hoskins says the fact that DTS "doesn't have walls but could have walls" excites her. "We can go between," she says. She's cooking up creative uses of outdoor spots, like Starlight Square in Cambridge, for once the weather turns.
---
The Boston French Film Festival runs March 3-28.