In Exhibition 'Upended,' Artists Explore Life Turned Upside Down
Last year was tough for everybody, including artists at the Fountain Street Gallery in Boston's SoWa district. Just a few weeks after the state ordered all non-essential businesses closed last Spring, a massive water main break sent a deluge of muck rushing into the gallery, ensuring that the artist-run space would remain closed for nearly the rest of the year.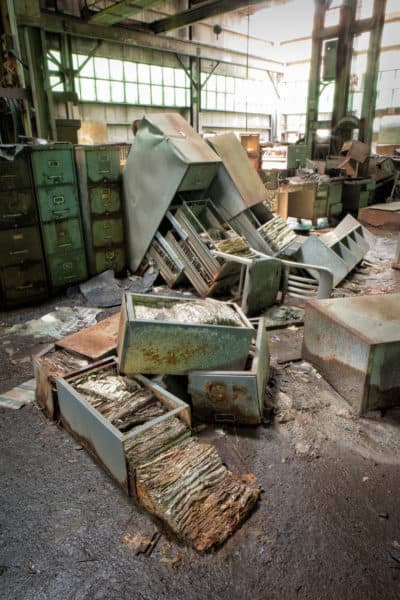 But as the saying goes, in every challenge lies an opportunity. The twin misfortunes of pandemic and flooding, harrowing as they were, provided the seed of an idea to the artists at Fountain Street. Since all previous plans had been abruptly sidelined, why not embrace all the unforeseen change in an exhibit dealing specifically with the unexpected events that turn life upside down?
Ergo "Upended," on view March 5-28, not at Fountain Street's Harrison Avenue location as you might expect, but instead at the Piano Craft Gallery on Tremont Street where it was moved because of, well, things getting upended.
In the eclectic show, 22 Fountain Street artists explore ideas around suddenly altered life circumstances, a theme certain to resonate with viewers in a global pandemic. Melissa Shaak, who curated the show with Virginia Mahoney, says that business for the 10-year-old gallery was certainly thrown off kilter in this last year, along with most personal and professional activities, not just for artists, but, of course, for everyone.
"All the artists' practices in some way were upended," says Shaak. The show, she says, is "trying to, in some way, capture and make a tribute to everybody in Boston, in Massachusetts, who has been affected by COVID-19 and whose lives have been upended."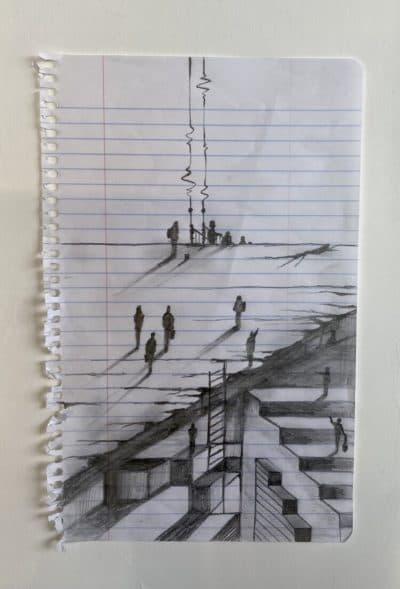 Some of us have lost jobs in these last few months. Some of us have lost family and friends. All of us have lost little pleasures — eating out, attending sporting events, working out at the gym. In "Upended," Fountain Street artists working in sculpture, painting, drawing, photography, video and installation never make direct allusions to these types of deprivations, but instead explore change, loss, trauma and the passage of time, by means of their own particular oeuvre.
Artist Rebecca Skinner, who works out of her Natick studio, has made a career of creating hauntingly beautiful photographs of crumbling structures, elevating peeling paint and decay into soulful meditations on impermanence. In her photograph "Disorder," featuring overturned, rusted and sodden file cabinets photographed in an abandoned brass factory, we see almost a literal representation of what office workers have felt in this past year, as they've abandoned offices to work from home.
Chris Plunkett, a Boston artist specializing in city scenes and landscapes, found that the pandemic completely muddled his day job as an art teacher at Orchard Gardens K-8 Pilot School in Roxbury. Teaching via Zoom, he improvised by asking his students to make pencil drawings on lined notebook paper, something he knew they would have readily on hand. His installation "Drawing Together" features his own drawings as well as those of his students.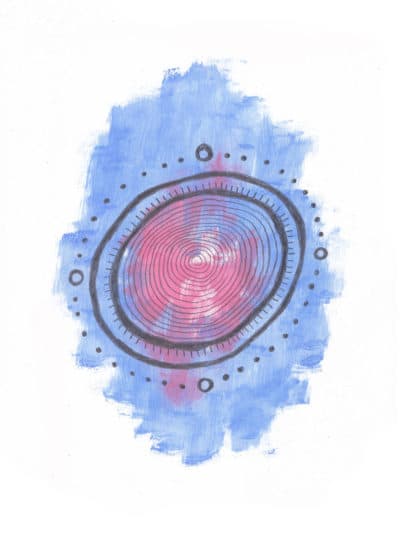 Georgina Lewis also utilizes paper and pencil, which is what she had on hand when much of the world went into lockdown last March. Her three drawings, made in the kitchen of her Braintree home, measure slightly larger than notebook size and feature a graphite form drawn over a cloud of red and sometimes blue acrylic paint. In "bullets," Lewis has drawn two bullets over a swatch of red. In another, "jan. 9 - three days after," she has drawn an orb over a small bit of red surrounded by blue. Her last drawing, "not perfect is actually good pt I," is another orb, slightly misshapen, drawn over a blue background. There's red in there too, but it's become obscured. The drawings are simple yet stark, hinting, we imagine, at the Jan. 6 violence at the U.S. Capitol.
"I wanted to make something that expressed how I felt," she says of the series of drawings she has created since last March. "Like most people, I don't think I actually had words yet to describe my emotions, just something that could translate to gesture and color. And I wanted it to be very human, so no computers, or cameras, or tools of 'perfection.' Somehow the limitations forced me to be more honest… Red is the color of blood, and sadly, that reference has stayed pertinent over time, expanding to include blood spilled in violence, as well as a generalized fury."
Patty deGrandpre, who works out of her Beverly studio, exhibits two series of digital prints — "Delicate Situations (green & pink)," an ephemeral abstract in pastel greens and pinks, and "Seeing Things (bandage becomes landscapes)," a black and white abstract reminiscent of a radiograph. The artist, who is also a nurse at Lahey Medical Center in Peabody, was inspired by the supplies of her day job.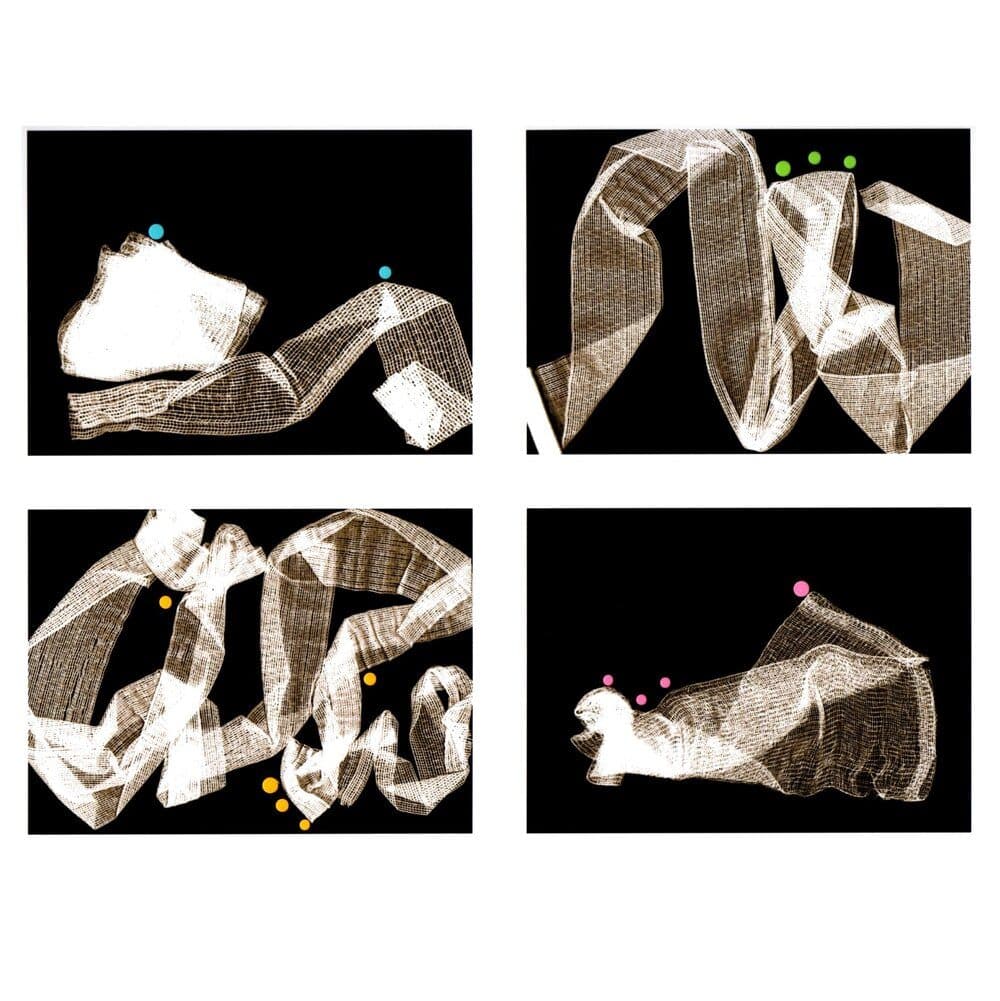 "Part of my process is to gather creative ideas from what is around me," she says. "I was not traveling. I was not out and about. I was at work. I needed a jump start. Working where I do, gauze and bandage materials are commonplace and abundant. I started noticing the shapes and textures of the gauze and bandages as I arranged, moved and folded them on the surgical trays. Bandage landscapes and little gauze mountains started to appear."
Those peaks and valleys turned into the freeform, organic shapes in her prints.
"I don't think I was trying to imply anything on a conscious level but that being said…being in healthcare during all this has been difficult. Perhaps using the bandages in the work lets viewers know that I am a nurse. It's who I am and what I do. To not reveal that after the year we have had seems wrong to me, as if something is missing."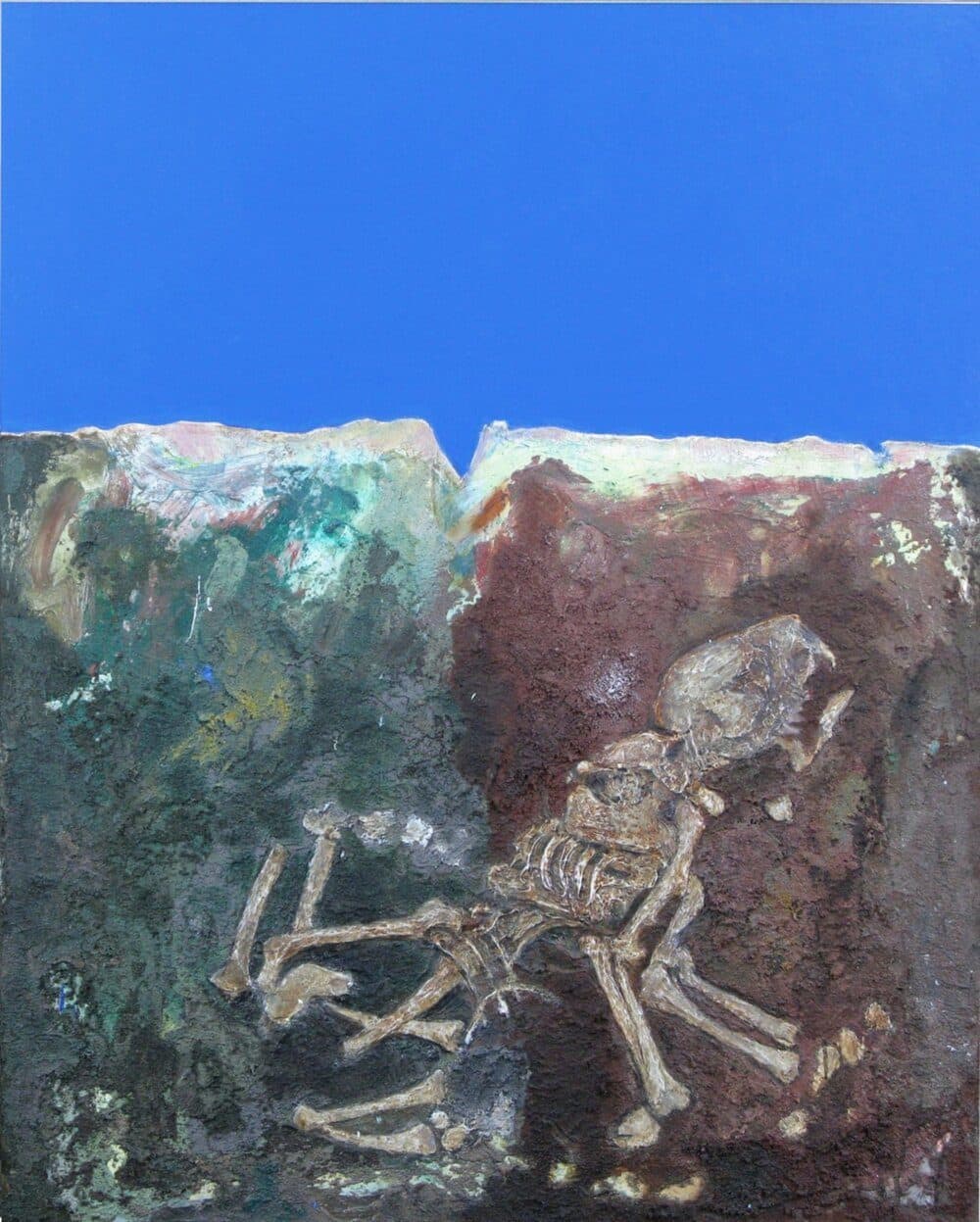 Also on view are two works by Cambridge artist Jim Banks. His "Carnifex" depicts a buried skeleton whose interred skull somehow twists toward the sky, as if seeking an escape.
"Carnifex, the critter, was a 'marsupial lion' of prehistoric Australia," says Banks. "I came across a picture in a newspaper of the recently excavated remains of one and was fascinated by the image… The picture of the skeleton seemed to reveal the utter horror, the unfairness, of cessation. Caught in some calamity, it says, 'But I'm not done yet!' As I worked with the image, I imagined it struggling to escape the grave, struggling to breathe air. The tons of earth above — hopeless.
Prophetically, it says, 'I can't breathe.'"
Although "Carnifex" may accurately reflect the tenor of the moment, it was actually painted 13 years ago.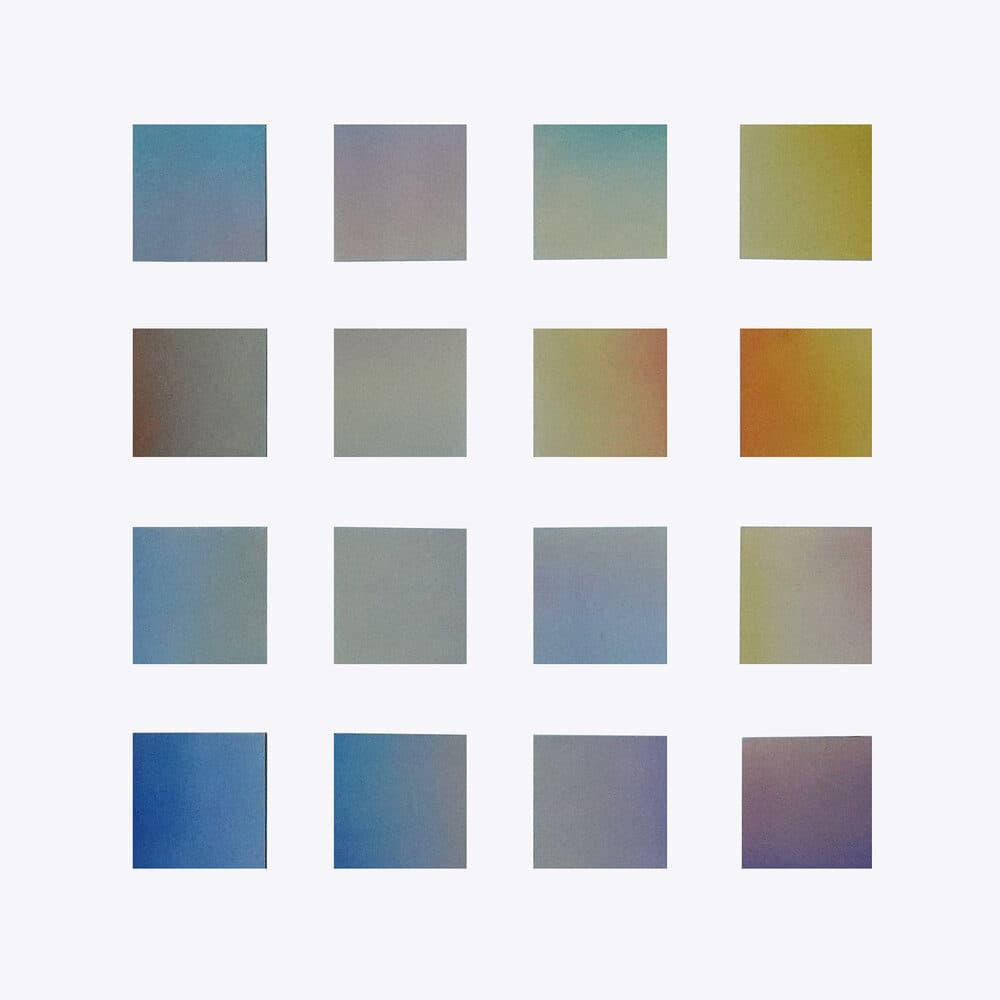 Ponnapa Prakkamakul, a Cambridge painter and landscape architect, was able to take her work in a whole new direction after an air conditioning unit exploded in a gallery last fall, ruining a prized pastel drawing on paper. It was the culmination of a year in which Prakkamakul saw an artist residency get canceled, exhibitions get scrapped and commissions get postponed.
After "getting over the emotional part," Prakkamakul salvaged the remains of her waterlogged pastel to create "Anatta," a collage of delicately rendered colored squares fashioned into a grid of subtle, gradient color.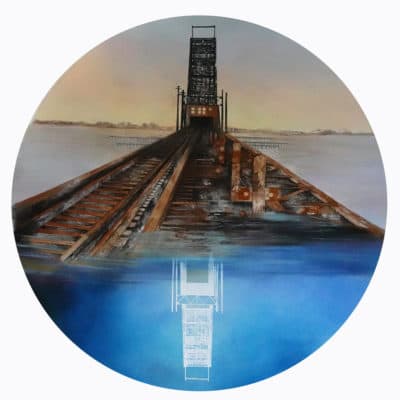 "Anatta is a Pali word with very deep and broad meaning," says Prakkamukul, who is originally from Thailand. "It is the nature of everything, which is nothingness, does not exist, does not belong, and could not be controlled."
In "Upended," Fountain Street artists process our individual and collective struggle, discovering, in the midst of it all, an inner strength and adaptability many of us never knew we had.
"To me, this situation reminds me that the nature of everything is impermanent and I would be unhappy trying to control it," says Prakkamakul. "Changes can come slowly or rapidly. The pandemic caused a lot of rapid changes in my life, both good and bad ones. All I can do is let go of my old way of living, accept the new changes and adjust myself in response to it."
---
"Upended" is on view at the Piano Craft Gallery March 5-28.