Future Teens' EP 'Deliberately Alive' Is A Sign The Band Is Growing Up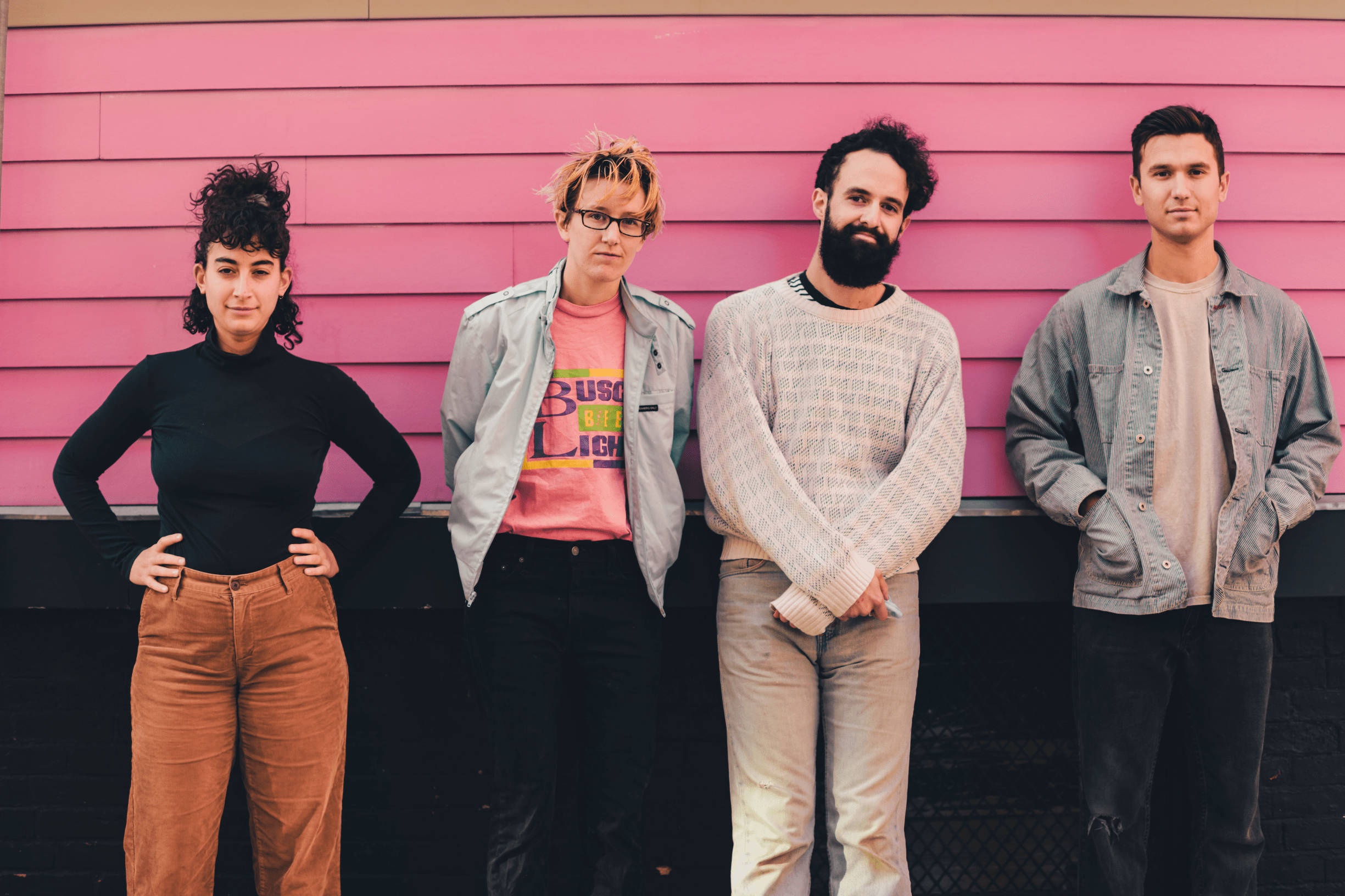 This article is more than 1 year old.
There's a number of things that could define Boston's breakthrough "bummer pop" quartet Future Teens: Their reverence of pop classics, their grindstone, DIY ambition, the wave of buzzworthy cover compilations with their names attached. But to its members, Future Teens is a sort of endless riff of their name, a slight piece of performance art. Listen to the first four tracks on the group's new melodically polished EP "Deliberately Alive" (out now) and you'll notice an earnestness and kinetic energy driving the machine. But instead of a triumphant closer, we're gifted a twangy, somber arrangement of Cher's 1998 smash pop hit "Believe."
"Try as we might, we're still living in our highbrow, commit-to-the-bit bulls---," vocalist and guitarist Amy Hoffman tells me with a smirk. Aesthetically, this acute sense of irony isn't usually beholden to bands who identify as emo. But Future Teens is a band whose sensibilities lie in dismantling pop paradigms and reconfiguring the pieces into something earnest, but inherently funny.
It's not so much an act of irreverence, but rather of appreciation. Daniel Radin, guitarist, vocalist and longest-standing resident of the group, explains that the band began as a joke, and it's evident that the punchline never arrived. In its earliest days, Radin and high school pal Gabe Goodman postulated its concept as a high school band that reunited in their 20s, but continued playing their juvenile repertoire. Their first release was only available via floppy disk; "I made like 25 floppy disks to sell and ended up selling all of them, which I thought was really funny," he remembers.
By the time Radin met Hoffman preceding the release of their 2017 EP "Hard Feelings" (they exchanged musical ideas through Tinder, another wry joke), Future Teens was a project based on loose risks. At the time, Hoffman was working as a performer on a cruise ship; Radin was in and out of a number of local bands. Their shared experiences road-dogging on tour inspired the members to shoot for more lofty goals in hopes of having to do less grinding work. Radin recalls cold-pitching labels without any expectations.
One label, Take This To Heart Records, took notice. "Daniel just cold emailed Joe from Take This To Heart and then got on an airplane [to Cleveland], thinking nothing would come of it," says Hoffman. Label head Joe Urban was an immediate champion of the band. "We all credit so much of what we have now to Joe answering that email," they continue. The label offered support and a wide network for the band at the precipice of their first big break.
Sometime in late 2017, Radin and Hoffman were in need of a bass player. Enter Maya Mortman, who was invited to audition by then drummer Dylan Vadaki; everyone instantly felt a connection. "I remember I was shopping with my roommate but I wasn't paying attention at all," Mortman recalls, following her audition. "I felt like I was texting someone I was dating; how do I tell them I want to be in their band? I was walking around the store composing texts and asking my roommate, 'Do you think this is good?'"
Since the addition of Mortman — drummer Colby Blauvelt would also sign on for the production of 2019's "Breakup Season" — the group began refining their blend of emo, indie rock and pop. They come from the school of 2010s Boston DIY, a diligent and ambitious underground network of bands that, for the first time since the college rock boom in the '80s, have put rock-leaning Boston music back into the conversation. "There is a 'Boston sound' to rock music," Radin describes, "which is to me bands like Pile, Kal Marks, Ovlov, Krill and Speedy Ortiz, too, these bands that are sort of this grungy rock with some '90s influence, but it's sort of challenging music." They also acknowledge groups like Horse Jumper of Love, Really From, Animal Flag, Lady Pills and a number of others for their influential efforts.
"At first when we started the band, I felt like I was in the less 'cool group' because our music can be kind of silly, or a different level of fun. But then I realized that it's Boston; it's small, and anyone wants to play a show and be friends," he adds.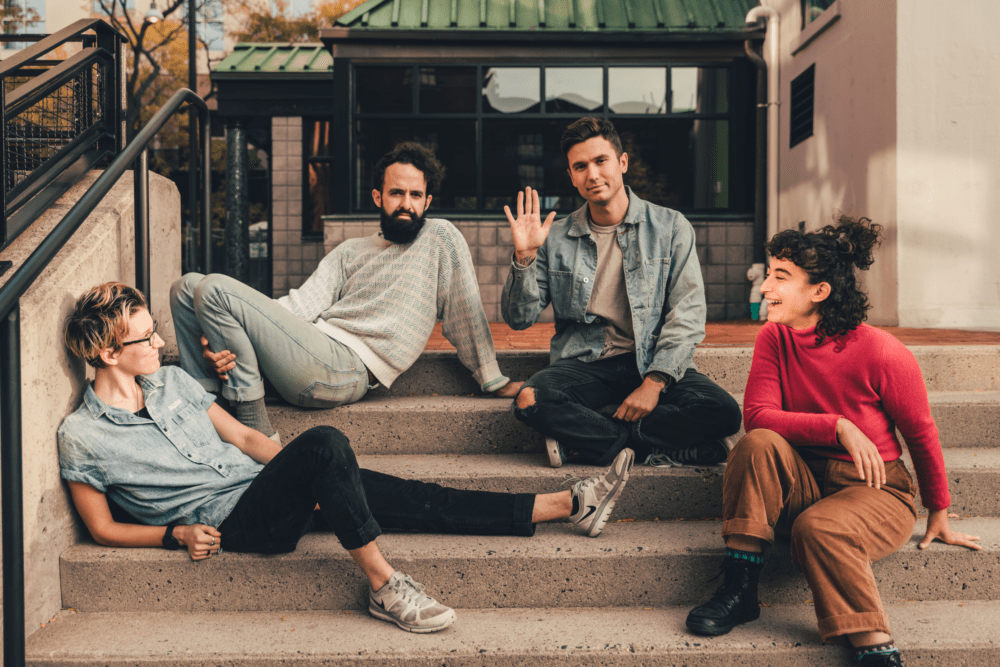 A major component propelling this idea of "a different level of fun" is the band's catalogue of covers, reworkings of pop songs to fit their punkish, off-center disposition. Inspired by a "Kidz Bop 1" Halloween show a number of years back (where they picked up their cover of "Believe" and Smash Mouth's "All Star"), the group found perhaps their first big break with the success of "EMO-TION," a compilation tribute to Carly Rae Jepsen's pop colossus "Emotion," that gained the attention of several leading music blogs. Its notoriety later spurred several other acclaimed cover compilations, including Taylor Swift's "Red," and a collection of notable TV themes called "TV Tunes: A Retrospective of TV Theme Songs." (It should also be noted that the proceeds of each of these releases were donated in good faith.)
With a newly established platform, Future Teens was poised to have a breakthrough year in 2020. But following the onset of global lockdowns, the group was forced — like the vast majority of musicians around the world — to rethink their plan moving forward. They decided to give socially distant, COVID-protocol recording sessions a try. But despite such setbacks, "Deliberately Alive" is a feat of masterful poptimism, a token offered by a group of indie-emo songwriters that worship at the altar of pop music.
"I think folks kind of expect most music coming out right now to be 'pandemic records,' and I would not call ['Deliberately Alive'] that," Hoffman notes. "It largely deals with us looking inward and facing times we've been wrong about ourselves or our relationships. It's a lot of reflecting on ways we can do better."
Radin, after reflecting on the wholehearted career of Future Teens, offers a message of hope: "If you're feeling left out, just create your own community of people you enjoy spending time with. The goal was never to be 'famous,' it was just to connect with each other and other people. It sounds cheesy, but I feel like we've gotten to do that."