Bids For Next Offshore Wind Project In Mass. Will Have Greater Focus on Equity
This article is more than 2 years old.
As the Baker administration prepares to open the bidding process for a third offshore wind project, it's announcing some big changes — and some new requirements — for companies that want to develop a wind farm off the Massachusetts coast: bigger projects and a greater focus on diversity and equity.
Unlike the previous two rounds, where the state was soliciting projects up to 800 megawatts — enough to power about 400,000 homes — this third round will let companies bid on projects up to 1600 megawatts.
Larger bids may help companies "capture efficiencies related to transmission cabling and use of on-shore transmission interconnection points," said Secretary of Energy and Environmental Affairs, Kathleen Theoharides during a press conference on Thursday.
She added that the state has no preference for the size of the project, and that it's open to bids between 200-1600 megawatts. However, meeting the state's decarbonization goals will require about 15 gigawatts (or 15,000 megawatts) of offshore wind power by 2050.
Bids for this next round will also include an emphasis on environmental justice and  diversity, equity and inclusion, something environmental advocates have been pushing for. The state will require developers to spell out how they will hire and train a diverse workforce, and how they'll build a supply chain that prioritizes underserved communities.
These plans "will outline bidders' commitment to promoting employment, procurement and contracting opportunities for minority, women, veterans, LGBT and persons with disabilities," Theoharides said, and must include "a strategy plan to track and report on the status of environmental justice impacts, engagement and employment, including training, recruitment and hiring opportunities."
Bidders will also be required to describe and quantify the environmental and socio-economic impacts of the project, both positive and negative, on environmental justice communities and coastal communities that host transmission hookups or other project staging grounds. And the company that wins the contract will be required to work with the state's Department of Energy Resources to track and report its progress on the equitable economic benefits it promised.
"I think the inclusion of considerations for environmental justice and for diversity, equity and inclusion in the workforce are laying out the foundations for what could be a new clean energy, climate-friendly, economic development opportunity in the Commonwealth," Theoharides said.
She added that it's imperative to build a industry that's "supportive of environmental justice concerns and incorporates those considerations and voices from those communities into the development, siting and interconnection of these projects, as well as make sure that the benefits from these projects flow directly to communities that have been adversely impacted by environmental pollution in the past."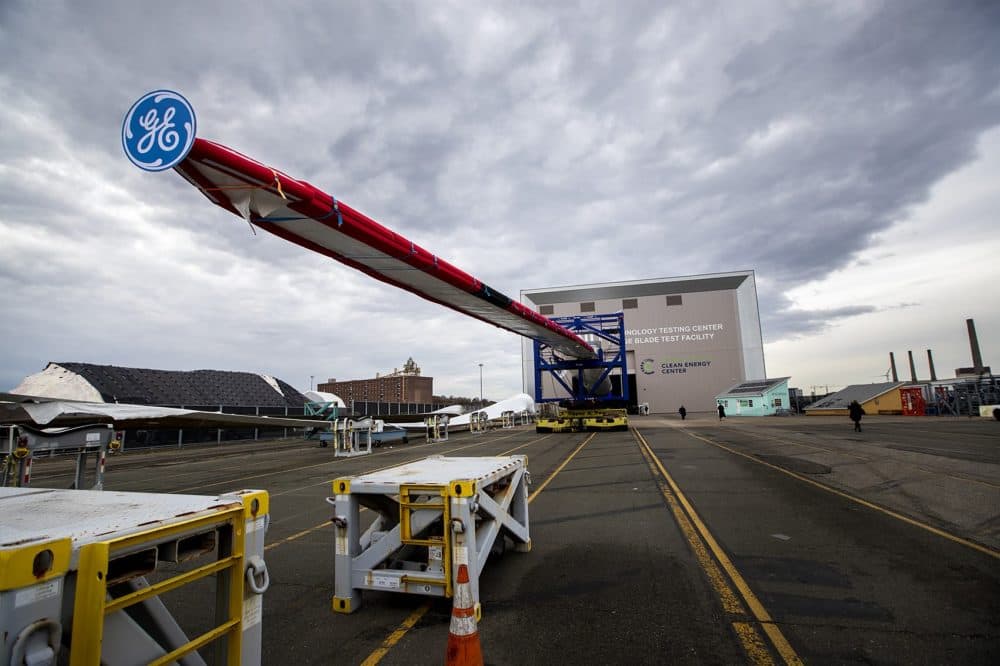 The Environmental League of Massachusetts (ELM) is one of the environmental groups pushing for a greater emphasis on diversity, equity and inclusion in offshore wind. In public comments about the state's draft RFP, which was released earlier this year, the group wrote that "these contracts represent billions of dollars in capital investment and will create employment for the next 20+ years" and so we must "set higher expectations for racial equity and minority economic participation."
ELM president Elizabeth Turnbull Henry called the inclusion of these new equity measures a "significant step in the right direction," but added that she wished the state had done more than what she termed the "bare minimum."
(Turnbull Henry clarified hours later that she does not think the state only did the "bare minimum," but maintains that the state's bar for diversity, equity and inclusion could be higher.)
"I am appreciative that they acknowledged our advocacy, but I would also like to create the space, and continue to create the pressure, to see what else they can do" to give more weight to equity considerations, she said.
Massachusetts is not the first state to require companies submit and track diversity and equity plans, and according to ELM, the state has fallen behind New Jersey, New York, Virginia and Maryland on this effort.
The lucrative contracts are in high demand, and the state uses a point system to decide who wins them. The state awards points for both "qualitative" factors such as workforce development and benefits to low-income rate payers, and "quantitative" factors like the company's ability to provide reliable power.
In past rounds, the state weighed quantitative factors more heavily, awarding up to 75 points for high scores in those areas. For this next round, advocates like New England for Offshore Wind — a broad coalition of environmental advocates, businesses and academic institutions — encouraged the state to place greater emphasis on qualitative  factors, like like workforce development, by awarding those areas up to 50 points.
After considering input from a variety of stakeholders, the state landed on 30 points for these factors in the final RFP.
The Department of Public Utilities is currently reviewing the final RFP and will publish the document soon. The bidding process closes in September and the state aims to select a winner by the end of the year.
The announcement of the start of this third round of bidding comes on the heels of the Biden administration's announcement that it had completed a final environmental impact statement for the Vineyard Wind I project, the first utility-scale offshore wind farm in Massachusetts and the country.
Vineyard Wind still needs official permission from the federal government to begin construction — a so-called "record of decision" — which could come as soon as next month. The company ays it plans to start offshore construction next year and deliver clean, renewable energy to Massachusetts customers in 2023.
This article was originally published on March 12, 2021.