With New Complaint, Fossil Fuel Divestment Proponents Shift From Moral To Legal Ground
Activists from Boston College and Harvard University are making a new argument in their fight agains climate change: Their schools' fossil fuel investments aren't just immoral, they're illegal.
Harvard students, alumni and professors on Monday filed a complaint with Massachusetts Attorney General Maura Healey's office, arguing that the university's fossil fuel investment holdings violate the state's Uniform Prudent Management of Institutional Funds Act, which outlines certain "charitable" responsibilities for all non-profit institutions. The 56-page complaint was also signed by nine local government officials, including Boston mayoral candidate Michelle Wu.
Activists from Boston College filed a similar complaint in December requesting the attorney general investigate the university's investments in regards to the same legal question.
Student organizers from both schools said the complaints were filed after nearly a decade of failed dialogue between activists and administrators at both institutions.
"The community is no longer willing to accept the status quo," said Connor Chung, a sophomore at Harvard College and an organizer with the group Fossil Fuel Divest Harvard.
Harvard declined to comment on the legal filing.
Healey's office confirmed it has reviewed the Boston College complaint, but declined to comment.
A University's 'Charitable Purposes'
Both complaints argue that universities, being non-profit institutions, have certain charitable responsibilities that their investments must adhere to under state law.
"Under the Massachusetts Uniform Prudential Management of Institutional Funds Act, the Harvard Corporation has a fiduciary duty to invest with consideration for the University's 'charitable purposes' — a duty that distinguishes non-profit institutions from other investors," the March 15 complaint states.
"Instead," it continues, "the Corporation has invested a portion of Harvard's $41.9 billion endowment in the fossil fuel industry — damaging the world's natural systems, disproportionately harming youth, poor people, and communities of color, and imperiling the university's financial and physical well-being."
In other words, investing in an industry that contributes directly to the climate crisis should not be considered, in any way, "charitable," according to the complainants.
There is no direct legal precedent for what the complaints allege. But Ted Hamilton, a lawyer who helped draft both complaints, said he believes the complaints have a strong case on paper.
"All the things that the [investment] managers are duty bound to do are contradicted by profiting off of fossil fuels," said Hamilton, co-founder the Climate Defense Project, a nonprofit legal firm. "There's just an obvious legal contradiction there."
Both the Harvard and Boston College complaints rely heavily on the Uniform Prudent Management of Institutional Funds Act, a law that provides guidance to non-profit organizations on the management of their investment funds. The act is law in 49 states and Washington, D.C.
Harvard Law alumni and former U.S. Securities and Exchange Commissioner Bevis Longstreth, who was involved in writing the law and was a signatory to the Harvard complaint, said he believes the legal theory is clear.
"It's wrong and inconsistent with our charter to try to profit from polluting the air and warming the planet," said Longstreth. "And that's what they're doing — you only invest to profit."
A Change In Strategy
Kerrina Williams, a campus organizer with DivestED, a national training hub for college divestment campaigns, said the complaints signal a shift in the national divestment movement. Students now feel they have the support to leverage external pressure against their institutions.
"Students are going to use all the resources that they have," Williams said.
Boston City Councilor Michelle Wu, who was a signatory to both the Harvard and Boston College complaints, said she decided to back the activists after being inspired by the work of youth climate activists in recent years.
"It's important to follow the lead of youth activists and to center this generation in taking action on the big issues that sit squarely on all of our futures," Wu said.
The Massachusetts activists are not the first to try this strategy. Students at Cornell University filed a similar complaint in New York in 2019. Cornell's board of trustees voted to divest a few months after the complaint was filed and no state action was taken on the complaint.
Should Healey take action on the complaint, "it would signal that there's a real legal issue here," Hamilton said.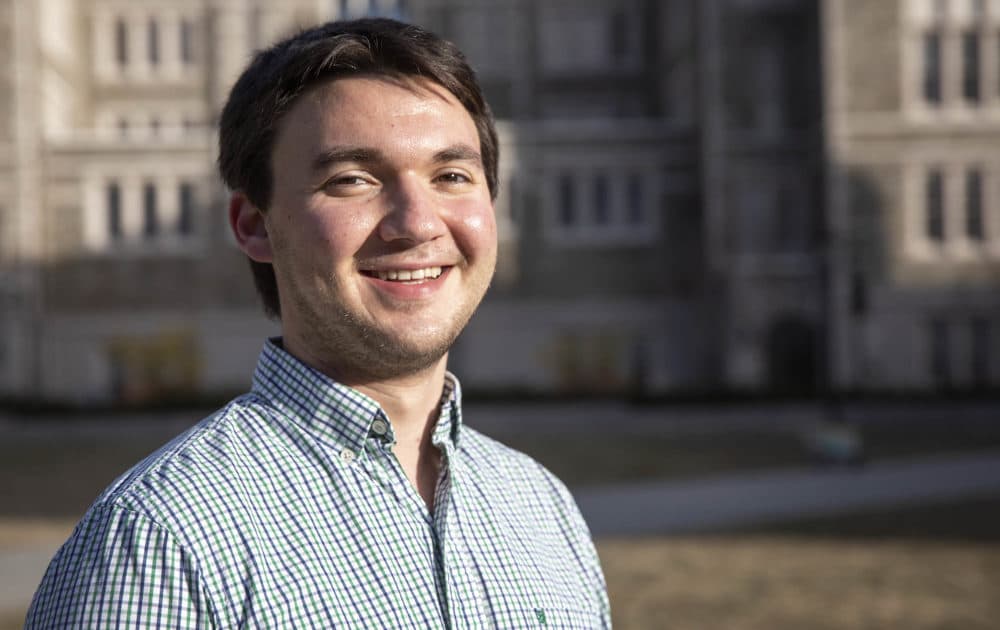 Kyle Rosenthal, a senior at Boston College and organizer with the group Climate Justice at BC, said he hopes the complaint will push BC's administration to engage in a serious conversation with activists and community members on the fossil fuel divestment.
Boston College opposes divestment "on the grounds that it is not an effective means of addressing climate change," university spokesman Jack Dunn said in an email.
The endowment exists to provide the school with a permanent source of funding, Dunn said, "and is not a tool to promote social or political change, however desirable that change might be."
Boston College's position on divestment has remained unchanged in the face of both a 2019 student government referendum and a 2020 pronouncement from Pope Francis on the issue. A number of other Catholic schools have either divested or announced plans to do so in recent years, including Georgetown University and the University of Dayton.
"Divestment is one tactic and one step towards racial justice, gender justice, indigenous justice, and a number of other forms of equity," Rosenthal said.