Up On The Marquee: Susan Wilson's Photos Of 'Women Who Rock'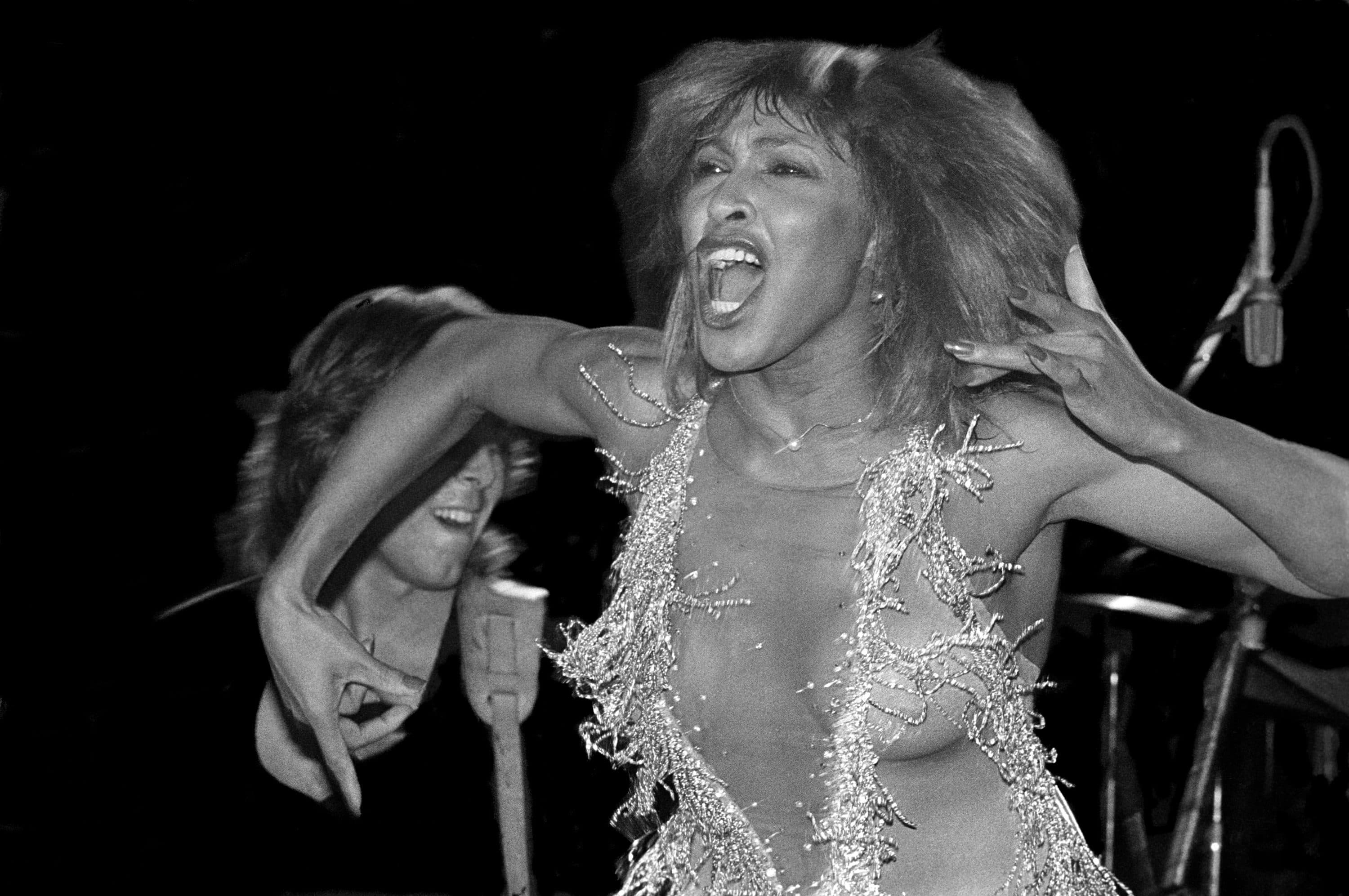 This article is more than 1 year old.
Walk or drive down Tremont Street toward Boston's theater district and you may see a vibrant LED picture of Tina Turner up on the Boch Center's electronic marquee. Wait seven seconds and you might see Joan Armatrading or Judy Collins take her place.
These images are included in a collection of 23 rotating images as part of a digital exhibit called "Women Who Rock" by veteran Massachusetts-based photographer Susan Wilson. (It's not all women, but primarily women.) The photo of Turner in all of her glory was taken during a show at the Bradford Hotel Ballroom in 1981.

Wilson never expected her photos to be up on the Boch marquee. "I'm grateful and surprised," Wilson says, on the phone from her Wellfleet home, adding "I was honored I was remembered and it was a gas going through all these [thousands of] images and finding things. It's wicked cool."
Certain photographers — those at the right time, right place and with great shots — have a past life that can catch up to them in a good way. "I tend to live in the present and forget about my own past," Wilson says, "and people go 'Why don't you show this or bring that out?' and I say, 'Oh, I'm busy working today on other things.'"
The process began pre-pandemic when Folk New England founder Betsy Siggins suggested Wilson's work to Boch CEO Josiah Spaulding. He concurred and wanted to mount an exhibit of her photographs in their downstairs gallery alongside photos by Ron Pownall and Henry Diltz. The COVID-19 shutdown blew that out of the water, but, in conjunction with Women's International Month, Wilson's now-digitized photos rotate on the brightly lit almost 10-by-8-foot marquee. The pictures change roughly every seven seconds.

The original shots were mostly done on film, not digital, and most hail from another era. Only two were taken during this century and most others from the late-1970s through the mid-1990s, during the second and third waves of feminism. And aside from Turner and 'Til Tuesday's Aimee Mann, Wilson's photographs fit into the overall rubric of the Boch Center's ongoing Folk and Americana theme. About two-thirds are concert shots; the other third posed in Wilson's Cambridge studio. At the time the photos were taken, Wilson freelanced — as both a writer and photographer — for the Boston Globe, Boston Phoenix, The Real Paper, Equal Times and Sojourner magazine.
"Women were just coming into their own as opposed to them being in girl groups and singing other people's songs," says Wilson. "Many women were creating their own songs, heading their own bands, writing their own music and words. So, I was compelled in my writing and my photography to do everything I could to get exposure, both literally and figuratively, for these people. I wanted to make sure, and I think the Globe wanted to make sure, that all these women at different levels got covered."
Wilson's best behind-the-scenes stories: Suzanne Vega and Tracy Chapman.
Wilson connected with Vega early in her career when she was playing the tiny Cambridge folk club Passim. "I got to know her well," says Wilson. "I had shot her for a lot of different things. Her big hit at the time [1985] was 'Marlene on the Wall,' so I went to the Harvard Coop and got a large picture of Marlene Dietrich and went over to Frameworks, dry mounted it, and then hung it at my apartment. Suzanne came over to the apartment and we posed her in front of that picture of Marlene on the wall. We thought it was hysterically funny."

Chapman, who came to fame with "Fast Car" in 1988, was a young Tufts University student when she hit the Cambridge folk scene. Wilson began covering Chapman and is sometimes credited with "discovering" her.
"I didn't discover Tracy Chapman any more than Columbus discovered America," Wilson says. "However, I was the first person who wrote a feature about Tracy Chapman in a major metropolitan newspaper. Then I became like her older sister and did her publicity photos and first press packet. This picture was from one of her early promotional photos."

Wilson wasn't earning much money freelancing, and needed something in return. Chapman was a student who had little money. "She had nothing to give as a trade," Wilson says. So, they worked out a deal: "She painted the walls of the studio and waxed my car."
Spaulding says the Boch Center is constructing two photo exhibit spaces and intends to mount the photos they intended to display last year from Wilson, Pownall and Diltz. The hope is for this fall.
Wilson is still a photographer, but she shifted gears over the years. Her music photographs are mostly of classical performers. "For two decades, beginning in the mid-'90s, I did publicity photo shoots for the New England Conservatory and Longy School of Music," she says. Wilson also takes studio photos of clients — though not now during the pandemic — as well as photos accompanying the public history books she writes and the lectures she gives.
While this exhibit — up through the end of March — is called "Women Who Rock," Wilson has photos in her archive of women who, perhaps, rock a little more. Among them: Patti Smith, Pat Benatar, Deborah Harry, Heart's Ann and Nancy Wilson, the Go-Go's, Nico, Laurie Anderson, Chaka Khan, Lene Lovich and the Slits.
She's open to another run and Spaulding confirmed the Boch Center was interested as well. "This is the veritable tip of the iceberg," Wilson says. "If we're talking about women in music, it's expansive and I have probably tens of thousands of negatives."
---
The Boch Center's "Women Who Rock" digital exhibit is on view through March 31.
Editor's Note: Susan Wilson and Jim Sullivan have been friends since their early freelance days at the Boston Globe in the 1980s.