Advocates Call For Broad Overhaul Of Admissions At Vocational Schools
Business owners, elected officials and advocates across Massachusetts called for urgent change to the admissions process at the state's public vocational and technical high schools on Thursday.
They argued that the current system discriminates against the state's most underserved young people — and holds back the regional economy.
Each year, there's real competition for seats in the state's vocational and technical programs. Out of 18,560 completed applications in the past year for one of those seats, just 12,454 students received offers of admission — an acceptance rate of 67%.
That's according to a presentation made by state officials to the Board of Elementary and Secondary Education last month (PDF). The same presentation found that at least 44 programs maintain wait lists due to excess student interest.
But advocates said more troubling findings lie beneath those top-line numbers.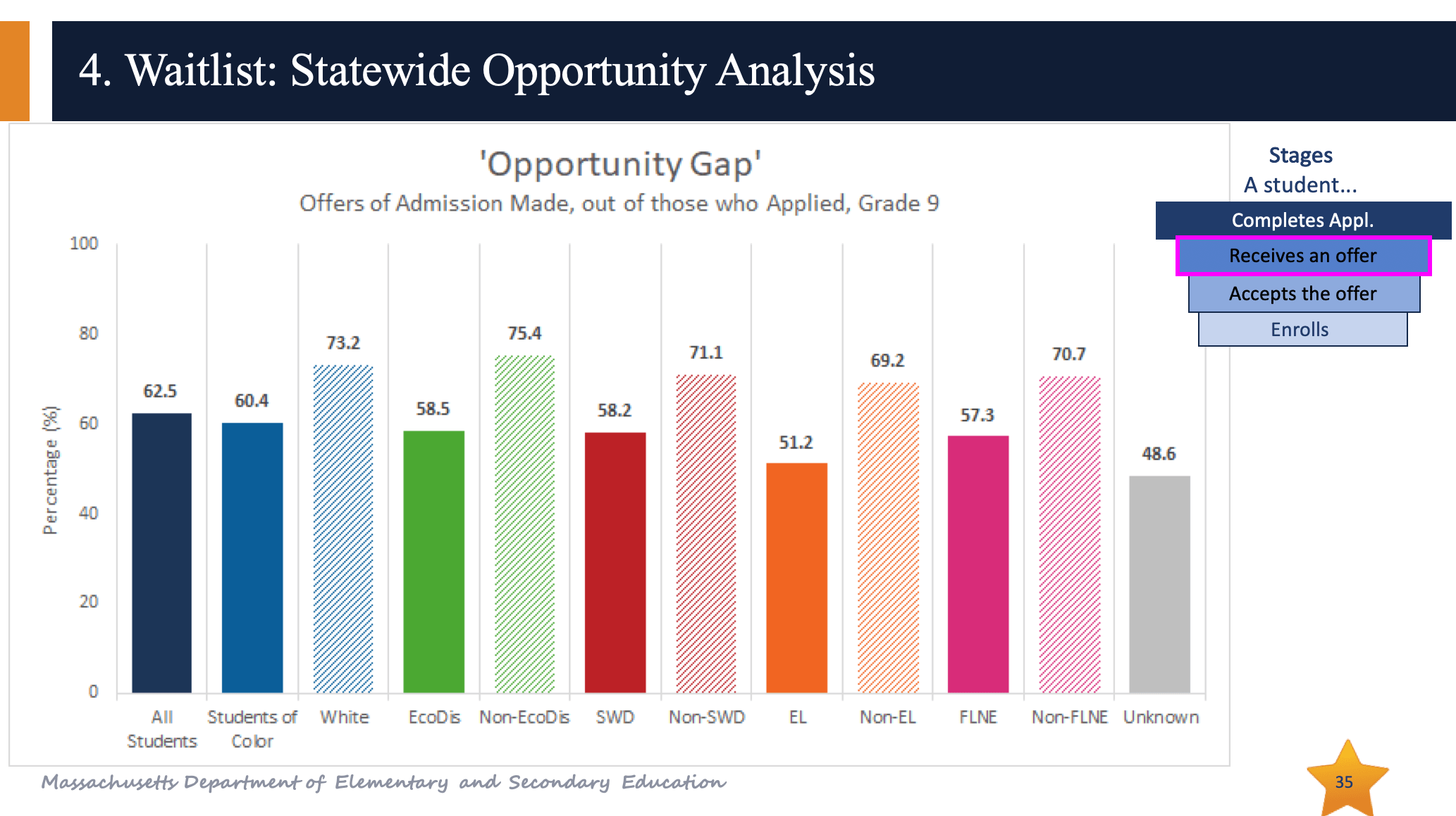 Students of color, for example, are less likely than their white peers to apply to a vocational program — and less likely to get in when they do. English learners and students classified as "economically disadvantaged," too, tend to gain admission at markedly lower rates than their peers.
Jon Mitchell, the mayor of New Bedford, said his staff first began looking into admissions disparities at vocational schools a few years ago — and that the numbers were "a lot worse than we suspected."
"Right now, at Greater New Bedford [Vocational], 3.7% of the student body is classified as English-language learners," Mitchell said. "At New Bedford High, just a few miles away, it's 29.7% — so, a factor of ten." He noted similarly wide disparities between Brockton and Lawrence's largest comprehensive public high school and the nearest vocational school.
Since voc-tech high schools draw on an entire region for students, Mitchell acknowledged they are unlikely to mirror the demographics of the largest district nearby. Nevertheless, he said, "the disparities remain huge."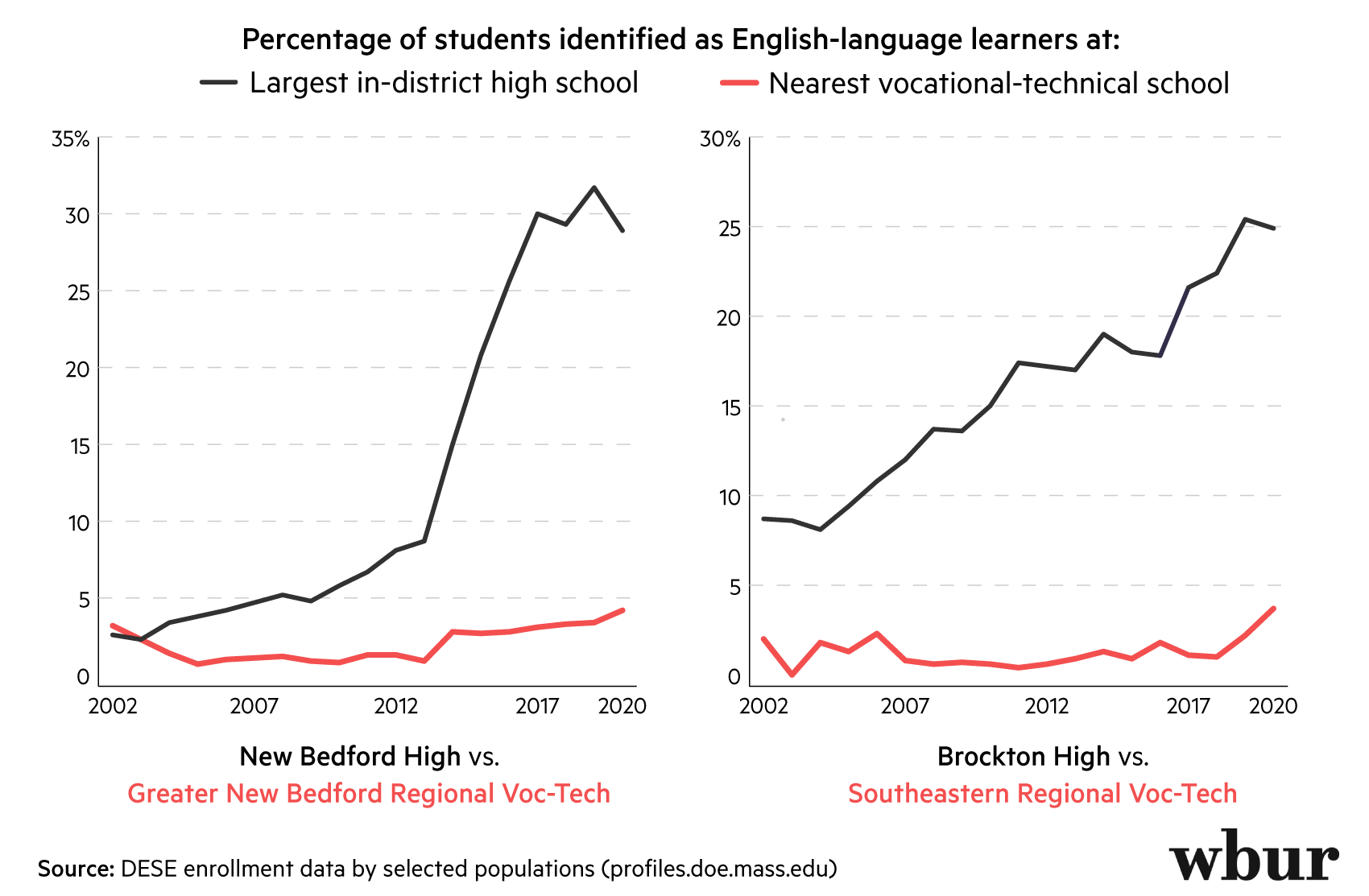 Since a change in state law in 2003 (doc), vocational schools in Massachusetts have been permitted to either use a lottery for admissions or to select students based on some some set criteria — including the applicants' grades, attendance records, discipline records, teacher recommendations and optional student interviews.
Gladys Vega, a community organizer in Chelsea, said that under that system, it's not surprising that young people from her community are less likely to win admissions.
School "attendance is always an issue" in a city of immigrants, Vega said. "Many of our students are the translators for their parents. There's emergencies that happen: someone knocking on the door, saying we're looking for your father, he may be undocumented.'"
Vega was clearly emotional as she related her own experiences as a high school student in Chelsea years ago. "I was working as a cashier in a store, and a [guidance counselor] told me that I should stay there: 'You're not gonna make it, because you have an accent.'"
"That's what Chelsea students are [still] being told," Vega said. "They're afraid that vocational school is a dream that they will not be able to achieve — because they may not be able to speak English perfectly, though they're extremely smart."
Education commissioner Jeff Riley will propose some changes to the current admissions system at a public meeting in April, though he hasn't introduced the proposal yet.
But Nina Hackel, who serves on a state advisory council regarding vocational education, said she's worried that Riley's proposal will focus on a handful of "naughty" schools — and stop short of  the systematic, statewide reform she and others called for Thursday.
Vega and Mitchell said a return to a simple lottery system — coupled with concentrated outreach to applicants of color and English learners — would promote fairer access to the schools.
At Thursday's virtual press conference, business owners and union officials repeated the claims of bias, but added that inequitable vocational-school admissions have consequences for the broader economy.
"How many people are having trouble finding a plumber?," asked Hackel, who owns Dream Kitchens, a remodeling firm based in Nashua, N.H. "It's not just me."
Hackel said that as the schools became more selective and focused on academic records, they lost sight of the fundamental role they can play in renewing a diverse workforce.
"Think about it: they're advertising that 80% of these kids that go to voc-tech school go to college. That sounds great," Hackel said.
But the result, she said, has been a class of older skilled laborers earning six-figure incomes in a friendly market — and an alarming shortage of driven young people ready to climb their own career ladders in the trades, from information technology to construction.