Purpose And Whimsy Blend In A Show At LaMontagne Gallery
This article is more than 1 year old.
Kim Faler creates sensorial experiences based on the emotional weight of the everyday. Her materials tend to be delicately treated trash items, made precious by her hand and cast in the bare light of our emotions that fill them.
Her work has magnified the swift handwriting of shopping lists — the loose undulations of the script in rust — and fashioned an ethereal, bouquet-like form from discarded grapevines. "Double Bubble," on view now at Mass MoCA is an immersive landscape of suspended sculptures, based on chewed and discarded bubble gum punctuated with a soundscape of chewing and popping. What do we feel, know, and say in what we toss out or quickly scribble? What tensions or pleasures expand and contract with the satisfaction of blowing the perfect bubble? Faler's work has a playful sensibility, but a serious spirit.
She brings this pathos to "Something that Feels like Truth," a taut show at LaMontagne Gallery in Boston's South End of recent photography, painting and sculpture. Here, notions of touch and truth are more somber, however.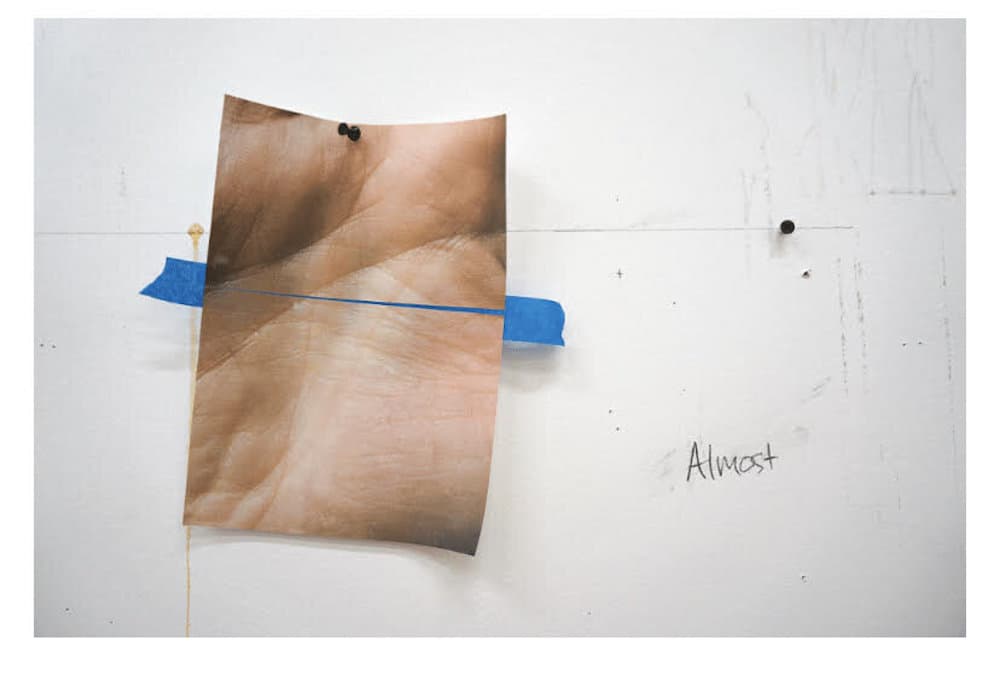 In "Almost/Nearly," (2020) a series of close-up photographs of dirty palms seamed with blue tape, we see every grim-filled line. If this was a palm reading, what would this tell us? The series culminates in "Nearly," depicting a studio wall replete with push-pin pockmarks and the word "nearly" softly written in pencil. Too precise to be a snapshot, but too evasive to be a record, "Nearly" (2020) seems to imply that we're moving toward a future that we'll never know. Almost as a postscript, the sculpture "Nope" (2019), a splayed banana peel cast in iron, propped up on wood stuff of studio detritus. Its title a flip but firm refusal, its shape a slapstick classic, "Nope" seems to reject any resolute plans or fortune-telling.


The stretched peels of "Nope'' make it feel like an outspread hand, or a splay of tongues, recalling the banana's fleeting intimacy with Faler's body. This obscured intimacy is present in "Cull" (2019) a series of three small, square passages revealing Faler's own bronze cast fingers. They feel like artifacts: these small-scale, dimensional works, hung at eye level, make you feel like an archaeologist, peering into a slice of earth and seeing something that looks like your hand. Bright swathes of robin's egg blue, turquoise, and lavender are chipped away to divulge the earthy bronze of Faler's gestured fingers, creating not only tension of tones but a record of movement, and therefore, knowledge.
"My work always begins with the productive act of thinking through process and material," Faler writes in the show's statement. "Much like a personal journal, I begin with what I know, and then attempt to unravel the emotion that sits below the surface." Faler suggests that truth is haptic: visual, sensorial, and articulated how we interact with, and metaphorically touch, one another.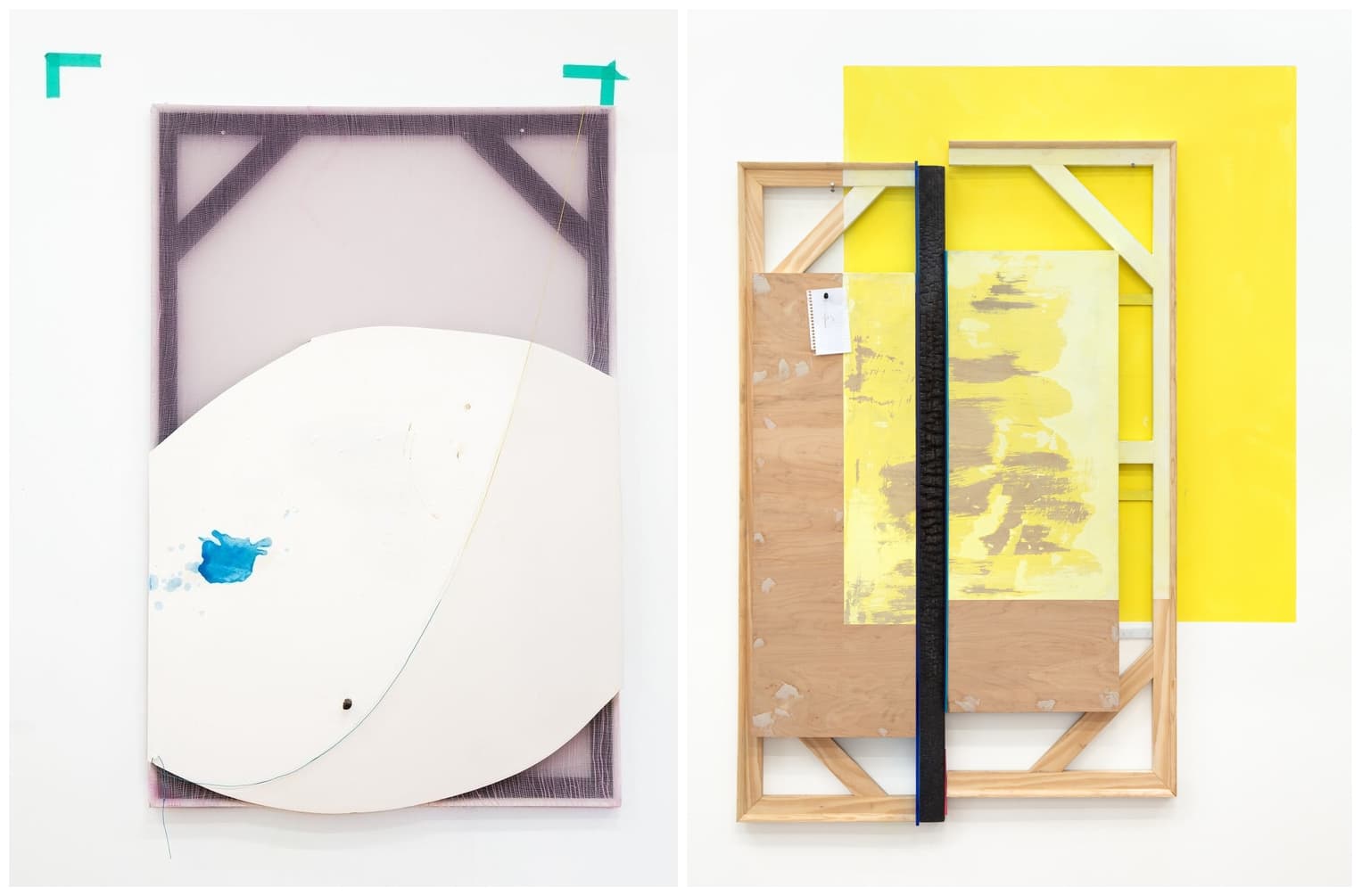 Faler shows us the whole picture in a series of four deconstructed paintings, each obliquely showing her hand in making it. Two are marked by the studio, with a frame of small strips of ripped blue painter's tape around "Yo-yo" (2020) and "Still (Yes)" (2021). It's also easy to read vestiges of recent history in them. The weave of the gauze in "Yo-yo" almost like a shroud, and the cleavage of "Still (Yes)" recalls our fractured social state, divided, but intact.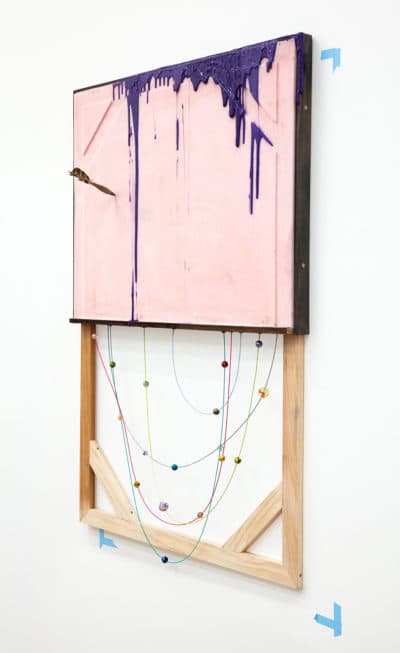 The exposed stretcher bars of all four in the series are like skeletons, their muscles the stuff (marks, textiles, beads, paint) that Faler builds upon them. Stretcher, surface, mark, and image culminate Painting (a tradition that has made cultural meaning, and passed down cultural knowledge, as long as two humans have needed to communicate together. In a show so much about knowing, this seems purposeful. But it's not all serious, either. Like "Nope," the paintings have a precision of purpose, but a whimsical sensibility. My favorite of these works is "Like Sugar" (2021), which blends image-making with a sculptural dimensionality. A dart is stuck off-center in the upper left of a light pink pane, with Abstract Expressionist-like drips of purple ooze down. In the lower half, strings of beads--recalling both a Rosary and an abacus--droops in the bottom, framed by its exposed stretcher.
Meaning, knowing and the purpose of painting is a lot for a small show, but Faler's tight installation pulls off a purposeful, sensitive treatise on feeling and truth. "Something that Feels Like Truth" would benefit from more breathing room than LaMontagne's neat white cube can offer, to allow visitors to meander more. This show needs time and space: it's best processed and known through repeat visits to arrive at your feelings and truth on it.
---
The exhibition of Kim Faler's work at LaMontagne Gallery is on view until May 1.