Study: Northeastern U.S. Has Widest Tree Cover Disparities In The Country
Low-income neighborhoods have less tree cover in 92% of urban areas across the U.S. — with the widest disparities in the Northeast — according to a new study from The Nature Conservancy.
"This is a widespread, almost universal trend in U.S. cities," said study author Robert McDonald, lead scientist for the The Nature Conservancy's nature-based solutions department.
Urban tree cover is known to improve communities in a number of ways, from reducing temperatures and air pollution to enhancing wildlife habitat and property values.
Although many municipalities have done local tree surveys, the study, published today in PLOS One, is the first of its kind to examine tree cover inequality nationally, McDonald said. Researchers used digital images and census data to analyze tree cover disparity in 5,723 communities around the country.
And while McDonald said that each city deals with its own unique landscape and history differently, the findings point to some notable country-wide disparities. For instance, low-income blocks have 15.2% less tree cover and are 2.7 degrees Fahrenheit hotter, on average, than high-income blocks. Blocks with a higher proportion of people of color also have less tree cover, on average.
Some low-income blocks in New England have up to 30% less tree cover, and in some cities, like Providence and Worcester, the lack of tree canopy makes some neighborhoods up to 7 degrees hotter than leafier blocks. In Boston, poorer neighborhoods are about 5 degrees warmer than wealthier ones, according to the study.
These temperature differences are enough to seriously impact human health, McDonald said.
"There's a really direct connection between the tree canopy outside your house and your health," he said. "And we know that link is going to get more important with climate change because climate change is making heat waves more frequent and more intense."
Extreme heat kills more than 600 people in the U.S. every year, according to the Centers for Disease Control and Prevention. The "urban heat island effect" – where city neighborhoods become significantly hotter than other areas because of their hard surfaces and lack of tree canopy – contributes to those deaths, according to the Environmental Protection Agency .
Research shows urban trees have health benefits beyond shading and cooling, like cleaning the air and improving mental health.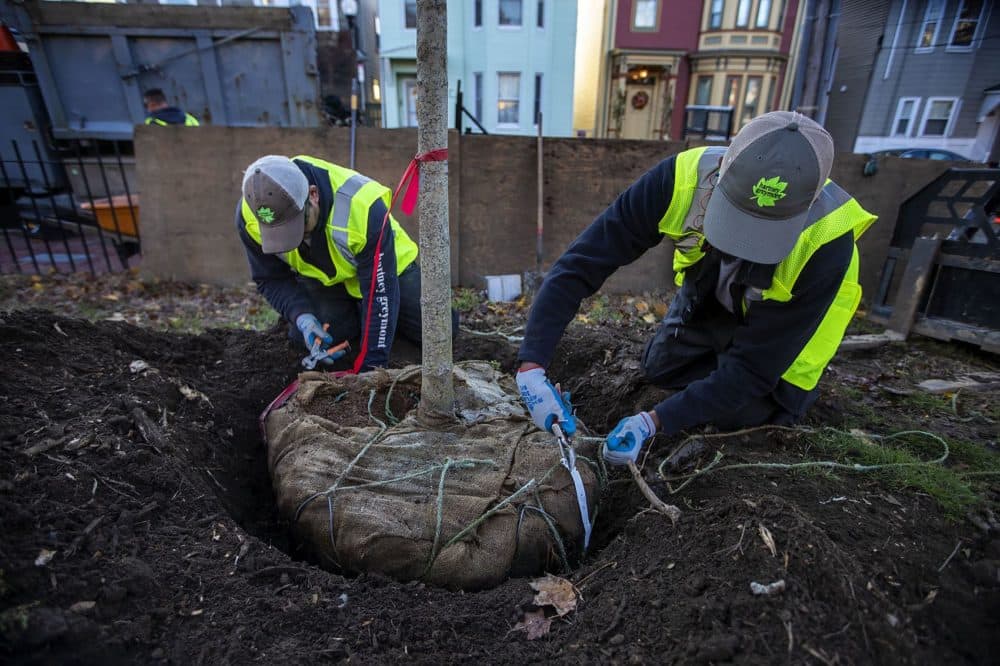 The new study suggested two potential causes for pervasive tree cover inequality. First, unbalanced investments by local governments; the study cited research that historically redlined neighborhoods have fewer trees than non-redlined ones. And second, the differences might be shaped by private ownership — some of the greatest disparities were found in the suburbs where more plantable land is privately owned.
Madeleine Scammell, a professor of environmental health at Boston University who works closely with the environmental nonprofit GreenRoots, said the study's findings are consistent with her observations in East Boston and Chelesea, where she lives.
"You can feel it in the ambient temperature when you walk from one street to another," she said.
Nevertheless, Chelsea-based environmental justice activists are not focusing on tree planting as a focal point in their work, Scammell said, because trees take a long time to grow and studies have found that gas leaks in the area are killing local trees.
"Until we solve the root of the problem, it's not a solution for the climate issues we're having," she said.
The Nature Conservancy study found that closing the tree cover disparity gap would cost about $17.6 billion, and could benefit 42 million people.
McDonald said he sees his study as one more piece of information that should be factored into local, state, and federal climate change strategies.