Study: Massachusetts Leads In Stimulant Prescriptions 
A federal agency review of prescription drug monitoring programs finds that Massachusetts has the highest rate of prescriptions for stimulants among 26 representative states, including medications to treat ADHD such as Adderall, Ritalin and Concerta.
John Eadie, who tracks drug prescriptions as part of the national High Intensity Drug Trafficking Area (HIDTA) program, presented the data during a state legislative hearing Tuesday to address concerns about the rising use of illegal stimulants such as cocaine and methamphetamines. Eadie said it isn't clear why Massachusetts stands out when it comes to use of legal stimulants, or why there's been a significant rise in prescriptions between 2010 and 2019.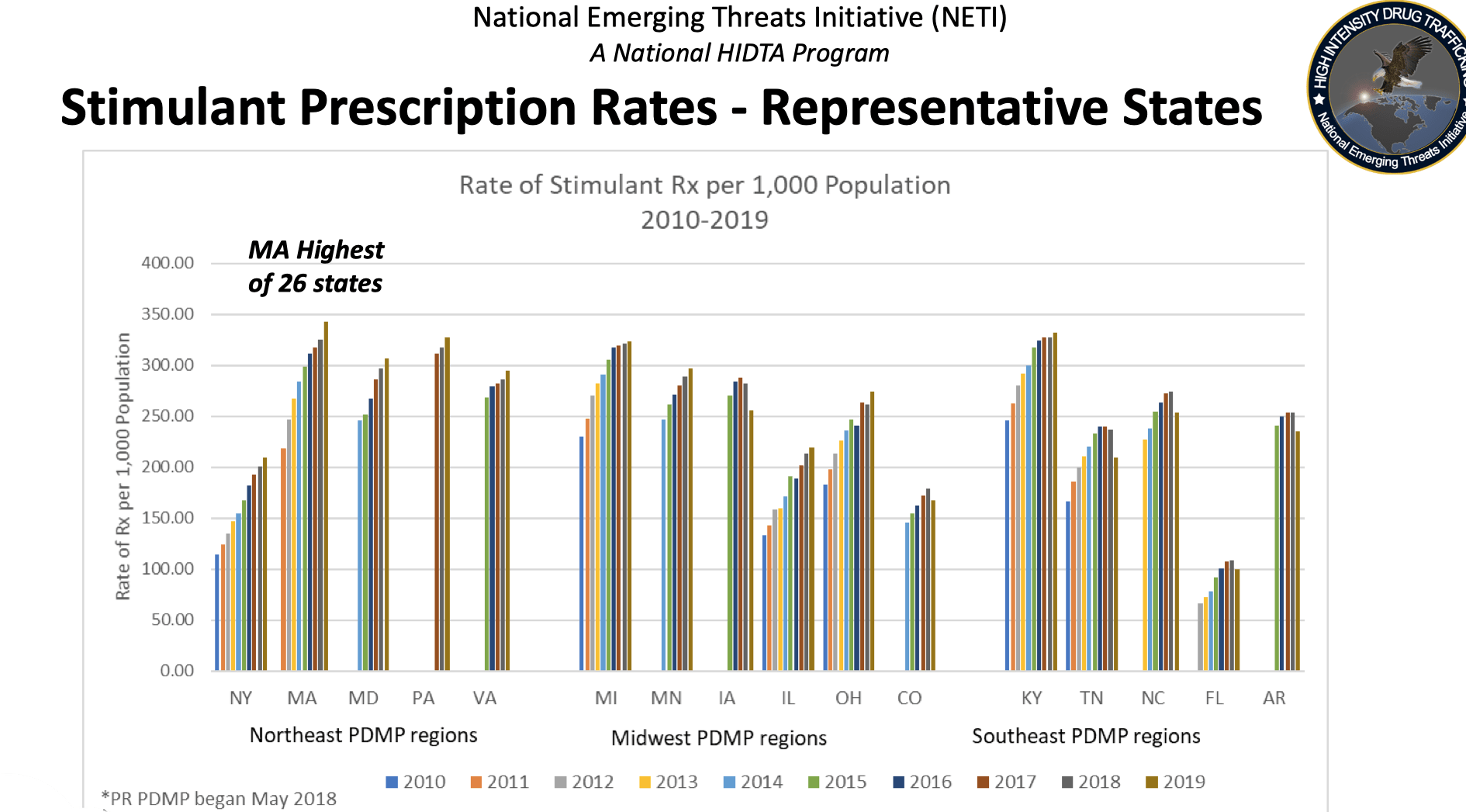 "You'll want to take a hard look at whether that is due to sudden, radical changes in the health and medical diagnoses of your state," Eadie said, "or whether, more likely, that is related instead to diversion and the illicit use."
Eadie stressed stimulants are an important treatment for ADHD but said he worries these medications are diverted to adolescents who "get ahold of the Adderall for non-medical use." Students may use the pills for extra energy as well as to stay awake when studying or partying. Walpole police chief John Carmichael told legislators stimulant pills are often traded in schools.
"Kids who are prescribed that drug for ADHD, for example, are diverting it to other kids," said Carmichael, who chairs the Massachusetts Chiefs of Police Association's substance abuse committee. "Our kids seem to have the notion that because it's prescribed by a doctor that it's not an issue they need to worry about."
Carmichael said counterfeit Adderall pills, which are actually meth, are an increasing problem as well. He said the prescribed stimulants can be an "initiation drug" that leads to addiction.
State Sen. Julian Cyr, co-chair of the Joint Committee on Mental Health, Substance Use and Recovery, called Massachusetts' position "alarming."
"We already have a problem and we have a bigger problem coming," said Cyr, a Democrat whose district includes Cape Cod, Martha's Vineyard and Nantucket.
Dr. Tim Wilens, co-director of the Center for Addiction Medicine at Massachusetts General Hospital, told the committee that treatment for ADHD does not lead to cocaine or meth addiction but not treating the disease may.
"If you don't treat ADHD, 50% of adults with ADHD will have a substance use disorder," said Wilens, who is also chief of child and adolescent psychiatry at MGH.
Wilens said he is also concerned about the non-medical use of stimulants, which he sees most frequently around colleges and boarding schools, of which there are many in Massachusetts. He said the peak age for us is 22 and that about half of those misusing stimulants already have a substance use disorder.
Wilens told lawmakers that extended release stimulants are less likely to be misused than immediate release stimulants such as Adderall.
"So lesson one is to think about using more extended release stimulants and fewer immediate release stimulants in a setting of high risk," he said.
Sen. Cyr asked Wilens and Dr. Scott Hadland from Boston Medical Center why stimulant prescribing has risen quickly in Massachusetts during the past decade.
Wilens responded that people with ADHD often don't get treatment but that may be less likely in the Boston metropolitan area, which he said has the largest density of child psychiatrists in the country. That, combined with a concentration of college students who come with or obtain a stimulant prescriptions, may help explain the increase.
Hadland agrees.
"We're just a place, a part of the country, with a lot of medical services and we make sure that people get the treatments they need, and a lot of people need treatment for ADHD," said Hadland, a pediatrician and addiction specialist at Boston Medical Center.
Both Wilens and Hadland said they are watching for signs of inappropriate stimulant prescribing. A similar rise in prescriptions helped fuel the opioid epidemic.
The state Department of Public Health is working on a report that will take a closer look at stimulant prescribing in Massachusetts.