Mass Audubon 'Followed The Rules' And Earned Millions From Carbon Offsets. But Was It 'Real'?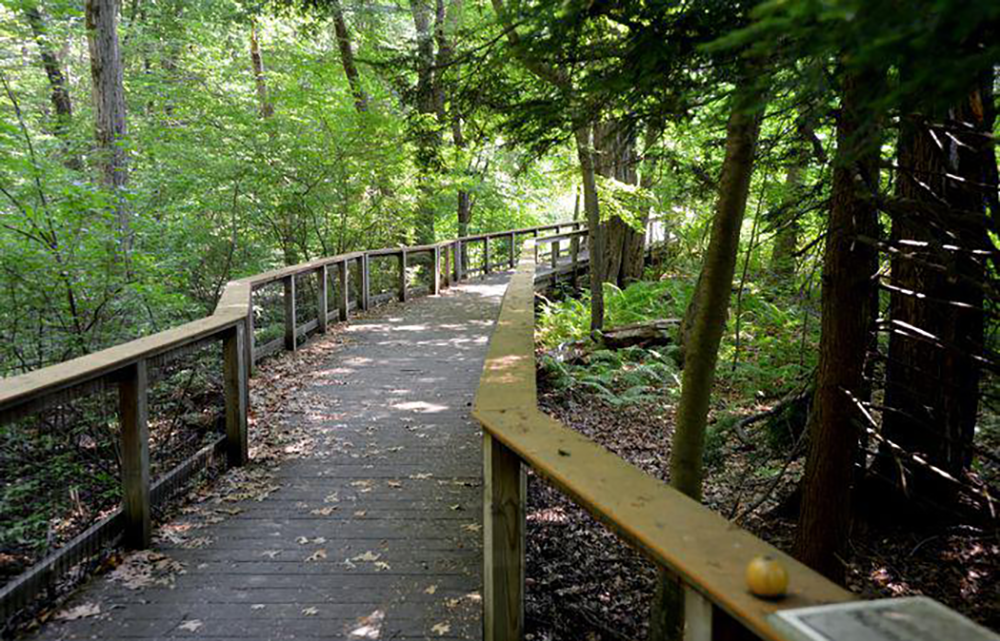 This article is more than 1 year old.
Two reporters teamed up to write a series of stories on what academics call "charismatic carbon," or forest offsets. The focus was on California's emissions policy and polluters. But conservation nonprofit Mass Audubon is also involved.
The report, published by MIT Technology Review, said Mass Audubon received millions of dollars by saying it could heavily log nearly 10,000 acres of its forests — if it wanted to.
Co-author Lisa Song of ProPublica explains how polluters reduce their CO2 emissions as cheaply as possible using carbon offsets.
Interview Highlights
Lisa Song, ProPublica: The principle behind this is that if I own a refinery, and my refinery in California falls under California's climate laws, and I'm supposed to reduce my emissions by a certain amount, it can be cheaper for me to pay someone, somewhere else, to reduce one ton of their CO2 emissions than it would be for me to reduce my own emissions.
Carrie Healy, NEPM: So that's how the forested land in western Massachusetts came into play.
Right, exactly. So the thing about CO2 is: No matter what country or state it's released from, it all ends up in the atmosphere, and all ends up contributing to climate change. The idea behind California's carbon offset program is they want to get landowners all over the country to sign up, and start projects where they promise to preserve part of their forests instead of cutting them down.
And by doing that, they can then calculate how much extra CO2 is sequestered in their forest instead of being released into the air. And then polluters in California can buy those carbon credits. And if it works perfectly, then every ton sequestered in a forest should cancel out the extra ton of CO2 released into the air by a polluter.
Can you describe how Mass Audubon could participate in this program to offset carbon emissions, yet still deliver no real climate benefits?
Right. So to be clear, Mass Audubon was generating its own carbon offset project. They had registered 9,700 acres of its forests in western Massachusetts into California's carbon offset program. And Mass Audubon followed the rules exactly as written. And the rules simply state that you should calculate how much carbon is stored in your forest and then look at how much you could cut down your forest by and use that to calculate how many credits your project is generating. And that's exactly what Mass Audubon did.
So where is the harm in admitting that the trees still have been conserved?
There's no harm in conserving trees. The harm comes in — if you have a carbon offset project that generates credits that aren't real, every credit that isn't real is still allowing a polluter in California to release a ton of carbon. And so the CO2 pollution from those polluters is real, even if the credits aren't.
And so whenever you have credits that aren't real, you're actually enabling an increase in CO2, because those credits were supposed to cancel out those emissions. And if those credits aren't actually canceling up the emissions, then you have a net increase in CO2.
And what was Mass Audubon's defense?
Mass Audubon's defense is that they followed the rules exactly as written by the California regulators, and that they did everything correctly. You know, it is a legitimate point that the story is ultimately about the California regulators who set up the system. They chose to set up a system where they are not scrutinizing the intentions of every landowner who enrolls their forest in an offset project.
And, as we explained in the story, that is also OK. You can make that work if you, as the regulator, can say, "OK. We've got three projects here, where we think the landowners would not have logged as much as they claimed. But we have two other projects over here, where the landowners would have logged a lot more than they claimed without the offset project."
If the regulators can demonstrate that some projects got more credits than they deserved, but others got less credits than they deserved — and if the regulators can show that those mistakes balance each other out — then the program as a whole can still work. But when we raised that issue to the regulators, they did not accept the premise that any of their credits might not be additional.
Is there any way for good to come out of this story for the climate?
I think a key takeaway is that people want to know, with transparency and honesty, how well our various climate policies are working.
California has a climate change law that requires their emissions in 2030 to be cut down to a certain level. And California's carbon offset program is one of the policies that it's counting on to get them towards that goal. And we need to reduce CO2 emissions, quickly. And people want accountability and honesty in truly tracking how effective our various policies are.
A statement from Mass Audubon said the organization often logs small tracts of forest to improve wildlife habitats, but will not do that on the land involved in this program. The organization said it plans to use the money from the credits to preserve additional land, and invest in its climate change program.
___
This story is a production of New England News Collaborative. It was originally published by New England Public Media on May 14, 2021.