As Vacationers Return In Full Force, Cape Cod Faces Seasonal Worker Shortage
Resume
Combine Memorial Day weekend and tomorrow's lift of pandemic restrictions in Massachusetts, and that means a busy start to summer on the Cape. As travelers and seasonal residents arrive, businesses are having difficulties hiring staff to serve the crush of visitors.
Driving into Falmouth, it's impossible to miss the large hiring signs in shop windows.
Zachary Gaumond, manager of Eastman's Hardware has had the signs in his store's window for about four and a half months now.
Eastman's Hardware fills four storefronts along bustling Main Street in Falmouth. Gaumond notes they've been busier than ever, but they have been unable to hire new employees.
"A lot of our college people from last year have moved on into their careers and we're looking to hire people to replace them, but not receiving any applications at this point," Gaumond says.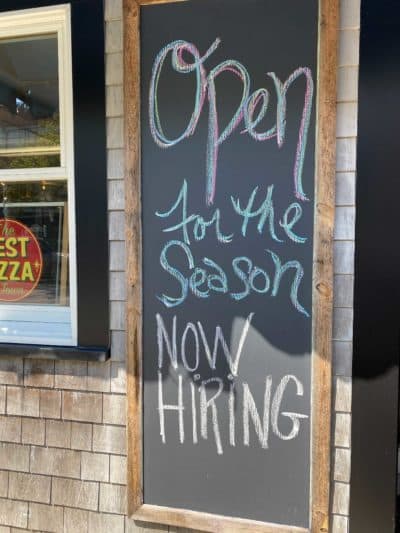 Woods Hole Market and Provisions has the same predicament. Colleen Parrish manages the popular waterfront store, and says they want to open seven days a week. "Last summer, we could only work five days. We didn't have enough help. So our business has been suffering for two years now," she says.
Parrish says she plans to branch out this year, with bike delivery, breakfast sandwiches and smoothies to attract more customers, but it depends on who she can hire.
"We are looking for some breakfast chefs to increase business, cashiers and all sorts of positions. Ice cream scooper, smoothie makers," Parrish says.
Falmouth town manager Julian Suso says the town's population triples to 100,000 people in the summer, and that makes it hard for temporary workers to find a place to live. "It's always been difficult in terms of a number of obstacles for properly housing people and providing accommodations for them so they can come and work and be taken care of during their stay when they're providing service. But now it's particularly daunting," he says.
An ordinary summer usually brings an influx of international workers, but this year is unique, says Michael Goodman, a public policy professor at UMass Dartmouth. "Immigration restrictions are limiting the labor supply of folks that traditionally fill these jobs on the Cape during the summer," he says.
Goodman says many workers are still reluctant to reenter the workforce due to safety concerns, and that others are seeking higher paying jobs. "The labor force is putting upward pressure on wages. And so the bidding wars for available employees and poaching of other folks as employees are going to be a challenge this summer more than in previous summers," he says.
All this may lead to longer-than-usual waits for scoops of ice cream or at the market.  So Falmouth town manager Julian Suso has a plea: "We're asking people who travel here and visit to be patient because like everything else, when we're challenged on having proper people to provide service, a little bit of patience goes a long way."
Correction: An earlier version of this story misspelled Zachary Gaumond's last name. 
This segment aired on May 28, 2021.