The Greenway Gets A Zesty Mural With A Lobster And A Fern
Five years ago, at Art Basel in Miami, Lucas Cowan found himself engulfed by artist Daniel Gordon's large-scale photography. The bold colors and images made Cowan, the Rose Kennedy Greenway Conservancy's public art curator, feel like he was on the same scale as the tabletop with Gordon's faces and floral objects. "It was like the [movie] 'Honey; I Shrunk the Kids'… I felt like I had shrunken down into this amazing still life," he says.
In 2019, Cowan connected with Gordon about bringing his work to the Greenway for the artist's first public art installation. The resulting collaboration, "Daniel Gordon on the Greenway," is an exhibition that spans the length of the park and features photography, a mural, a soon-to-be installed sculpture, and canvases that will float high above park-goers heads. The artwork will be on display for a year.
Currently, park-goers can rest beneath Gordon's mural "Summer Still Life with Lobsters and Fern" at Dewey Square in the Greenway's bright lawn chairs. In the painting, blue-fleshed watermelon, apples, bananas, a pair of lobsters and flowers rest atop patterned tablecloths — the leaves of the giant fern fan out in front of its cherry red and black background. The scene — which took eight days or 88 hours of painting -- evokes the quintessential New England summer, a much-needed nod to normalcy after more than a year indoors.
Gordon is a Boston-born, California-bred artist who currently resides in New York. His work, which he calls "photographic transformation," features ordinary objects like houseplants, food, and faces in sharp, dynamic scenes he creates. He starts by mining the internet for photos. "It's very utilitarian, whether or not a certain image will lend itself to creating the parts that I need to make the sculpture that I want," Gordon explains.
He then takes those photos and arranges them in a sculptural scene, which he manipulates and photographs. Then he prints the work. The finished pieces resemble paintings that seem to blur the line between art forms.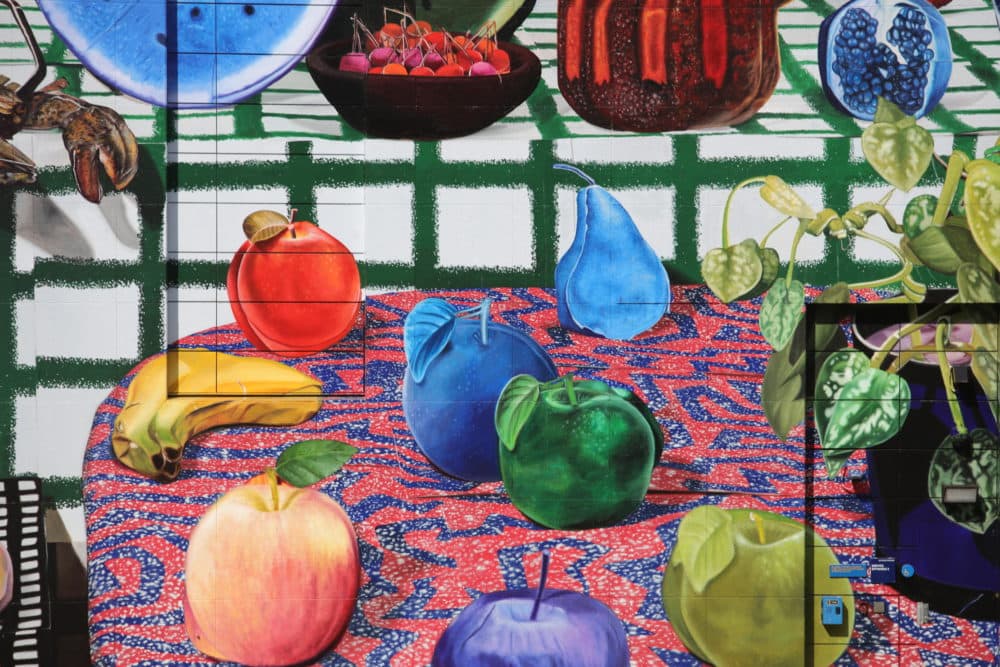 Gordon's multi-step process is part of what piqued Cowan's interest.
"I was just so intrigued with the way in which Daniel was treating this idea of still life in a way that I'd never seen it be treated in a contemporary way," Cowan shares. "There's a lot of meta-aspects happening in the work process."
But bringing Gordon's art to the Greenway spurred a lot of questions. Cowan and Gordon talked a lot about how Gordon's pieces would work in a public space, how the public would interact with it differently than they would if it were framed on a gallery wall, and how the weather would affect it. The Greenway enlisted fabricators, Benchmark Arts, to help.
Walking through the park, passersby can meander underneath a blanket of trees and encounter several of Gordon's still life pieces. Worn black boots and green apples, skulls and grapes, batteries and pliers, and fluorescent green tennis balls tucked into battered white sneakers are just a few of the images on display. A closer look at each work reveals the art's layers. Each object appears to contain multiple pieces, and the slight imperfections somehow make the surreal-at-first sight pieces feel more accurate and approachable.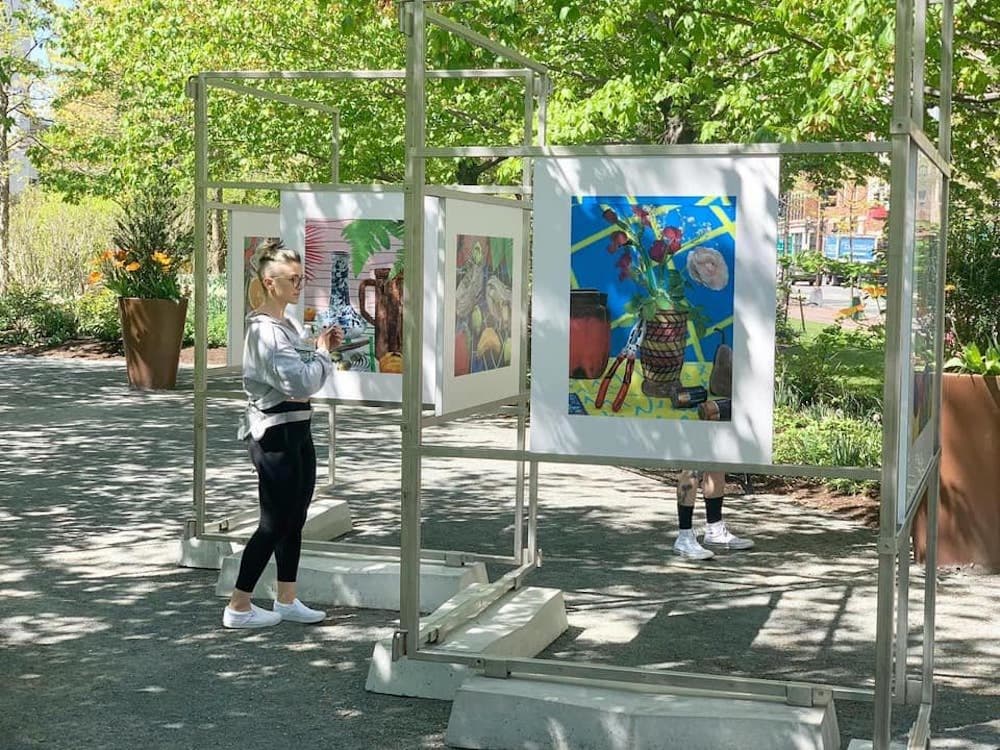 Gordon's been honing his practice for about 20 years now with his earliest posted work, "Flying Pictures," dated 2001-2004. He's never had any other ambition but to be an artist and remembers making many "Man Ray-esque solarized pictures" when he was a teenager. The late Man Ray, born Emmanuel Radnitzky, was an avant-garde visual artist who was considered one of the integral figures in Dada and Surrealism.
Though he started building sets when he was a student at Bard College, Gordon says it's developed in different directions over the years. "There have been changes, permutations, phases, and interests," he shares, but the core of what he's doing now started when he was around 19.
The long-time photographer thought a lot about artist Claes Oldenburg's paper-mache work when he was creating his sculpture that will be installed on June 9, weather permitting. Gordon made a maquette, or small model of the statue—a large vase full of blue poppies—that will be made with dye-sublimation to stand 12 feet tall. Dye-sublimation is a digital printing technology that uses heat transfer to apply an image to the intended substrate. Gordon's work will be constructed of stainless steel, powder-coated and dye sublimated aluminum, and industrial paints.
Gordon says the sculpture is built to create this illusion and then have the illusion destroyed when you walk around to the side.
"There's a cylinder with a pattern on it. It looks like a discarded piece of aluminum. So, in other words there's a front and a back," Gordon says. "That's how all of the objects that I make in my studio are because they're made for the camera, and then over the years, I started to like the backs of them," Gordon explains.
At some point, Gordon started to show the paper objects publicly. In particular settings, he says, "there's something about that kind of data, illusion, … that's exciting, you know, it's kind of like that photographic transformation that I was talking about, except in a sculptural form."
Overall, that's what the exhibition is about. "It aims to demystify the process of how he [Gordon] creates", Cowan says. "In this way, the Greenway becomes the table on which the still life lies," Gordon adds.
Gordon, who is excited to have his work presented in this new realm, wants people to have an experience with the art, to stop and look, and hopefully connect to it.
---
"Daniel Gordon on The Greenway" will be on display until May 2022.