Distillery Gallery's 'Some Assembly Required' Showcases Boston's Intergenerational Queer Arts Scene
My pandemic art experience came full circle earlier this month when I attended my first in-person show since before COVID-19 shuttered everything in the same space where I attended my last: The Distillery Gallery. In "some assembly required," The Boston LGBTQIA+ Artist Alliance (BLAA) brings together 34 works from 30 emerging and established queer artists from the region working in a broad range of disciplines to create a bold and intimate invitation back into meatspace.
As I entered the gallery and took my first stroll around to see the pieces, I was struck by how many elements of digital communication made their way into the works — the juxtaposition of nowness and memory, and the familiarity of the isolation evoked. Jasper Sanchez, one of the show's curators, says the consideration of time, place and memory through a queer lens ties the show together.
"Many artists were exploring how memory is conditional and changes based on the passing of time," says Sanchez. "That, to me, reflects queerness and this being outside of binaries."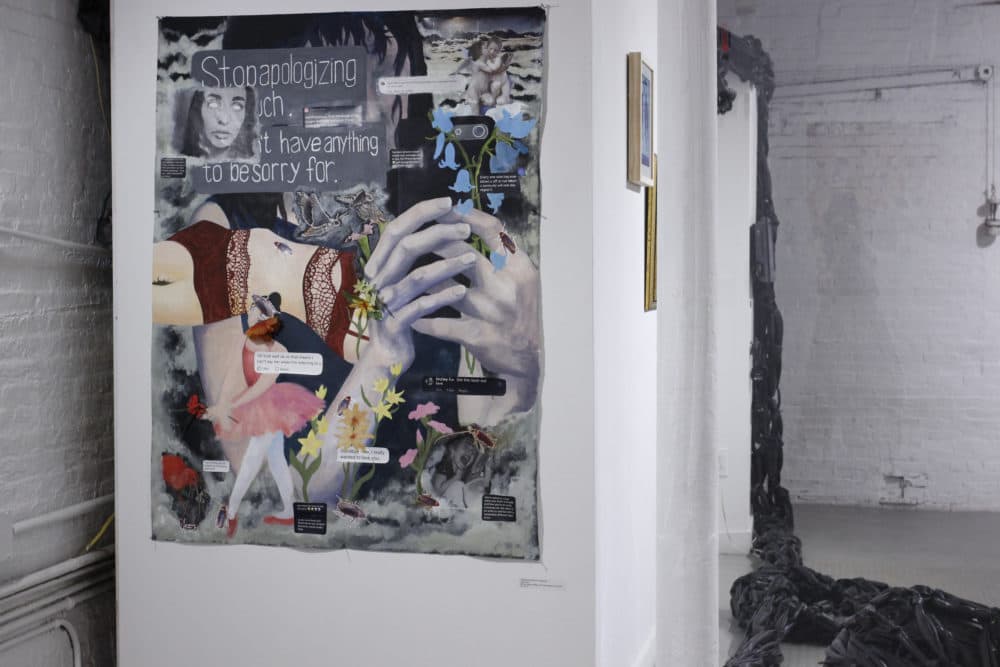 Theodora Earthwurms' "afab" (the acronym for assigned female at birth) greets visitors upon entering. It incorporates acrylic painting, paper collage and found objects to create the image of a person on their phone, features covered by texts, memories of a perceived girlhood and flowers.
Other pieces speak directly to the loss and isolation of this past year. Campbell McLean painted "The Peoples Republik" from memory after the beloved Cambridge bar closed. And a repurposed sculpture from Jefferson Playground in Jamaica Plain makes up part of Xray Aims' multimedia installation "BasketArt Court." They originally installed it in Jamaica Plain's Jackson Playground in May 2020 after the nets were taken down from the city's basketball hoops to discourage group sports. The Distillery Gallery installation includes video and sound from its 150-hour creation in the park.
"Xray is really well-established and well known in the scene, and seeing their work in relation to some of the younger artists, like Theodora Earthwurms, and being able to put these works in relation to each other and explore connectivity through an intergenerational perspective has been really humbling and fascinating," says Sanchez.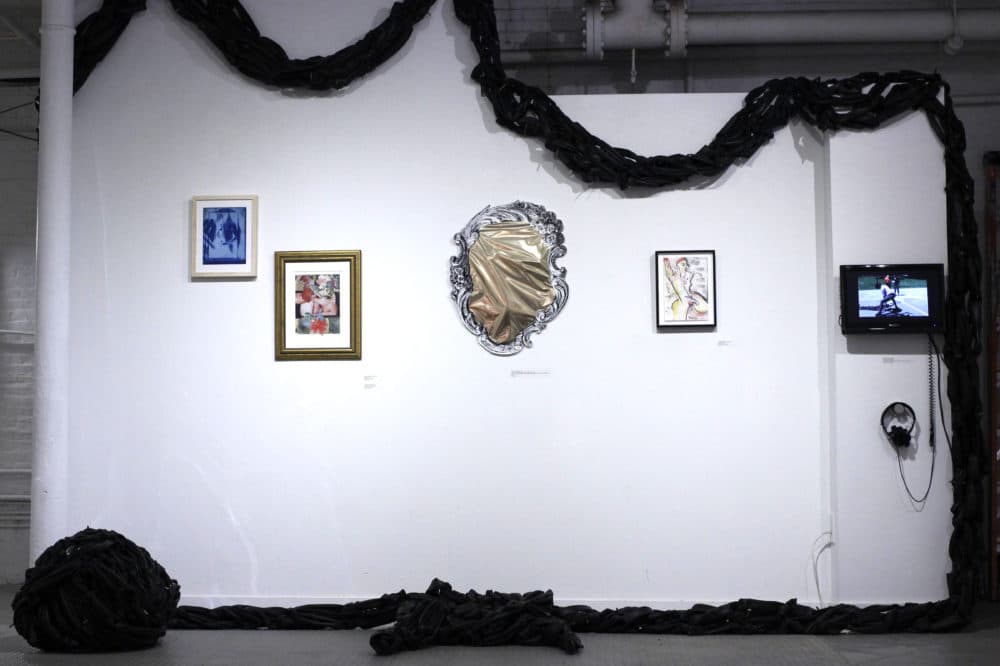 Sanchez and their co-curator, Ena Kantardžić, are both recent graduates themselves. Due to the pandemic, they had to finish school remotely, and were even unable to meet each other in person until the show's installation. Kantardžić was first in talks with BLAA about the show last fall.
"We had anticipated that we would still be in a pandemic, but that this show would be a great light for all of us at a time where there was such an absence," they say.
Kantardžić is also in the show as an artist. They created "Untitled Poem (installation as non-duration)" in 2020 while learning computer science as a hobby during isolation. They weren't the only artist to incorporate a pandemic skill into their work. Sarah Jane Shaw employed a new technique in her descriptively named piece "My beautiful niece sleeping peacefully, made up of words from the book her mother uses to read her to sleep," typing out the sketch on a 1940s Royal KMM typewriter. Both of these pieces explore language in a new and playful way.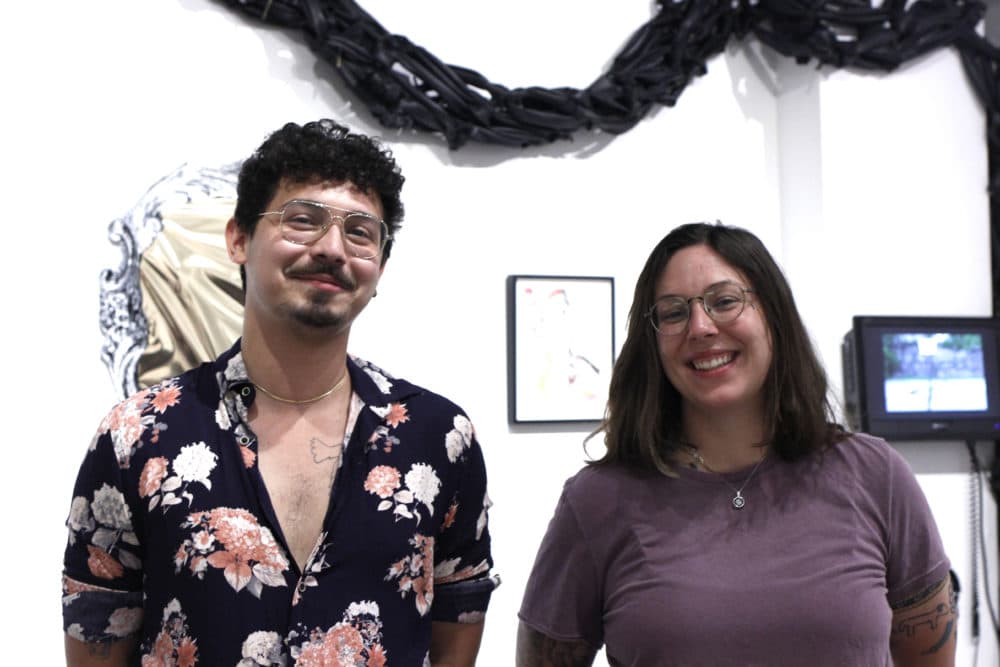 "Language is at the root of a lot of what we do," says Kantardžić. "It's how we present ourselves, even how we live our lives."
Kantardžić and Sanchez selected the 30 artists showing in "some assembly required" from an open call last winter. BLAA's programming team anticipates that it's the first of an annual event "bringing together an intergenerational cohort of queer artists enmeshed in the Greater Boston arts ecosytem."
"The intent of BLAA's open call is to provide resources," says Sanchez. "They reached out to me based on a proposal I had given them three years ago and they said 'do you want to curate the show?'"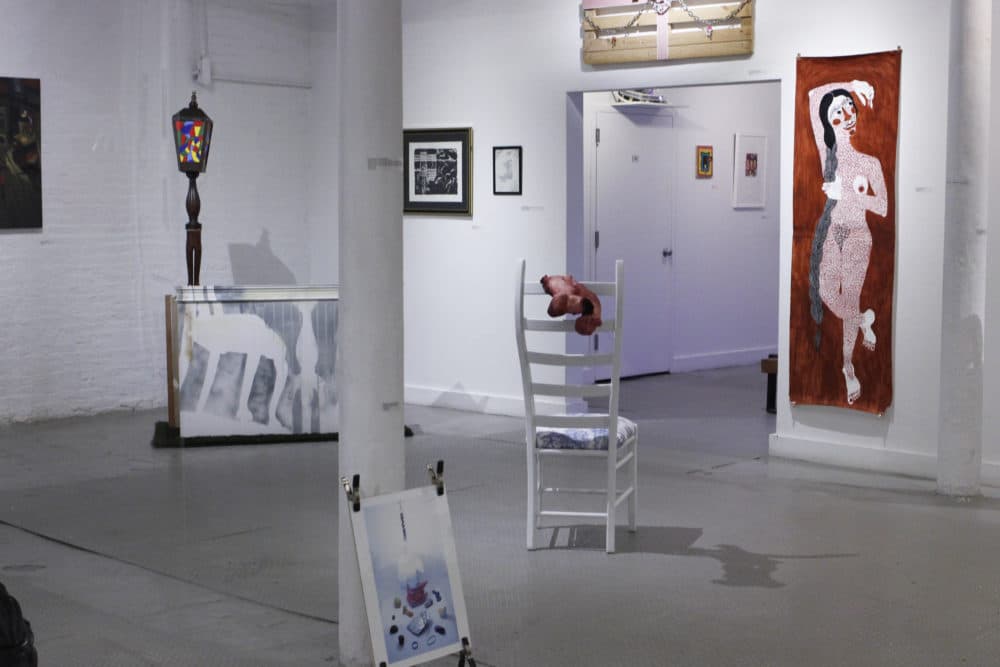 BLAA provided the young, early career curators with mentorship and a media team to help them make the most of the opportunity.
"We understand that our arts ecosystem involves many stakeholders — not just artists, but curators, collectors, critics, educators, and more. We want to involve as many of these stakeholders in our work as possible to make sure that our work has far-reaching and sustainable impacts for queer people in the area," BLAA said in a statement to WBUR. The organization plans to continue this mentorship practice in future programs.
"I think the beautiful thing about a community like ours is that we can come together and it doesn't really matter our age or experience level," says Kantardžić. "There is something connecting us more than the year we were born, the class we graduated in, where we're from or whatever."
In a city with both historical and rapidly growing inequality, "some assembly required" demonstrates how BLAA uses an intergenerational, non-hierarchical approach to combat and an arts ecosystem where proximity to money and power determines one's ability to carry out their life's work.
---
Boston LGBTQIA+ Artist Alliance (BLAA)'s exhibition "some assembly required" is on view at The Distillery Gallery through July 23.