Boston To New York In Under 2 Hours? Lawmakers Lobby For Bullet Train In Infrastructure Deal
Resume
For years, Doug McGarrah has suffered from bullet train envy.
"Those of us who have been fortunate enough to travel to places like Spain or Japan, we all marvel at these wonderful ways of getting around on high-speed rail," said McGarrah, a partner at the law firm Foley Hoag in Boston. "We come back to America, and we get on our systems that are — let's just say substandard."
But with Congress debating a massive infrastructure bill, McGarrah and other proponents of high-speed railways hope to seize the moment.
McGarrah is co-chair of North Atlantic Rail, a $105 billion proposal to expand and accelerate passenger train service in New England and New York.
The main pitch: Zip from Boston to New York in just an hour and 40 minutes, less than half the current travel time. It's the kind of idea McGarrah didn't consider realistic until some key pieces fell into place.
"First Biden is elected," McGarrah said. "He's Amtrak Joe, so maybe there's an opportunity. And then the Georgia Senate victory."
Democrats took control of Congress when they flipped Georgia's two Senate seats in January, giving the president a better chance to pass a $2 trillion infrastructure package as part of his pandemic recovery plan.
A lot of federal money could be available, though some lawmakers want to spend considerably less. And the competition is intense for whatever money Congress does approve.
Many representatives from New England and New York are on board with North Atlantic Rail. Massachusetts' entire House delegation, plus 14 other members of Congress, signed a letter supporting the project.
At an event in Roxbury, Rep. Ayanna Pressley said North Atlantic Rail will create jobs in her district, which she described as "the hardest hit in the commonwealth by this pandemic."
"That has everything to do with layered and intersectional oppression in the form of transportation deserts," she added, arguing that her constituents are "disproportionately bearing the burden of environmental injustices, which have often been linked to our transportation infrastructure."
Pressley contends North Atlantic Rail, featuring electric trains, could help reduce emissions from cars and planes, which can degrade air quality in the often-minority neighborhoods near highways and airports.
And the project could benefit communities outside Boston and New York. It includes upgrades to existing Commuter Rail routes, new service to Springfield and Pittsfield, and a regional line from Kingston, Rhode Island, to cities north of Boston, like Revere.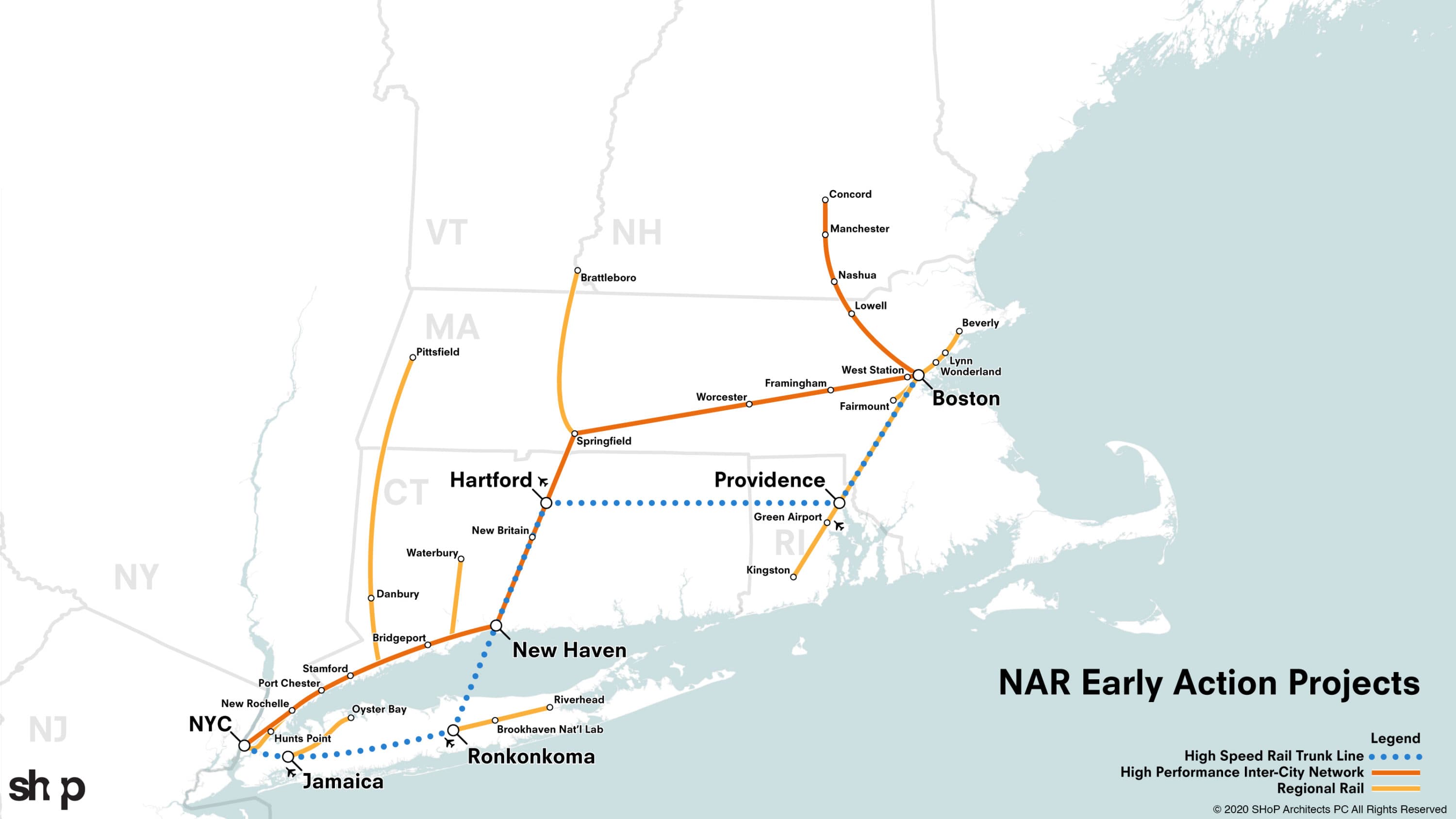 "We have a beautiful beach that we'd like to welcome tens of thousands — if not millions — of people to every year," said Revere Mayor Brian Arrigo. He envisions train cars full of beach goers ready to spend money in his city.
"This really is transformative and would be a game changer for a city like Revere," he said.
Riders unsurprisingly like the thought of faster trips but say the price would have to be right.
On a recent afternoon at Boston's South Station, a hub of the proposed new train traffic, Madeline Esdale was sipping iced coffee and imagining what it would be like to reach the Big Apple in 100 minutes.
"It would be a lot more convenient than a 4-hour train ride, I can tell you that much," she said.
Esdale said she would pay about $100 for the faster ride, roughly twice what she spends for a coach seat on existing Amtrak trains to New York.
That price also sounded good to Francesca Badu, who was visiting Boston from New York.
"I mean, I wish it was $100," she said. "That's what's reasonable."
But Badu fears tickets would be more expensive, which could push them out of reach for many people.
McGarrah, the North Atlantic Rail co-chair, said he can't predict prices, at this early stage.
The entire North Atlantic Rail project would take an estimated 20 years to complete, but it remains unclear when — or whether — Congress will invest in high-speed rail.
This segment aired on June 21, 2021.