A Trippy Funhouse Art Installation Invites You To 'Go Pixel Yourself'
There's a trippy "Fear and Loathing in Las Vegas" feel to "Go Pixel Yourself," the 13-room, 9-million pixel, immersive experience inside the CambridgeSide Galleria Mall.
You're somewhere around Boston, walking past a Best Buy, when the drugs begin to take hold. Suddenly you're in a laundromat: your own face swirling in the spin-cycle. Then you're flying on a Boeing 747. You spot a polar bear. You stumble onto a TV news set, a red carpet, a TV dating show. Sit down and the couch is made of quarters.
Buy the ticket, take the ride.
Visitors walk back out into the mall "and they're like: Woah, what was that?" John Carter says with a laugh.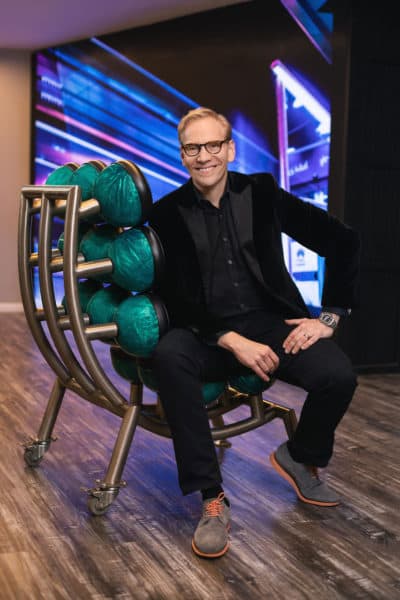 Carter is the artist behind the installation — a "selfie museum" where you don't actually have to take your own selfies. Motion-detecting cameras will snap away and email you a photo stream.
The installation feels made for Instagram.
"It is, but I also want it to be more than that, because some people don't want to have their picture taken," says Carter. "We've tried to make this more like a funhouse."
A former Boston resident, the CEO and creative director of Parker 3D worked with a design team and sourced work from noted artists including Johnny Swing and Beeple in creating "Go Pixel Yourself."
A long-time found-object sculptor, Carter's own pieces here include the argument chair (made of boxing gloves) and the spare chair (bowling balls). He sourced actual airplane parts for one room, real studio TV cameras for another.
"People move from room to room, like 'holy crap — I just got off an airplane, and now I'm in a television studio? It's like I woke up from some weird dream. There was a polar bear, there was a red carpet. I don't know what the hell happened.'"
It's also a ready-made backdrop for music videos, artist PR shots, or concerts, all of which have happened there. Carter says he's now readying to kick off a DJ series, Selfie+Soundz, July 10.
When I called Carter recently, I found him playing pinball in his basement in South Orange, New Jersey, where he's lived for 17 years. "I'm as much a fan of the pinball machine, or the carousel, as I am of fine art," he says. As a student at the Cleveland Institute of Art, "I thought if I could invent something as cool as the carousel or the pinball machine, then I will have really accomplished something. In a way, 'Go Pixel Yourself' is a pinball machine where people are the pinballs."
Pinballs bouncing through 13 funhouse rooms, starting with the "Vibe-O-Mat" — a Warhol-inspired laundromat where the washer/dryer have television screens. "For about a minute and half, your picture is tumbling in the washer. When you receive it, it's tumbling as a GIF in your email," Carter explains.
There's "Vibe Airways," comprised of around 20% of a Boeing 747, which Carter calls a found-object sculpture, with most of the parts coming from actual airplanes. A video screen shows content developed by the artist Beeple. "He's sold an NFT for $69 million. He's fascinating," Carter says. "He's like a combination of Hollywood set-maker and political cartoonist."
There's a red carpet to pose for paparazzi. A sitcom room where you might shoot a surfer movie, a '70s sitcom, an action movie, or a dating show like "The Bachelorette." And yes, the camera is from a real TV studio.
"You become an improv artist. It's like a personality workshop," Carter says of these rooms.
It all speaks to a larger meta-commentary of an installation that's at once a museum and a canvas for the visitors themselves to become artists.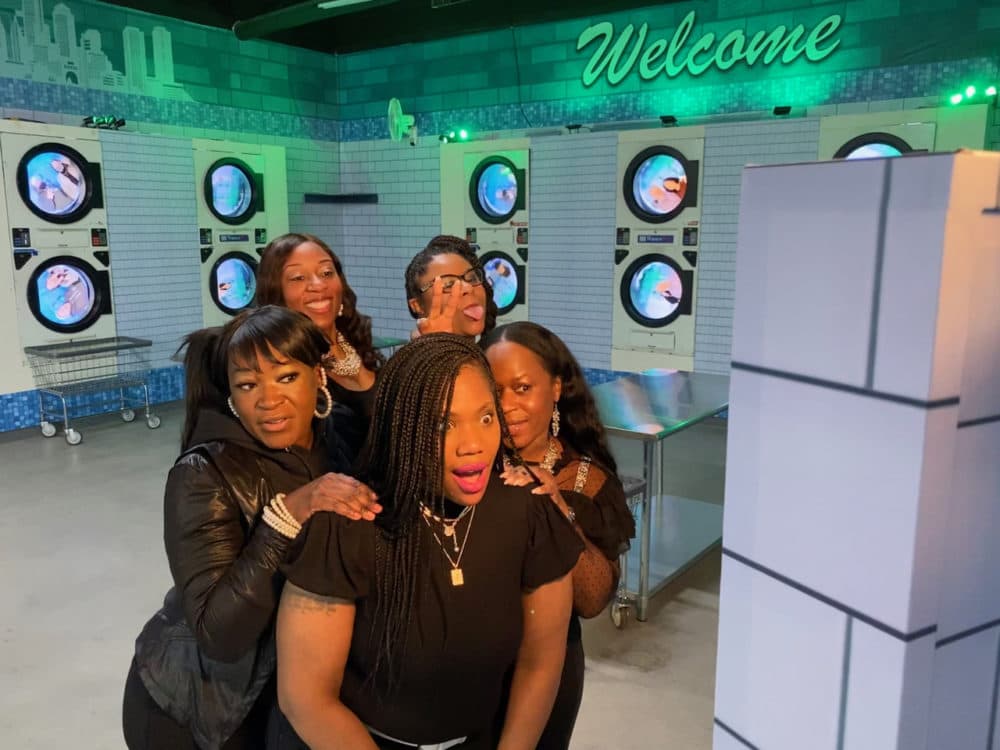 "Yes, you're the artist, and you're amongst art by other people — Johnny Swing's couch, or Beeple's video reel," Carter says. "Humans are evolving. This appliance is like another nose or another arm. It's part of us now. You can't pretend you don't have it. You've got to adapt."
Carter's father is from Bridgewater; his mother from West Roxbury.
Since childhood, he's had a natural inclination towards inventing and mechanics. "As a kid, I took apart everything I owned and put it back together. My parents threw out a 35 mm camera once — I pulled it out of the garbage, took it apart and fixed the mirror, and I had a camera."
Another example: "I wanted portable music before the Walkman. I had a walkie-talkie set, so I put my record player on repeat and put a walkie talkie locked [on talk] and rode my bike around the neighborhood with the other [handset] and listened to music."
He lived in Worcester for a stint and worked in a model shop in Hudson. After college, he lived in Boston and worked in advertising until he moved to New York. He was a mechanical sculptor, a street artist; he designed New York City Christmas windows for a while. He loved the interactive aspects of each. He worked on large interactive displays for DreamWorks, Warner Bros. in shopping malls, and calls "Go Pixel Yourself" the next "natural thing to do with the advent of the cell phone."
The installation was originally slated to open in March 2020 — then the world changed.
"When March 12 came, we put everything into semi-trucks and just parked them. When the numbers were coming down in November, we opened — and the numbers went up. We closed again until Feb. 12. It's only a couple weeks that we've been allowed to operate normally."
They originally planned to use iPad kiosks; to avoid touching, they developed QR codes on passes: hold it up for every picture you take, and you'll receive an email with a stream of all your photos.
When considering all the found objects in this installation, you might wonder how and why Carter came to sculpt with the medium?
"A found object has more meaning to me than a pile of clay. If it's a bus, I want to know that's a real bus; I can see the scuffs on it," says Carter. "When you're in a real airplane made out of airplane parts, it has a kind of history to it, it has a gravity to it, that transports you. And I'm most interested in transporting you."
---
"Go Pixel Yourself" is on view at the CambridgeSide Galleria Mall now.