The Huntington Partners With Front Porch Arts Collective For Three-Year Residency
The Huntington Theatre Company is joining forces with The Front Porch Arts Collective beginning Sept. 1. The alliance is part of a five-year plan to create a successful future for the emerging Black theater.
The partnership will create a three-year residency program where Front Porch leadership members will be integrated into The Huntington's administrative team. Front Porch co-artistic directors Dawn Simmons and Maurice Emmanuel Parent and education director Pascale Florestal will be working on fundraising, planning the upcoming seasons, and creating a long-term plan for the collective's future. "It also involves getting out into our community and continuing to build those relationships and building that audience," says Simmons.
During the partnership, the Front Porch arts leadership will become consulting producers for The Huntington in addition to their current roles. They'll also have access to development, marketing, business and artistic staffing. In return, Front Porch will provide "an important voice in Huntington initiatives and artistic decision making, enhancing The Huntington's ability to produce shows featuring Black voices with greater depth and authenticity," according to a joint statement from the organizations.
"They are starting to leverage some of their privilege and position to help an organization that is new and that does not have those same connections and deep pockets," Simmons says of The Huntington.
The goal of this partnership is to create self-sustainability for Front Porch. The organization's leadership  is looking at these next three years as a "bridge" to the next five years. The Boston Foundation has also contributed to their cause, granting a two-year $175,000 commitment to the collective.
"Boston is one of the major metropolitan cities that doesn't have a long-standing Black theater company," Simmons says. "And our community realizes that it's not OK, it's not OK for us to not have that."
Both theater companies are invested in creating a lasting legacy for The Front Porch Arts Collective, which was founded in 2016. "We want this to last past us," Simmons says. "If something happens to [the leadership team], if we get hit by a bus, win the lotto, wind up leaving town, going to Broadway, LA, whatever, this has to stay. This has to continue on. It can't falter if we go."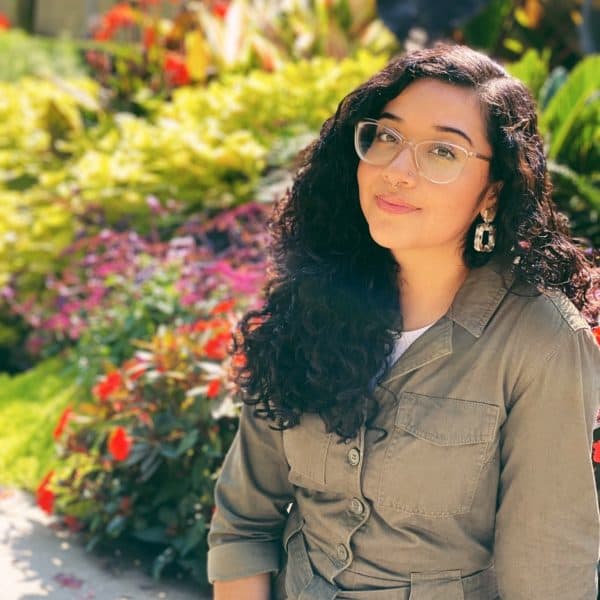 Magdiela Matta Arts Fellow
Magdiela Matta is the arts and culture reporting fellow for WBUR.