From Books To Music, Renaissance Couple Damon & Naomi Reflect On Their Decades-Long Partnership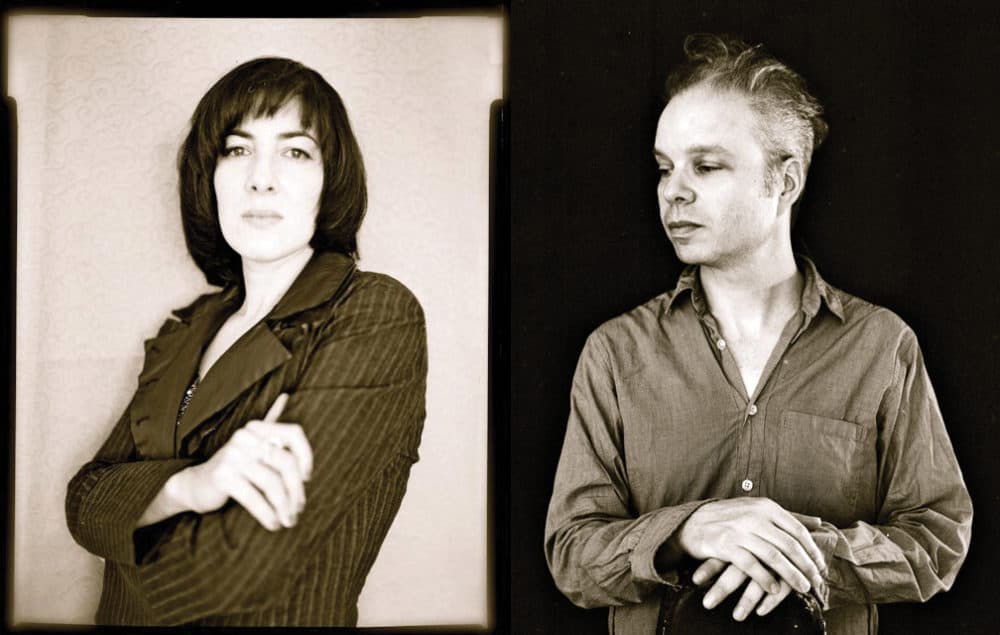 Damon Krukowski and Naomi Yang were on tour around 2016 with Glasgow-based musician Richard Youngs, when Krukowski fell down a marble stairwell an hour before a sound-check.
"Initially, Naomi and I were more worried about his head than his torso," Youngs recalls in "A Sky Record Companion," the 48-page booklet made to accompany the Cambridge-based husband-and-wife duo Damon & Naomi's new digital release, "A Sky Record" (out Aug. 6).
At the gig that night, Krukowski insisted on playing drums — but soon "keeled over," Youngs writes. "The next thing I remember is an ambulance pulling up. Damon, with Naomi, was driven to the nearest hospital…
"As we sat round Damon's hospital bed, we assessed the damage. It had turned out his head was fine, but his torso was now a rich purple."
A few days later, Krukowski found himself wandering around Berlin, nursing a huge bruise, when he came across a bunch of LPs from the 1970s on a label called Sky Records.
Back in Cambridge, those records became a mainstay, he says. "While not exactly ambient [they were] calming"
Influenced by these sounds, the duo's ninth studio album, "A Sky Record," was born. The album is beautiful --  an ambient dreamscape set to poetry. Like much of their music, there's a chill-out vibe. A Cowboy Junkies feel. Yang's vocals remind me a bit of the late British folk singer Sandy Denny. (Listen to the single "Oceans in Between" for a taste.) Krukowski plays acoustic guitar and drums; Yang plays bass, piano and keyboards. They both sing.
The couple has spent most of their musical careers touring internationally, picking up influences from Turkey to Japan to South America. In fact, one musician they met on the road, Japanese guitarist Michio Kurihara, plays electric guitar on "A Sky Record."
Because there's a vinyl shortage, the vinyl release is slated for 2022. "We thought, what a shame that there was going to be no object to hold. We love LP covers, liner notes — all the things you get to hold while listening to a record," Yang tells me in a phone interview from their Cambridge home.
Even talking to the couple is calming. They both speak soft and slow, in library voices. Yang laughs often. There's a Zen-like atmosphere conversing with them. In a digital world, Krukowski, 57, and Yang, 56, value the analog: Vinyl records, out-of-print books, libraries, 1920s aesthetics, 19th-century experimental literature, liner notes, board games all come up in our conversation as objects they hold dear or inspirational.
Outside of making music, the Renaissance couple also founded their own record label. She makes films and music videos — including one for Sonic Youth's Lee Ranaldo. He writes poetry. She takes photos. He adapted his podcast into a nonfiction book, "Ways of Hearing." They started their own publishing house, Exact Change, focused on "experimental literature with an emphasis on Surrealism, Dada, Pataphysics and other 19th and 20th-century avant-garde art movements."
The band's origin story starts at The Dalton School in New York. Krukowski and Yang were high school sweethearts. They both went to Harvard. As grad students in the late '80s — Yang studied architecture; Krukowski was on a Ph.D. track in comparative literature — they formed the indie-rock trio Galaxie 500 with Dalton and Harvard classmate Dean Wareham.
"We were losing our minds in grad school. We decided to do the most irresponsible thing we could do and form a rock band," said Yang with a laugh. "Neither of us ended up finishing grad school."
Wareham and Krukowski are a year older than Yang. When the two arrived at Harvard as freshmen, they jumped into a band. The problem? Drummer Krukowski had no drumkit on campus. Enter Conan O'Brien.
"Conan was in my freshman class at Harvard," said Krukowski. "He owned a drum kit and I did not... I didn't know him, but he was a friend of a friend, and he was generous about loaning his kit."
Eventually, Krukowski got his own kit and O'Brien "stopped playing drums and went on to fame and fortune. That's the moral of the story," Krukowski quips.
Galaxie 500 landed on a U.K. label and toured Europe extensively. Meanwhile, Krukowski was still in grad school.
"It was a great gig for about nine years. I love reading. I love the library. I was in grad school until they threw me out," Krukowski said.
When Wareham left Galaxie 500 to go solo, a duo rose from the ashes.
"First we sulked for about a year," says Yang with a laugh. "We didn't think we were going to continue to play music but we couldn't help it. We got drawn back into it."
Damon & Naomi formed in 1992. Krukowski says they "'always forget' when they tied the knot, but it was sometime in the mid to late-'90s." As husband and wife, working together just feels right.
"We've shaped our professional lives to working together. So it fits," says Krukowski. "It's always been comfortable for us."
"We've never done anything else," adds Yang.
In 2005, the artists founded their own record label, 20-20-20. The story behind the name? "It comes from a board game Naomi and I both played as children, called Careers," Krukowski tells me.
"You had to choose at the beginning what proportion of money, fame and happiness you wanted to achieve," Yang says. "It had to add up to 60. So someone might say, 'I want 60 money, 0 fame, 0 happiness.' Damon and I were once talking about it, and realized we both always chose 20-20-20."
A filmmaker, Yang also made a 30-minute silent film, "Fortune." (Damon & Naomi's last record, "Fortune," is its soundtrack.) Krukowski also published two books of prose poems. His buzzy 2017 podcast, "Ways of Hearing," was adapted into a book of the same name.
The two artists kept busy during quarantine working on "A Sky Record."
"Our plan was to finish the album in spring 2020 — finish writing the lyrics and putting vocals down." The duo has always written music first, then lyrics.
But then, of course, "the world turned upside-down."
Back home in lockdown, "we just kept adding tracks," Krukowski says. "We didn't record our vocals for the longest time. That's because the pandemic caused us to pause in what we were writing lyrics about."
"The pandemic was so overwhelming, it became hard to know what to say," Yang says. "It became a tightrope walk. How did we acknowledge what we're going through, without overstating it or understating it?"
And you can feel a lot of that pandemic weight, peeking through just so, in their lyrics:

Has the storm truly passed? Is it morning at last? Stretching out, life unfolds The day unfolds.

It won't last forever/ The feeling will come back again/ The silence, heat waves were dancing/ Tattered paper tossed by the wind/ Oh let me have a wild ragged sky/ Let's live for a while in a season without time.

Because of COVID-19 concerns, their only gig booked right now is a one-off in Brooklyn on Aug. 12 — but you can check out their Sky Record songs live in their concert recorded at the Peabody Essex Museum's historic Plummer Hall in June.
As for their next project? Yang is putting down her bass and picking up a camera, getting to work on a film "about East Boston and about my taking up boxing," she says with a laugh.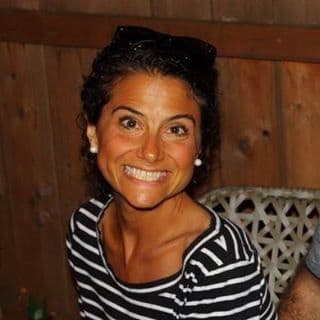 Lauren Daley Culture Writer
Lauren Daley is a freelance culture writer for The ARTery.