Remnants Of Tropical Storm Fred Trigger Flash Flood Warnings For Much Of Mass.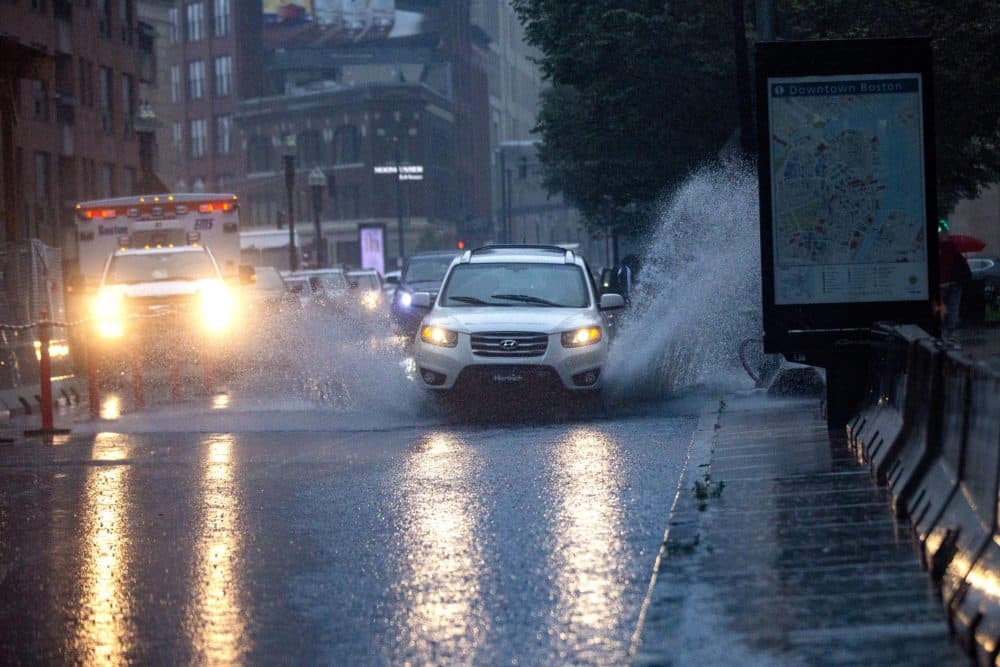 This article is more than 1 year old.
Flash flood warnings are in place for large parts of the state on Thursday as thunderstorms, left over from Tropical Storm Fred, move through the region.
The National Weather Service issued the warning for the Boston area, stretching north to Lynn and west to Franklin and Westborough.
Some areas south and west of Worcester, including Springfield, are also under a flash flood warning.
A third warning was issued for northeast Massachusetts, from Lowell to Gloucester.
The weather service predicts up to three quarters of an inch of precipitation is possible, with heavy rainfall at times.
The city of Worcester is already reporting many areas of street flooding around town.
Tornado warnings had been in effect for portions of the state on Thursday afternoon, and morning, but have now been canceled.
Heavy rains also mean there's a good chance that sewage-laden water will get discharged into rivers or Boston Harbor during so-called combined sewer overflow (CSO) events. In most of the state, wastewater and stormwater travel through separate pipes, but some older sewer systems — like those in parts of Boston, Cambridge, Somerville and Haverhill — are still "combined." This means that the water you flush down the toilet and the rainwater that collects in catch basins on the street flows in the same pipe.
Most of the time, the combined contents flow through pipes to a wastewater treatment center. But during heavy rainstorms, the volume of water can exceed what the pipes can handle, and rather than letting sewage backup into your house or onto the streets, a CSO system is designed to discharge — i.e., overflow — into a nearby water body. So far on Thursday, the heavy rains have contributed to several ongoing CSO discharges.
The rain is expected to slow tonight, with lighter showers possible.
With reporting by WBUR's Laney Ruckstuhl and Miriam Wasser
This article was originally published on August 19, 2021.